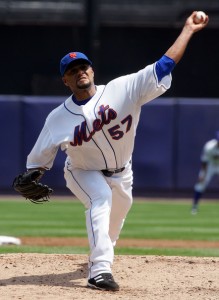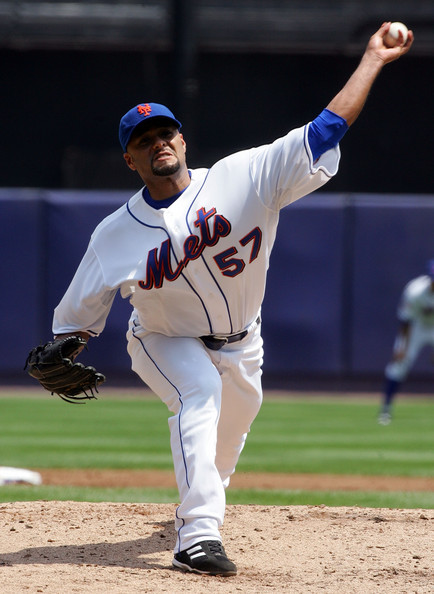 There's no question that when Johan Santana pitches, he is one of the best in baseball. The problem is that "when" part of the statement.
Santana joined the Mets in 2008, and every year he has dealt with injury problems. After the 2008 season we learned that Santana had a torn meniscus, and had thrown several  games with the injury. He didn't miss any playing time because of the surgery and was able to start the first game of the 2009 season for the Mets.
In 2009 he needed surgery to remove bone chips from his elbow. This surgery isn't very serious, but by the time Santana had the surgery in 2009, the Mets were far out of contention for the playoffs, so there was no need to risk further injury or pain.
In 2010 he had another, much more serious surgery to repair a torn rotator cuff. He had the surgery to repair the tear on September 14th. Even with this injury he still put up very good numbers in 2010, going 11-9 with a 2.98 ERA. However, his SO/BB rate was much lower, indicating that the injury could have been affecting his control and his ability to get some extra power behind pitches when he wanted to strike out someone.
Santana made two starts for the St. Lucie Mets in 2011 and in total threw five innings, he gave up one run, no walks, and five strike outs. It was believed at the beginning of the year that Santana could have been able to come back for the second half of the season after the All-Star break, but his slow progress with the rehab didn't allow this to happen. Santana finished up his rehab work on October 8th, with no plans of pitching in winter ball.
Though Santana was able to pitch at some professional level of baseball, he wasn't able to pitch for the Mets in the 2011 season like many thought he could. It is possible that the Mets didn't want to risk pushing him too hard, especially since the Mets weren't contenders for the second half of the season.
The Mets are now saying he is ready for Spring Training, and if all goes well, he will be their Opening Day starter for 2012. However, there is a lot of fear that this surgery isn't completely behind him and there are a lot of doctors who say this is the worst injury to recover from for a pitcher. Dr. Josh Dines and Dr. Rock Positano from the Hospital for Special Surgery in New York wrote this in an article about rotator cuff surgeries:
"90 to 95% of people undergoing surgery for rotator cuff tears typically have good to excellent outcomes. The results for professional baseball players, however, have been less promising. In a study by Dr. James Andrews, professional pitchers had a hard time returning to their previous level of play after rotator cuff surgery.[1]"
The doctors also say the pitchers with the injury complain about weakness, a loss in velocity on pitches, and an inability to control their pitches.
The study by Dr. James Andrews that they mentioned was done in 2005 and the results may be very frightening to Mets fans. Dr. Andrews evaluated 16 professional baseball players (12 pitchers, 4 position players) before and after their rotator cuff surgery. After a period of 66.6 months, only one pitcher was able to return to a high competitive level and have no issues with the injury again [2].
Now there are a lot of factors that play into these pitcher's recovery like age and prior injury history. Also, the study was done about seven years ago, so there may have been some new advancements in rotator cuff surgery.
The best way to look at the possible outcomes from this surgery is to look at players who had had similar surgery. Let's take a look at four players; Randy Johnson, Pedro Martinez, Mark Mulder, and Trevor Hoffman. All of these players had rotator cuff surgery.
In the case of Johnson, he has the surgery in 2009, at the age of 45. With the already declining level in his play in combination with his age, Johnson felt no reason to go through all the efforts of rehab, and retired after the injury.
Mets fans are very familiar with Martinez's injury. He suffered the injury in 2006, which forced him to miss time in 2006 and most of the 2007 season. At the time of his injury Martinez was 34. Martinez came back for the end of the 2007 season and pitched very well, but it wasn't enough to stop… whatever happened at the end of the Mets 2007 season… which we don't talk about any more… Martinez then suffered a hamstring injury at the start of the 2008 which derailed his season and forced him to miss a lot of time. When he did pitch, he was ineffective, but it was most likely due to the hamstring injury and not the rotator cuff, given his strong finish in 2007.
When you look at the ultimate horror story in terms of rotator cuff surgeries go no further than Mark Mulder. In the early 2000's the combination between him, Tim Hudson, and Barry Zito in Oakland was one of the most effective trio of young starting pitcher in baseball history. All of them went on to have very different careers, but Mulder's is clearly the saddest and most unfortunate. He was traded to St. Louis for Dan Haren, Kiko Calero and Daric Barton and the Cardinals really only got one good year out of him. He went 16-8 with a 3.64 ERA in 2005 but after that his time in St. Louis turned in a nightmare. His 2006 season started well but it went downhill very quickly after he tore his rotator cuff. He tried to come back later in the 2006 season and got shelled for nine runs in three innings. He then had the surgery in 2007 and when he came back for the 2007 season he only was able to pitch 11 innings and gave up 15 runs. He tried to pitch again in 2008 but it was more of the same, as he was only able to throw 1.2 innings. In 2010 Mulder reluctantly retired. He was 29 when he had the surgery in 2007, and just 32 when he retired in 2010.
From that, we go to the lighter and more successful story of Trevor Hoffman. The "something-best closer of all-time" injured his rotator cuff in the 2003 which forced him to miss almost the entire season. He came back in 2004 and pitched extremely well with a 2.30 ERA and 41 saves in 54.1 innings pitched. Although he was 35 at the time of the injury, it didn't affect the rest of his career and he only just retired in 2010 because of oldness.
Although all of these pitchers have had rotator cuff injuries, they all vary in level of severity. Johnson was just a matter of age, Martinez came back effective but went on to experience further injuries, Hoffman was not affected at all by the injury, and Mulder's career was destroyed by it.
When I look at Santana I'm not sure what to think. Part of me thinks that he is still young and he is a fighter who will push through the injury and be successful. But I think that part of me is a very big Mets fan.
What I fear might happen with Santana is a case very similar to Martinez's. He's going to come back from the rotator cuff surgery fine but he's going to come across of injuries. Whether or not that is because of the rotator cuff I don't really know.
I'd like to point out one difference between Mulder's and Santana's  injuries is that they were handled very differently. Santana had the surgery immediately and his recovery time and rehab assignment were not rushed. Mulder suffered the injury then tired to pitch with it later that year. He had the surgery and tried to pitch in 2007 after a very short recovery time. To take another quote from Dr. Josh Dines and Dr. Rock Positano article:
"In addition, tears have been shown to get bigger over time and can unfortunately lead to irreversible changes that make them hard or even impossible to repair."
I believe that this is what happened to Mulder. They waited too long to repair the injury and didn't give it enough time to heal, and as a result injury was never really repaired.
That's the one thing about Santana's injury that I'm confident about; he's been given plenty of time to rehab and recover from this injury. He's ready to go now and all we can really do is wait and watch what happens.
Sources:
[1] Rotator Cuff Problems Just Don't Affect Pitchers… by Dr. Josh Dines and Dr. Rock Positano http://www.huffingtonpost.com/dr-rock-positano-and-dr-joshua-s-dines/rotator-cuff-problems-don_b_294969.html
[2] Repair of Full-Thickness Rotator Cuff Tears in Professional Baseball Players by Christopher G. Mazoué, MD, and James R. Andrews, MD http://ajs.sagepub.com/content/34/2/182.short