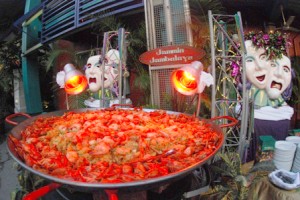 When George Harrison was selected for the Rock and Roll Hall of Fame, everyone assumed that Eric Clapton would do the induction speech. Clapton passed on the honor, not wanting to become the "spokesman" for Harrison's legacy, as he had already acted as musical director for the "Concert for George," an all-star tribute to the late Beatle.
I felt like Clapton when the news about Manny Acosta agreeing to a contract and avoiding arbitration came down. I won't write about it, I thought, as I've praised Acosta enough and I'll let someone else pick up the torch for a bit. This will make a nice thing for me to link from another blogger.
Cue crickets chirping.
While the MSM and bloggers let me down on Acosta (for one-fourth of the money for Jon Rauch!) – here are some things that stood out one way or another for me in the past week.
*****
"I know that I must do what's right
As sure as Kilimanjaro rises like Olympus above the Serengeti
I seek to cure what's deep inside, frightened of this thing that I've become"
R.A. Dickey tells about his climb of Mount Kilimanjaro while Mets fans look to avoid the obvious metaphors…
http://bats.blogs.nytimes.com/2012/01/14/reaching-the-summit-of-kilimanjaro/?ref=baseball
I'm a sucker for cute girls in skimpy outfits playing guitar, a fact I trace back to watching Josie and the Pussycats as a young child. Therefore, I'm not ashamed to admit it – I like the Go-Gos. Here Centerfield Maz has a picture of a young Belinda Carlisle wearing a baseball jersey. And for some reason a lot of words about Mike Marshall.
http://www.centerfieldmaz.com/2012/01/one-time-mets-player-go-gos-belinda.html
Jessica DeMattia thinks Mike Pelfrey should take on a part-time job with the club to earn his salary. She also hopes to see pre All-Star break Dillon Gee in 2012. I'm left wondering which one has a better chance of happening.
http://itsallmetstome.com/2012/01/20/a-baseball-chicks-scouting-report-starting-pitching/
Howard Megdal and the "parade of horribles" surrounding the latest from Judge Rakoff in the Bernie Madoff clawback suits. It's depressing that this stuff is such a focus for Mets fans but Howard does a fantastic job of describing what's going on so the rest of us can make some sense of it all.
http://www.capitalnewyork.com/article/null/2012/01/5058873/judge-rebukes-wilpon-groups-pursuer-brings-mets-owners-no-relief

I'm a big fan of the Faith and Fear in Flushing guys and I love the tagline: The blog for Mets fans who like to read. Here, Greg Prince goes homegrown on us, examining lefty pitchers who came up through the farm system. Spoiler alert: After Jerry Koosman and Jon Matlack, it's mostly dirt weed.
http://www.faithandfearinflushing.com/2012/01/18/narrow-left-wing-conspiracy/

I think it's important to present a lot of different viewpoints, one of the reasons I don't do this blog all by myself. Here Jeff Passan certainly gives a different take than mine on how the Mets should have acted and how they might salvage the 2012 season.
http://sports.yahoo.com/mlb/news?slug=jp-passan_hot_stove_daily_mets_wilpon_011512

The always amazin' Matthew Artus turns the spotlight on David Wright. Here's hoping that Wright can put up a year akin to the one that Jose Reyes did for us in 2011. Nothing wrong with pulling a George Costanza and leaving on a high note…
http://www.amazinavenue.com/2012/1/19/2718382/getting-a-grip-on-david-wrights-immediate-future#storyjump