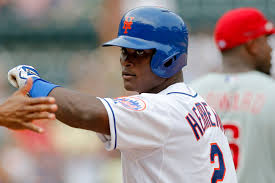 MLB.com recently released its top 100 prospect list for 2015. The good news is that there were five Mets on the list. The news that makes me do a double-take is that Dilson Herrera was not one of them. It's a major undertaking to do a list around one team; to do one for the entire league is a Herculean task. Undoubtedly, fans of each team thinks it has a prospect or two that was short-changed by being left off the list. But failing to include Herrera is an omission that in three years is going to be cringe-worthy for those who assembled these rankings.
You would think that a guy who went from Hi-A to the majors in a single season at age 20 might be worth consideration. You would think that the guy who ranked second in the Eastern League (among those with at least 200 PA) in wOBA and wRC+ and third in OPS might be worth including among the best prospects in the game. How silly of you!
Nationals prospect Michael Taylor made the list at #42. Taylor also played in the Eastern League last year and despite a BABIP 32 points higher than Herrera's, his OPS was 32 points lower. And Taylor was three years older. So how does Taylor merit inclusion on this list while Herrera doesn't?
Taylor is 6'3 while Herrera is 5'10. Taylor is from the heavily-scouted area of Ft. Lauderdale while Herrera is from Colombia, an area not known as a baseball hot spot. And perhaps most importantly, Taylor made the list last year.
This is not to rag on Taylor, who is a fine prospect. It's just that if the Nationals called up and offered Taylor straight up for Herrera, my hope is that Sandy Alderson would politely decline and shift the conversation towards Ian Desmond. Not that Alderson should trade Herrera then, either.
The average NL second baseman last year put up a .251/.308/.361 line last year. In his brief amount of time in the majors, Herrera brought up that total, as he recorded a .710 OPS, despite a .256 BABIP. Herrera is ready to come up and be a league average – or better – second baseman right now in the majors, at an age that would still be viewed as a top prospect in Hi-A.
Over his three levels in 2014, Herrera recorded a .312 AVG with 16 HR and 23 SB in 653 PA. After hitting just three homers in his first 309 PA, Herrera socked 13 over his final 344 trips to the plate, including three in the majors. Since 1990, only five second baseman in MLB have hit .300 with 20 HR and 20 SB in the same season. Here's what those guys were doing at age 20:
Roberto Alomar – Spent most of the year in the majors, where he hit .266 with 9 HR and 23 SB.
Craig Biggio – Was playing collegiately at Seton Hall.
Dustin Pedroia – After being drafted from Arizona State, Pedroia split time between two A-ball clubs and hit .357 with 3 HR and 2 SB in 185 PA.
Ryne Sandberg – Batted .310 with 11 HR and 32 SB in the Eastern League.
Alfonso Soriano – Was training at the Carp Academy in Hiroshima, Japan.
Of course, there's a big difference between dominating Double-A and doing the same thing in the majors. Yet on an age-equivalent basis, Herrera was holding his own with what three Hall of Famers (Alomar, Biggio, Sandberg) and an MVP (Pedroia) were doing.
Herrera was excluded from MLB.com's top prospect list. But because this list has been around only for a few years, let's use the granddaddy of all prospect lists – Baseball America. BA has been producing a top 100 prospect list since 1990. Between 1990 and 2013, only 11 middle infielders have come up and made their MLB debut at age 20 or younger and retained their rookie eligibility. Here was their ranking on the following year's top 100 list in parentheses:
1991 – Andujar Cedeno (#2)
1993 – Wil Cordero (#6)
1994 – Benji Gil (#23)
1995 – Alex Rodriguez (#1)
2000 – Travis Dawkins (#21)
2001 – Luis Rivas (#93)
2002 – Wilson Betemit (#8)
2002 – Omar Infante – not ranked
2004 – Andres Blanco – not ranked
2004 – Rickie Weeks – (#5)
2013 – Jurickson Profar – (#1)
Nine of the 11 were ranked, eight were in the top 25 and six were in the top 10. Infante was not ranked the year after he made his MLB debut but garnered a #95 ranking before the 2002 season. If allowed a do-over, there's no doubt BA would add to its 2003 list a guy who's been in the majors for 14 years and counting and has an All-Star appearance on his resume.
Even Blanco, perhaps the least-productive member of this group, has spent parts of seven seasons in the majors. There were nine players on that 2005 BA list who never made the majors and another six position players who did not amass Blanco's 260 games and counting MLB total.
Most of these 11 guys to debut at age 20 and retain rookie eligibility were shortstops and there's little doubt that if Herrera posted his 2014 numbers playing short that the perception would be totally different. But the positional difference should not change the equation from "Top 25" to "Not on the list."
Again, we're using historical trends from BA to judge an MLB.com list, which is not quite ideal. Hopefully, when BA releases its list in the near future, Herrera will be on it. But if he isn't, that doesn't change the fact that he had a fantastic 2014 and is one of the top prospects for the Mets. My opinion is that he's the club's top hitting prospect and one can make a case for him being the organization's top overall prospect.
And it's a shame that he's not getting that recognition from some corners of the prospect world.