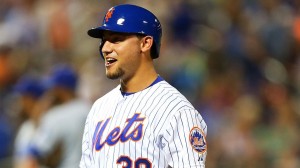 In 2015, Bryce Harper put up a 9.3 fWAR. He was already a heralded player and this pushed him into a different stratosphere. Starting in 2016, Harper has put up the following fWARs: 2.9, 4.8, 3.4 and 4.6 in his first year in Philadelphia. Now, a 4.6 fWAR is a really strong mark, one that any team would love to have. But, taken within the context of everything that had gone on previously, specifically 2015, Harper was a disappointment. It would have been more than fine if 2015 was Harper's career year. There are only a handful of players this century to top that mark. But when his next-best seasons are only around half that mark, well, that's where the disappointment factor arrives.
Jacob deGrom had a 9.0 fWAR in 2018. No one expected that to be his new "normal." But, unlike Harper, deGrom followed up with a 7.0 fWAR in 2019. Harper won the MVP Award in 2015. In the four years since then, he's only drawn MVP support in one year – 2017, when he finished 12th. Meanwhile, deGrom won the Cy Young Award in 2018 and won the award again in 2019. If you asked a neutral observer who the best pitcher in the NL is right now, deGrom would be either the first or second name mentioned. If you asked 20 people to name the best hitter in the NL, no one's going to say Harper. And this is coming from a guy who wanted the Mets to pursue Harper as a free agent, not some anti-Harper zealot.
Which brings us to Michael Conforto.
When the Mets chose Conforto with the 10th selection of the 2014 Draft, everyone felt like it was an excellent pick. Conforto had some preseason buzz as a potential top overall pick and no one would have been shocked if he was taken five picks before the Mets' turn came up. And then he rocketed thru the minors to earn a promotion in late 2015, where he was a participant in the World Series, in which he homered twice.
With that as the context, what's happened with Conforto since then has been much more disappointment than accolades. Without a doubt, that disappointment can be explained. There was rotten BABIP luck, there were injuries and there was a rush to return, both by player and club, that proved to be not the best idea ever. But the bottom line is that a guy who put up a 4.4 fWAR in 109 games in 2017 has combined to put up just 6.7 fWAR in 304 games the past two seasons.
Before the 2016 season, 10 writers/contributors to Mets360 gave projections for Conforto and the official forecast from the group was a .275/.335/.475 line in 524 PA. Conforto's actual line in 2016 was .220/.310/.414 in 348 PA. And while we had a more optimistic forecast than the computer models, Conforto had a lower OPS than they saw, too. ZiPS had a .796 forecast compared to Conforto's actual .724 mark.
In 2017, it looked like everything was coming together for Conforto but the shoulder injury ended his season early and held him to just 109 games. And then he didn't hit very good in the first half of 2018. Conforto got off to a strong start in 2019 but then came the concussion. And after missing nine days, he came back and was sub-replacement level for roughly 1/3 of the season.
If/when we get back to playing games in 2020, Conforto will probably have had enough time to heal from the oblique injury he suffered in Spring Training. He may be ready to go and put up a .900 OPS in however much season we have. But even if that happens, he still won't exceed his fWAR from 2017. Something that can be explained? Without a doubt and certainly not unique to Conforto.
But how many times are we going to explain why he hasn't had a great season? If we arbitrarily decide that a great season is one with an fWAR of 5.0 or greater – what percentage of great players didn't have one by the time they finished their age-27 season? Looking just at homegrown Mets stars, David Wright had his first one at age 22 and followed up with ones at age 24 and age 25. Jose Reyes had them at ages 23-25. Darryl Strawberry had that at age 25 and age 26. Edgardo Alfonzo had his at age 25 and age 26. Cleon Jones had his at age 26. Shoot, Dave Magadan had a 5.4 fWAR at age 27.
If following the World Series in 2015, someone had offered a bet to Mets fans that Conforto would not put up a 5.0 fWAR year by the end of the 2020 season, any Mets fan who says they wouldn't have taken that wager is a liar. Again, we can explain why it hasn't happened. But that doesn't change the fact that it hasn't happened yet. And in that context, he's been a disappointment.
Much like with Harper, you can be a disappointment and still be a valuable commodity. And to me, that's the proper way to view Conforto. If fate had smiled upon him, there's no reason to believe he couldn't have three 5.0 or greater fWAR seasons by the time he finished his age-27 season, like Reyes and Wright. But that's not the way his career has unfolded.
Every team has guys who could have been remembered as great players if they could only remain healthy. Cubs fans will tell you all about Mark Prior, while Braves fans still talk about Rico Carty and fantasy owners still lament what Nick Johnson (.525 OBP & .548 SLG at Double-A at age 20!!) could have been. All of those guys did put up strong seasons in the majors – even Johnson had a 4.9 fWAR at age 27 in 2006. Yet even that year ended a few days early, against the Mets, when he fractured his leg in a collision with the right fielder on a short pop fly. Johnson missed the entire 2007 season. And the bottom line is those guys aren't remembered for 2003 or 1970 or 2006 – they're remembered for the injuries.
Maybe that ends up being Conforto's fate, too. It's too soon to say for sure. Plus, there are enough "exception to prove the rule" guys who were better in their 30s than they were in their 20s that perhaps that's how Conforto ends up being remembered. All we know for sure is that he's not a member of the homegrown Mets club that includes Alfonzo, Jones, Magadan, Reyes, Strawberry and Wright.
And that's disappointing.