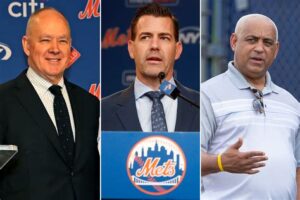 They're all stars on draft day.
With the exception of the Knicks and the 2009 Draft, no matter the sport, no matter the team, you always hear team reps exclaim how they can't believe so-and-so fell to them, as he was ranked so much higher on their draft board. And since drafting is an inexact science, at least some of that talk is true. But talk is cheap.
In the Mets360 era (since 2010) the Mets have had three different executives in charge of their drafts. Omar Minaya was in charge that first year. Sandy Alderson oversaw the drafts from 2011-2018 and now Brodie Van Wagenen has called the shots the past two seasons. But despite the turnover at the top, the Mets have generally done very well in the first 100 picks over the past 11 years. Rarely do you see them listed under "mistakes" when analysts do their post-draft reviews immediately following the picks.
And the highest-drafted player not to make the majors – or on a reasonable path to do so – was a guy they took at pick 48. That may not sound all that impressive but there are guys every year drafted in the first round who never make it to the majors. It's up for debate if Mickey Moniak – the top overall pick from the 2016 Draft – will make it to Philadelphia. The Mets have had a first-round pick in 10 of these 11 seasons and only twice did they have a pick in single digits. The first guy was an All-Star starter before injuries hit and the second guy is currently ranked as the #11 prospect in all of MLB by FanGraphs.
Let's take a look at all of the players the Mets picked in the overall top 100 since 2010. But instead of organizing it by year, let's take a look at where they were drafted. Of course, not all drafts are created equal, but few would argue that each draft class didn't have 100 guys capable of making it to the majors. Here are the Mets' picks sorted by draft position:
Most of these names should be familiar to you so there's no need to dive into each individual one. The successes speak for themselves, perhaps none more so than Rookie of the Year Award winner Alonso at pick #64.
To me the thing that jumps out is how much success the Mets have had, all the way thru to about pick #71. Mazzoni and Reynolds both made the majors, with the former being traded for an MLB player, too. Stankiewicz at #75 is the only one on this list not to sign with the Mets. He went back in the draft and was taken on the second round the following season by the Red Sox. Last year he pitched in Triple-A, where he was serviceable. He's the type of guy who could certainly make the majors for a brief stint, although 2020 will be his age 26 season.
But there's certainly a drop off in production from #76 onwards. Meisner and Wotell provided MLB guys in trades and Ramos brought back some international signing money. But essentially these guys look like org filler. Knowing this, it makes the decision to grab Allan on the third round last year and essentially punt the next seven picks even that much of a stronger play.
Overall, 12 of the 34 players on this list have made it to the majors. Additionally, 10 more were taken from 2018 and later, so not enough time for them to have made the majors. The top two picks from 2017 seem like solid bets to make it to the majors at some point. We already discussed Stankiewicz. So, let's take a look at the nine remaining guys.
Church was unimpressive last year in Double-A and got lit up in his lone appearance at Triple-A. He was released this year and ripped the org on the way out the door.
Lindsay has been dogged by injuries throughout his career.
Wilson was a tools guy who never turned them into production.
Meisner provided trade value. Is currently in Triple-A and could make the majors.
Ramos got an above-slot bonus but never really hit before being dealt.
Wotell went in the Jay Bruce trade. Has been dogged by injuries.
Forsythe was traded for "future considerations," made it to Triple-A but last played organized ball in 2015.
Brodey earned a mid-year promotion to Double-A last year and ranked 49th on my top 50 list for 2020.
Tiberi had a .669 OPS as a 24 year old in Hi-A in 2019.
If we describe a draft pick bust as one who doesn't make the majors, then Church is currently the biggest one on this list. But it's hard to overlook Cecchini, who was taken much higher at #12 overall. The conventional wisdom at the time he was drafted was that Cecchini was a polished defender capable of playing short in the majors but there was doubt as to what his offensive profile would end up being. When he made the majors he looked incapable of playing SS on anything except an emergency basis. And he didn't overwhelm with his hitting, either.
We have to keep in mind that the Cecchini draft year was the first one with the current slotting system rules in place. The Mets decided to go cheap early in order to have money available for later rounds. It seemed backwards at the time and history hasn't validated the approach; either, at least not for the Mets. Alderson did this again in 2013 and then went with a more neutral approach. Van Wagenen has done the exact opposite, going overslot early. My preference is for the latter approach, spending money to get premium guys in the first few rounds, rather than round 11 and later. Hopefully, Allan, Ginn and others will justify Van Wagenen's financial commitment.