Will this year be yet another shut out for the Hall by the Baseball Writers Association of America, or will some of the hardline stances get soften a bit, which may result in some of the log jam that had been created getting cleared a bit?
Either way, it should be another interesting session to see how the voting will go.  This year, there are eight former Mets on the ballot.  This is Mike Piazza's second year on the ballot, having gotten 57.8% of the vote a year ago.
Piazza is joined by seven others, all making their debuts on a Hall of Fame ballot;
Moises Alou:  Put together a pretty solid, if often injured 17-year career.  Made several trips to the All-Star Game, and even has a World Series ring with the 1997 Florida Marlins.  Nice player, but not a Hall of Famer.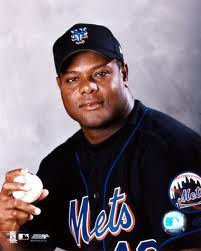 Armando Benitez:  Dominant closer during his prime for sure, but his prime was very short, and while the closer position and Hall of Fame candidacy is still an evolving process, it is still hard to justify Benitez' case.  Even taking into account his performances in big spots as a Met, a case could be made for Benitez, but most likely it would be done years down the road by a veterans committee type of setup.
Tom Glavine:  Expect Glavine and Greg Maddux to be easy first ballot inductees.  While an easy argument can be made against Glavine due to ERA and stats away from Atlanta, it will be hard for voters (again assuming they've lessened the stance against "steroid era" players) to look past the 300 wins and two Cy Young Awards.
Jeff Kent:  Makes a strong case to be in greatest second basemen conversations.  Was the 2000 MVP, multiple-time All-Star and is very high in offensive categories for his position.  In any other time he'd probably would get in on the first try; but considering Craig Biggio seems to have been hit with backlash due to being Ken Caminiti's teammate, not to mention a very unfriendly attitude towards the press, it is conceivable that Kent waits at least a year.
Paul Lo Duca:  Hard to justify his placement on the ballot.  Nice career with four All-Star Game selections, but clearly someone who will be hard pressed to get a vote or two mustered for.
Hideo Nomo:  Had a Mark Fydrich/Fernando Valenzuela type start to his career, but settled into a more journeyman type of pitcher.  Hard to see Nomo get much support beyond a pity vote or two.
Kenny Rogers:  Kind of amazing that the guy lasted for 20 seasons.  Had some good years, including four All-Star selections, the last of which coming as a 41 year old with the Tigers in 2006.  But his career was just a decent one, and not one of sheer dominance.  He'll get consideration, but not much.
Per usual, being voted by 75% of the voters will result in an election, and a minimum of 5% will guarantee that the player will remain on the ballot next year.  The results will be announced on January 8th.