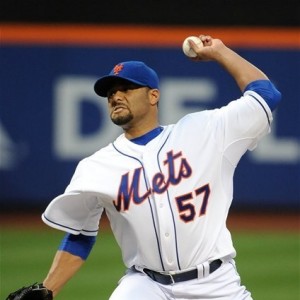 For once, the Mets' beleaguered bullpen cannot be blamed for another tough, gut-wrenching defeat, when on Friday night the Mets fell to the Los Angeles Dodgers 7-6. The Mets have now dropped eight out of their last ten.
Ironically, it was the Mets' bullpen that kept the team in Friday's affair, as four Mets' relievers combined to pitch six innings while allowing only one run on three hits and one walk.
No, the Mets were stuck in a hole due to Johan Santana's ineffectiveness on this night.
Santana was off, as he completed only three innings while allowing six runs on seven hits and three walks. The Mets did their best too scrap and climb their way back into the game and eventually only lost by one run, which has been a theme of late.
This was no aberration. Santana has simply not been himself of late.
Actually, Santana has not been quite the same since he threw his epic no-hitter back on June 1. Since that time, Santana has allowed 31 earned runs in 42.2 innings pitched (6.54 ERA). In those eight starts since the no-hitter, Santana has only thrown three quality starts. Also, since that memorable night at Citi Field, Santana's WHIP is an unsettling 1.63.
So, it begs a question, is Santana breaking down and did all that workload in the no-hitter take the wind out of Santana's sails?
It's beginning to look that way. Santana is not pitching with any confidence-or perhaps perfect health-of late and as a result the club is weighing its options for a way to keep him fresh.
Terry Collins and Mets' management are tossing out the idea of skipping Santana's next start or perhaps even placing him on the DL with a dead arm, where he would essentially miss two starts.
It is not the opportune time for this to happen to Santana, as the Mets are bordering on the brink of another collapse and need all the arms they can muster. If Santana cannot overcome either this so-called "dead arm" or this current rough patch then the Mets may ultimately be doomed.
I believe Santana has been pushing himself of late trying to keep this Mets' club in the race. Santana knows a lot of weight falls on his (repaired) shoulders, and it appears he is trying too hard. I think the best thing is to sit him down for two starts, give Matt Harvey an audition in his place and then go from there.
Look, Santana is the ultimate competitor and he'll be the first to tell you that he is fine and that he'll work through these struggles. However, the Mets have to protect Santana since he is a fragile commodity. Remember, this is a serious injury Santana is trying to battle back from. There may be no shortcut here.
Santana will forever live in Mets' lore for his no-hot masterpiece in June, but all those innings might be catching up to Santana and sometime a brief rest is all that is needed.
The Mets need to play this smart considering Santana's health is vital to any success they have this year (and maybe even next year) and this is something that will have to be handled with kid gloves.
Follow me on Twitter @Stacdemon