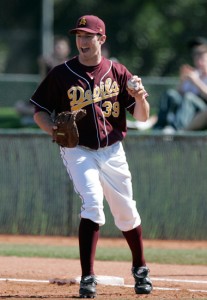 The 2008 draft was an okay year for the Mets but expectations were high, given that they had 3 picks in the first 33 overall. I go over the full draft below but the snap-shot is that the Mets addressed the revolving door at first base that had gone from John Olerud to Todd Zeile to Mo Vaughn to Jason Phillips to Mike Piazza (and Todd Zeile) to Doug Mientkiewicz to Carlos Delgado. Ike Davis was the first pick for the Mets in the draft and it proved to be a solid pick considering it was 18th overall.
Winners:
• Ike Davis (Starting MLB 1B)
• Kirk Nieuwenhuis (MLB 4th OF)
• Josh Satin (MLB Bench Bat)
• Eric Campbell (Future Utility Super-Sub)
• Collin McHugh (Back-end Rotation Candidate)
• Chris Schwinden (Emergency Starter)
Losers:
• Reese Havens (Longshot for starting 2B of the future)
• Brad Holt
• Javier Rodriguez
• Sean Ratliff
• Dock Doyle
• Michael Hebert
It wasn't too long ago that this draft looked even better, back when people still had higher hopes for Reese Havens, Brad Holt and Javier Rodriguez. While Havens still has a shot at making it to the majors the rest of the losers on the list are basically shot. If not for the happy emergence of some obscure pitchers the Mets would be looking at a barely passing grade. Thanks to bargains in the 18th and 22nd rounds the Mets are looking at a B+. If the likes of Campbell, Havens, McHugh and Schwinden prove to be useful MLB players then the Mets are looking at one of their best drafts in recent memory. Wondering what the perfect draft might have been like?
A+ Perfect Draft:
• Ike Davis
• Lonnie Chisenhall
• Lance Lynn
• Danny Espinosa
• Vance Worley
• Alex Avila
• Eric Surkamp
• Eric Thames
• Andy Dirks
• Eric Campbell
• Tommy Milone
• Nathan Eovaldi
Other teams managed good drafts too but notably, the Phillies did very well. The Phillies traded their top two picks for Aces and still managed to draft 3-4 additional pitchers who look to be MLB caliber. Compare that to the awful draft the Marlins managed and the Phillies and Mets made out very well.
Notable Draftees From The NL East:
• Atlanta Braves: Grade – C-
o Craig Kimbrel (Round 3)
o Anthony Rendon (Round 27) – Unsigned
• Florida Marlins: Grade – F
o Mike Mahtook (Round 39) – Unsigned
• Philadelphia Phillies: Grade – A-
o Anthony Gose (Round 2) – Traded For Roy Halladay
o Jason Knapp (Round 2) – Traded For Cliff Lee
o Vance Worley (Round 3)
o Jonathan Pettibone (Round S3)
o Tyler Cloyd (Round 18)
o Jarred Cosart (Round 38)
• Washington Nationals: Grade – B
o Aaron Crow (Round 1) – Unsigned
o Danny Espinosa (Round 3)
o Tommy Milone (Round 10)
o Tyler Moore (Round 16)
o Cory Mazzoni (Round 26) – Unsigned
Hope you enjoyed the review of the 2008 draft. I'll review the 2009 draft next week and 2010, 2011 and 2012 after that. I'll also try to see if I can dig up some time capsules on other notable Mets. Below is a listing of the Met picks from Round 1 to Round 50.
• Round 1:
o Pick 18 – Ike Davis, 1B
 Second Guess – Hard to argue that the Mets should have gone after Andrew Cashner, Joshua Fields or Ryan Perry instead.
o Pick 22 – Reese Havens, SS:
 Second Guess – Ignoring Gerrit Cole. Lonnie Chisenhall and Casey Kelly would both hold more value… although if he were only healthier, we might be singing the praises of this pick.
• Round S1:
o Pick 33 – Bradley Holt, RHP
 Second Guess – Without question, Michael Lance Lynn would have been the better choice.
• Round 2:
o Pick 68 – Javier Rodriguez, OF
 Second Guess – Pretty sure the Mets would have preferred to have Danny Espinosa or Craig Kimbrel on the team
• Round 3:
o Pick 100 – Kirk Nieuwenhuis, CF
 Second Guess – Vance Worley is a thought as is Brandon Crawford.
• Round 4:
o Pick 134 – Sean Ratliff, OF
 Second Guess – This one is hard to swallow… Could have had Jason Kipnis (he didn't sign) or Alex Avila (he did).
• Round 5:
o Pick 164 – Dock Doyle, C
 Second Guess – Eric Surkamp would be far more useful these days.
• Round 6:
o Pick 194 – Josh Satin, 2B/OF
 Second Guess – Could have had Ryan Lavarnway or Eric Thames instead.
• Round 7:
o Pick 224 – Mike Herbert, RHP:
 Second Guess – Not hard to beat this player but, Andy Dirks…
• Round 8:
o Pick 254 – Eric Campbell, 3B/SS/1B
• Round 9:
o Pick 284 – Eric Beaulac, RHP
 Second Guess – Raise your hand if you wouldn't prefer Tommy Milone.
• Round 10:
o Pick 314 – Brian Valenzuela, LHP
 Second Guess – Danny Hultzen didn't sign but Nathan Eovaldi did.
• Round 11:
o Pick 344 – Jeff Kaplan, RHP
• Round 12:
o Pick 374 – Mark Cohoon, LHP
• Round 13:
o Pick 404 – Scott Shaw, RHP
• Round 14:
o Pick 434 – Brandon Moore, RHP
 Second Guess – Yankees snapped up David Phelps.
• Round 15:
o Pick 464 – Jamie Bruno, 1B: AWOL
 Second Guess – Tyler Moore is in AAA but I'll take a powerful right-handed 1B/OF.
• Round 16:
o Pick 494 – Travis Babin, RHP
• Round 17:
o Pick 524 – Mitchell Houck, LHP
• Round 18:
o Pick 554 – Collin McHugh, RHP
 Second Guess – If you want to split hairs, you could ask for Tyler Cloyd instead.
• Round 19:
o Pick 584 – Zachary Rosenbaum, RHP: AWOL
 Second Guess – Can't complain that we wound up with Luis Mateo anyway.
• Round 20:
o Pick 614 – Michael Moras, C
• Round 21:
o Pick 644 – James Fuller, LHP
• Round 22:
o Pick 674 – Chris Schwinden, RHP
 Interesting – Chase Huchingson was drafted by the Astros.
• Round 23:
o Pick 704 – Evan LeBlanc, OF
• Round 24:
o Pick 734 – Kyle Allen, RHP
 Second Guess – Taylor Jungmann was drafted but didn't sign. He was Milwaukee's 1st round pick in 2011.
• Round 25:
o Pick 764 – Erik Turgeon, RHP
 Interesting – Cory Mazzoni was drafted by the Nationals.
• Round 26:
o Pick 794 – John Servidio, OF
 Second Guess – The Braves tried to get Anthony Rendon but he went 6th overall in 2011 instead.
• Round 27:
o Pick 824 – Jeff Flagg, 1B
• Round 28:
o Pick 854 – Jimmy Johnson, LHP
• Round 29:
o Pick 884 – Michael Giuffre, 2B: AWOL
• Round 30:
o Pick 914 – Mike Lynn, RHP
• Round 31:
o Pick 944 – Michael Powers, RHP
• Round 32:
o Pick 974 – Mark Grbavac, RHP: AWOL
• Round 33:
o Pick 1004 – Neil Medchill, OF: Medchill didn't sign with the Mets in 2008 and instead was drafted by the Yankees in the 11th round of the 2009 draft. (Currently 25 and in AA)
• Round 34:
o Pick 1034 – Justin Garber, OF
• Round 35:
o Pick 1064 – Kyle Suire, 2B
• Round 36:
o Pick 1094 – Jacob Goldberg, RHP: AWOL
• Round 37:
o Pick 1124 – Tim Erickson, LHP
• Round 38:
o Pick 1154 – Chris Hilliard, LHP
 Second Guess – The Phillies snuck in Jarred Cosart who still looks to be a pretty solid pitching prospect. Mike Mahtook was selected but didn't sign, he was the Jay's 1st rounder in 2011.
 Interesting – Tyler Pill was taken by the Rockies.
• Round 39:
o Pick 1184 – Charlie Hinojosa, C
• Round 40:
o Pick 1214 – Seth Williams, OF
• Round 41:
o Pick 1244 – Tyler Howe, C
 Second Guess – Stephen Pryor didn't sign but would sign until 2010. He looks like a solid RP these days.
• Round 42:
o Pick 1274 – Tim Smith, RHP
 Second Guess – Cody Eppley is still productive as a AAA reliever.
• Round 43:
o Pick 1304 – Mark McGonigle, OF
• Round 44:
o Pick 1334 – Jean-Francois Ricard, LHP: AWOL
• Round 45:
o Pick 1362 – David Phillips, 1B: Never signed with the Mets but did reach the Independent League.
• Round 46:
o Pick 1389 – Brian Gump, OF: Signed with the Phillies in the 26th round of the 2009 draft.
• Round 47:
o Pick 1416 – Matthew Bischoff, RHP: Signed with the Mariners in the 20th round of the 2010 draft.
• Round 48:
o Pick 1443 – Tyler Baisley, OF: AWOL
• Round 49:
o Pick 1470 – Douglas McNulty, 1B
• Round 50:
o Pick 1497 – Kameron Brunty, OF: AWOL