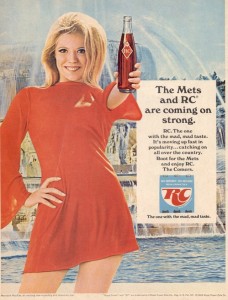 It's that time of the year!  Time to see what the Mets PR and marketing staff have come up with to entice you to step right up and greet the Mets.  Of course a team that won much more than they lost WOULD help, but such as it is, here is what promotions and special days you can look forward to this year at Citi Field.
First off, a bit meh about this year's slogan "Great Place, Great Time, Great Memories."  First, it's debatable, this is Citi's 5th year of operation, and there are still things that detractors are still right on the nose about it.  Second, a great time watching yet another mediocre at best season?  And third, well yeah a good bet that something memorable will happen this season, be it a historic moment, a dramatic moment that fans will remember for years and that player will forever be defined by that moment or whatever, but I'm not sure if the promise of that happening is something to be used as the come-on.  Put it this way, the unfortunate post 6/15/1977 "Bring Your Kids To See Our Kids" slogan is a bit better, not much but it's a better come-on to get people out to the ballpark.
Anyway, we start with the full slate of promotions and special events, as listed on the Mets' website, and as usual all promotions and events are subject to change:
Stadium Giveaways kick off with the usual first week of the year Magnetic TV Schedule (SNY sponsor on Opening Day, Monday April 1st), Calendar (Subway Saturday April 6th) and Drawstring Bag (MLB Network Sunday April 7th).  April 7th will also see the first Mr. Met Dash of the year for youngsters under 12.
Bark at The Park Day is Saturday April 20th, and you will get a nifty, one would hope, dog bandana.  The sponsor is not listed.
2013's Bobbleheads celebrating the All Star Game start rolling out on Sunday April 21st, with Ron Darling, presented by Citi, being the first subject.  And April's giveaways wraps up with a Stress Ball being handed out as part of Autism Awareness Day on Saturday the 27th.
There is also a Social Media Night scheduled for Wednesday the 24th.
May will see the return of Banner Day on Saturday May 11th, and fans will receive a Mr. Met Knitting Bobblehead as part of a Stitch n' Pitch offer going on.
On Wednesday the 22nd, you can get a Dunkin' Donuts Gift Card, and there is a Fireworks Night set for Friday the 24th.  Presumably with a Memorial Day flavor.
The Bobblehead series continues with John Franco, presented by GEICO on Saturday May 25th.
And May finishes out with the annual Yankee series cap trade sponsored by Chevrolet.  You show up at a kiosk with a cap, you get a nifty Chevy Mets cap on Monday the 27th and Tuesday the 28th.
June sees the annual Collector's Cup, sponsored by Premio on the 12th, and the second Mr. Met Dash of the season on the 16th.
GEICO sponsors a Mets T-Shirt on Friday the 28th, Nathan's sponsors a Mets Cap on Saturday the 28th, and Verizon sponsors the next All-Star Bobblehead, David Wright, on Sunday the 30th.
Teacher Appreciation Night is Monday July 1st, and through a special offer, fans can get an Apple Clock.  Presumably it will be like one that was gifted one year to Season Ticket Subscribers.  Essentially the classic Shea Home Run Apple, with a clock where the Met logo should be.
The regular July 4th Weekend Fireworks show will be held on Wednesday the 3rd, and July 4th, being an afternoon game, will be the next Mr. Mets Dash game, as well as being the day you can get an All-Star Gnome sponsored by Pepsi.
WB Mason presents a Collectible Toy Truck on Saturday the 20th, and Dwight Gooden is next up on the All-Star Bobblehead series, sponsored by Gold's Horseradish
Sunday August 3rd sees Caesars sponsoring Playing Cards, the next day is both the next Mr. Met Dash and Social Media Day.  You know not sure if that is implying that users of social media can be childlike.
Toyota sponsors the final All Star Bobblehead of the year, Tom Seaver, given out on Sunday the 25th, and Thursday the 29th will see the only Senior Stroll listed on the calendar.
And the year wraps up on September 15th with a Knit Hat, presented by Ceasars, which is also the day of the final Mr. Met Dash day.
Also there are several event special dates throughout the season:
T-Shirt Tuesdays, $19 Dollar Tickets.  Where for 19 bucks for select non-marquee games, you will get tickets for the Left Field Landing and specifically made limited edition Tees for that game.  Games listed are; April 23rd, May 7th, May 21st, May 28th, June 11th, July 2nd, July 23rd, August 6th, August 20th, August 27th, September 10th and September 17th.
And also there is a Power Pack Tickets with Food Starting at $23.  Pack comes with a game ticket in Baseline Box (upgrade to $39) or Left Field Landing.  You get hot dog, pizza slice, burger or veggie burger, famous Nathan's Crinkle Cut French Fries and a regular fountain soda.  Right now the deals are up for games during April and May.
This year is the first year for the Fill The Park For Charity Program.  From the website on the Mets ticket section: "Every Wednesday game at Citi Field will have a designated charity associated with it, benefitting a wide range of causes. Each participating 501(c) 3 non-profit will fundraise through the sale of discounted tickets for their specific game and utilize Citi Field to raise awareness to their message…For every ticket purchased directly through this page the New York Mets will rebate a portion of all sales to the corresponding organization."
April 3rd, Habitat For Humanity
April 24th,National Brain Tumor Society
May 22nd, New York Blood Center
June 12th, New York Police And Fire Widows' and Children's Benefit Fund
July 24th, Cystic Fibrosis Foundation
August 17th, Uniting Against Lung Cancer
September 11th, Tuesday's Children
September 18th, 1 in 9's Hewlett House (Breast Cancer Awarness)
There are still open dates for May 8th, July 3rd, August 21st and August 28th.
And finally, there is the 2nd Annual Postgame Summer Concert Series:
Foreigner June 14th
NAS July 19th
O.A.R. August 2nd
Third Eye Blind August 23rd.
Stay tuned for any updates and/or changes to any sort of related giveways and special events.