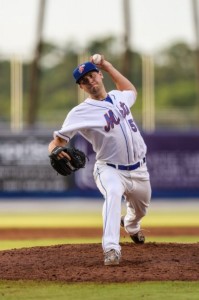 Jack Leathersich:  Leathersich had a pretty impressive 9 game audition in 2011.  The 5th round pick managed 12.2 IP with only 6 Hits, 3 Walks and 26 K's!  He followed up that impossible feat with 12 games and 24.0 innings at Savannah in 2012.  Through A ball he'd managed 63 K's in 36 innings (a 15.49 K/9).  Then he got promoted to Port St. Lucie and he showed he was human.  His ERA in A+ ball was 4.12 and H/9 and BB/9 both rose.  His K-Rate remained spectacular: 14.2 K/9 (76 K's in 48.0 IP).
Scouting: At 5'11", Leathersich is not a dominating looking player.  He's not really built like a modern pitcher at all.
Fastball: A pitcher who gets a K/9 that high must have a killer fastball, right?  WRONG!  Leathersich lives at 90-91 MPH and touches 92.  Or a lefty that isn't bad but Aroldis Chapman isn't worried about someone having more gas than him.  Leathersich get's those K's because he's got a deceptive delivery which makes that 90-ish fastball look a lot harder to hit than it might be on paper.
Secondary Pitches: Leathersich employs a slider that is still a hit-and-miss pitch as he has trouble locating it from time to time.  The secret to his future success lies in this secondary pitch as he will need it to succeed in AA and beyond.
ETA: I would start Mr. Leathersich in Port St. Lucie and let him close, but a lot of people want to promote him to AA right away.  I'm okay with this to, but he's still going to be a middle reliever if he makes that jump.  If he can get a grip on his slider there is no reason not to think that Leathersich could be in the Met bullpen in 2014 and if he can make that slider a + pitch he could have a future as a closer… albeit one who doesn't have that 98 MPH heat of most MLB closers these days.
Mets Top 20 Prospects:
1.
2.
3.
4.
5.
6.
7.
8.
9.
10.
11.
12.
13.
14.
15.
16.
17. Jack Leathersich, LHP (AA) [2014 Bullpen… 2015 Closer?]
18. Cory Vaughn, OF (AA) [AAAA]
19. Jacob deGrom, RHP (AA) [2014 Bullpen]
20. Steven Matz, LHP (Full Season A) [2016 Bullpen]