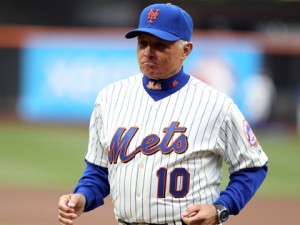 The Mets stand 41-50 at the All-Star Break, finishing 17-13 in their last 30 games. This has pulled them 11 back in the division and only eight losses out of the second Wild Card spot. With the way they have been playing, is it outrageous to dream of a second half run?
Well, yes and no. We all have documented the problems within this organization. Starting from a manager with some questionable decisions to talent that hasn't lived up to its hype (Ike Davis and Jordany Valdespin), the Mets have had their share of faults this season. But over the past couple of weeks, we have seen just what this Mets team can really do.
The introduction of Zack Wheeler to the majors has brought in success, along with the addition of Eric Young Jr. as a leadoff hitter.  The result: a stretch of games that has made all Mets fans want to tune in and watch.
It probably isn't enough to make a push as Wheeler is bound to hit his share of struggles and Young Jr. will cool off as a leadoff hitter.  For the fans though, it has been a glimpse of what the future has in store.
In 1973, the Mets held a record of 38-48. They found themselves 10 and a half games out of the NL East. The second half they went 44-31 and won the NL East. What does this all mean? It means that there is hope. I, myself, will be trapped into the idea that this team can make a second half push and make a run.
That's the best part of baseball, anything can happen. This Mets team could make a run over these next two weeks; add a piece at the deadline and make a run that will make the summer enjoyable. The more realistic fan in me knows this is not the case, but is enjoying the thought of it happen.
These thoughts are what will keep me tuned in as a fan, to watch this team mature and possibly make that run all while moving closer to the ultimate goal of making it back to the postseason. It's times like these to be excited as a diehard and a member of the Mets fan-base. This summer and off-season will be a time that is talked about as the turning point of the Mets franchise. And it all starts with a second half full of dreams and aspirations of getting back to the promise land of October baseball.