With Wilmer Flores making his much anticipated Major League debut on Tuesday, and Zack Wheeler already showcasing his talents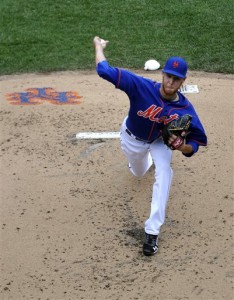 over the past month and a half, Met fans can certainly look forward to the next big prospect the team will call up. But exactly who will that be? Let's find out.
As if Mets fans needed another reminder that things change in an instant, Cesar Puello was suspended for 50 games by Major League Baseball as part of the Biogenesis scandal. We all knew his name was being tossed around but what wasn't completely clear was if the 2013 Eastern League All Star would in fact be forced to sit out. With that being said, it's safe to say Puello will not be the next guy.
With John Buck's wife due to have their third child any day now, Terry Collins has indicated that Travis d'Arnaud will be strongly considered as a call-up when Buck is to be placed on the paternity list. d'Arnaud, whose rehab tour from a broken foot in April is currently stationed in Binghamton, would only be brought up for the three games Buck would miss and then would be sent back down. Despite that, it would not only be a chance for Met fans to see their possible catcher of the future, but it would be an unbelievable opportunity for him to get a small sample of what it's like to be in the show, so don't be surprised if d'Arnaud's name is called within the current week.
The Mets currently have three everyday outfielders in Juan Lagares, Eric Young, and Marlon Byrd. The two latter names being veterans are probably going to need some days off in September when playoff hopes are gone, so is it unreasonable to say they could call-up a prospect outfielder? Matt den Dekker is hitting .265 but that in part is due to a sub-par August. On a better note, though, he is hitting over .300 against righties and has come through in the majority of his opportunities with runners in scoring position recording 16 RBI in 32 AB. den Dekker, known for his innate ability to play defense, broke his wrist diving for a ball in Spring Training. A lefty-righty platoon of den Dekker and Juan Lagares in centerfield doesn't sound all that bad as Lagares has also been known to flash the leather when needed most.
Does the next big name prospect called up have to come from Triple A? Absolutely not. Why not take a look at Wilfredo Tovar, Cory Vaughn, or Darrell Ceciliani? Even pitchers Cory Mazzoni, Darin Gorski, Jeff Walters, and the big fish Noah Syndergaard are worth a shot in September.
The Mets farm system looks promising, and only time will tell when they can make a difference in Queens.