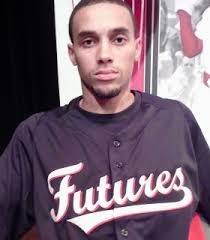 Eric Young has quickly developed himself as a fan favorite in New York and it has become clear that fans love a speedster on the bases, so why not the fastest baserunner on the planet? Billy Hamilton set a MLB record for most steals in a season with 155 in 2012 and has stolen over 70 bases this season. He also bats from both sides and can play shortstop as well as any outfield position. The main questions for this trade will of course be: where will he play, and who will Sandy Anderson give up to obtain Hamilton? As every Mets fan is aware, there are tons of pitching prospects in the Mets farm system but no hitters that are even close to joining the team.
Multiple determining factors would put Hamilton on the market and on the Mets radar. First, if he hits extremely well after being called up in September then the Reds will most likely let Shin-Shoo Choo walk giving the Mets no opportunity to get Hamilton. However, if he is just a tad underperforming, then the Reds will bring back Choo and the Mets could land Hamilton. Another roadblock in the Hamilton bandwagon is the element of surprise — if/when Choo hits the market. What I mean by this is that another team could swoop in and take Choo- perhaps the Mets- and then the Reds will definitely keep their top prospect. The biggest problem with the Mets getting Hamilton is that he has struggled this year while in AAA due to a pretty high strikeout rate and a regressing walk rate. However, if the Mets do get Hamilton they will most certainly fix his walk rate, but his strikeout rate might continue to rise. Of course, the biggest problem for Hamilton will be that he can't steal first.
The main positions that need to be filled are the corner outfielders and shortstop. If the Mets were to get Hamilton in a potential deal, it would be up to the managers to decide where he plays best. In the minor leagues, his performance has actually shown him as having a decent arm with average defensive skills. He is really just a younger version of Young with a slightly better arm and plays shortstop, instead of second base. My guess would be that he is moved to left field. Even though center field is Hamilton's best position, there is no reason that Juan Lagares should move his National League leading 12 outfield assists and 2.86 range factor/9Inn somewhere else.
The real question will be who would be traded in order to acquire Hamilton. Here is a mock trade of what might land Hamilton. Keep in mind that most of the Reds top prospects are projected to arrive a little bit down the road, so
these prospects would go with that theme.
Mets get: Billy Hamilton
Reds get:
Most Mets fans heard about him before the season started as a fireballer who would throw bullet after bullet and actually had decent control. Now we hear about him as someone who can't get his control together and is constantly giving up runs. Tapia actually could have a great career in the big leagues if he gets his SO/BB rate to where it was last year. He doesn't expect to make the big leagues for a couple of seasons of further development, and the reds have learned how to develop young pitchers.
Being drafted as a shortstop in 2012 was interesting because on June 4th-the day he was drafted- Ruben Tejada happened to be injured and was batting over .300. Many had already pictured Tejada being the starting shortstop on a contending Mets team. Sandy Alderson drafted Cecchini probably thinking there weren't any better options at that point in the draft. He might also have pictured him as being a potential trade target down the road. This is down the road right now and it seems Tejada will be playing a lot in September to attempt a starting role. I personally think Tejada should be traded to another team and Wilmer Flores should drill down the position defensively. The Reds feel very high on 28-year old Zack Cozart, but he hasn't even attempted a stolen base this season, and a few years down the road the Reds may decide they want a younger shortstop that can play defense AND steal bases.
Obviously it is not advantageous to get rid of some of the top prospects in the Mets organization especially with Harvey potentially missing a chunk of 2014 – which I hope will not happen. Unfortunately the baseline of a
potential trade will depend on the performance of Hamilton in September.
**************************************************************************************************************
Got something to say about the Mets? Go to the Mets360 Forums to talk about whatever you like in regards to the Amazins!
***************************************************************************************************************