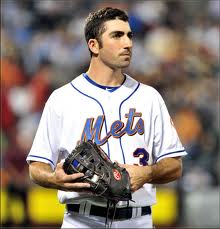 The Mets had one of the worst offenses in the league, however, after David Wright and Daniel Murphy there are few offensive players to rely on. Josh Satin was one of the biggest surprises on the 2013 squad and was probably the third best hitter that ended the season on the Mets. Satin should be considered for a place on the 2014 and beyond Mets 25-man roster.
Satin's 2013 raw numbers were very efficient; three homers, 17 RBI, 30 walks, .279/.376/.405/.781 slash line, and a 123 OPS+.
The first thing to touch upon is his walk rate; it was at a very respectable 13.6% of all PA. He can walk at a very effective rate and Sandy Alderson will appreciate that. This led to a very flashy .376 OBP that is only going to rise as he adjusts more to Major League pitching.
Satin has always had a great read on where a baseball is going to drop, and while he possesses great patience, when he puts the bat on the ball he has great results. His BaBip (Batting Average on Balls in Play) is an exceptional .379. This is a very important statistic to look at because it really shows that he can swing the bat and make it effective.
Satin does not contain that much power in him, but he does have a reasonable slugging percentage at .405. This is because 34% of his hits are for extra bases and he slugged out 15 doubles in only 190 at-bats. Doubles are extremely important off the bench because it puts him into scoring position while possibly knocking in a run.
An interesting part of his game is that he hit better at Citi Field than anywhere else; Home: .286/.371/.462 Away: .273/.379/.733. In reality, he hits very well home and away but it is interesting to see that he can hit anywhere. He is also a very good situational hitter; he hit .268 with Runners in scoring position and even better with runners on base in general- .292. He was also a great hitter with two outs with a .278/.391/.426 slash line. The most interesting fact of his hitting is that he doesn't have much of a gap in production whether the Mets win or lose.
Satin was an above average hitter that won the Mets 1.2 according to WAR and was the hero of numerous games during the summer and there should be given a spot on opening day. Not only does he thrive in high pressure situations, he is patient and has a talent for putting the play effectively.