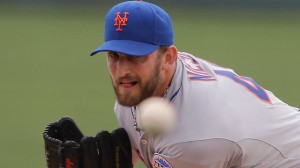 Well the big news of the day being spread throughout social media and the Internet is that Jon Niese is on his way back to New York for an MRI. It's reported that Niese has some discomfort in his left shoulder.
This comes just a couple of days after reports that the Mets are potentially looking to talk to Seattle again about a Nick Franklin trade. The Mariners were looking to acquire a major-league ready starter, but with Niese's health up in the air that seems to be put on hold.
Now most of Mets Twitter has freaked out, believing that the end of the world is occurring or that the baseball gods hate the Mets. It is still unknown at this point what the extent of the injury is, although Terry Collins described it as a dead arm.
A dead arm is not un-common for spring training, and this is only viewed as a precautionary MRI. So for fans freaking out over this, I would say to just relax and hold off on any diagnostic until results come back.
Add to this the fact that Bartolo Colon is being held out of practice today with a tight calf.  Both of these injuries bring back the point that many have tried to make over the past couple of years: you can never have enough pitching.  Pitching is never a surplus and it's always good to have more.
It's why Sandy Alderson is so reluctant to move his prospect pitchers and big league pitchers for a bat. Pitching is the key to success in baseball and having as many as you can is always a good thing.
It's why Alderson signed Bartolo Colon, John Lannan and Dice-K. It's why he won't trade Rafael Montero, Jenrry Mejia and Noah Syndergaard.
Now this injury could be nothing. Niese could be on the next flight back to Port St. Lucie getting prepared for Opening Day. He could be out a day, month or season. But this is just a lesson as to why signing a pitcher is never a bad thing.