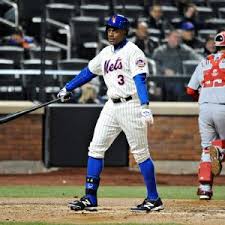 "Real New Yorkers are Mets fans," are the most remembered words by Mets new outfielder Curtis Granderson during his press conference this past offseason.  Granderson entered 2014 with high expectations, and has seemed to fail each and every one of them.  Granderson has a batting average well below .200 after playing in 19 of the Mets first 20 games.  Of course, there is still time to turn everything around.  Granderson signed a four-year deal with the Mets, and is playing in one of the worst hitting ballparks in Major League Baseball.  So what can Granderson do to prove all of his haters wrong?  He can begin by taking more pitches, stealing more bases, and shortening his stance.
Granderson has walked less than ten times this season, and the same goes for his hits.  That means that he has rarely been on base for the Mets, which is not good for a player batting in the second spot in the lineup.  In fact, even Ruben Tejada has more hits than Granderson so far this season, and Tejada bats eighth.  That being said, Granderson needs to start taking more pitches.  He has over 20 strikeouts to this point, and is swinging at too many bad pitches.  If Granderson is able to control himself, and he begins to take more pitches while at the plate… he will walk much more.
If Granderson walks more, he will also be able to steal more bases.  Granderson has already proven throughout his career that he is able to steal around 12 bases a year.  If Granderson continues to bat in the two spot after Eric Young Jr., they will steal 30+ bases this year.  As statistically shown, more stolen bases leads to more runs scored in a game, and that could easily benefit the Mets.  Also, Granderson stealing more bases will benefit other Mets in the lineup, as Wright and Murphy will be able to get many more RBI's than they are currently receiving.
Finally, Granderson needs to close his stance in order to produce better at the plate.  Right now, Granderson seems to take up almost the entire batter's box while in his stance.  He has an open, wide stance… and that is not good for hitting.  If you look at all the big power hitters, they all have a slightly open, narrow stance.  This allows them to take a shorter step, and drive the ball much further.  Granderson on the other hand keeps both knees oddly bent, and takes a long, slow step before swinging the bat.  This causes him to swing extremely late when balls are thrown to him, which leads to a large number of strikeouts.  If Granderson is able to change his stance, he will get more hits, which could also lead to more home runs and extra base hits.
When I went to the Mets game this past Saturday, Granderson was booed off the field after striking out off of Craig Kimbrel.  Now, he gets booed every time he makes an out during a game.  Of course, he seems to deserve it, but he appears to be taking it a little too lightly.  If Granderson wants to be loved by the New York baseball fans, he will need to work on a few things such as taking more pitches, stealing more bases, and shortening his stance.  This will not only lead to a better season for both him and the Mets, but it will prove that he is willing to do anything for this team in order to get them to the playoffs.