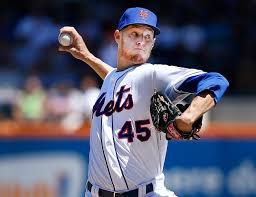 The Mets starting rotation has been solid this season, featuring Bartolo Colon, Jacob deGrom, Dillon Gee, Jon Niese, and Zack Wheeler. In a rotation featuring pitchers with ERAs below 4.00, there has been a consistency of good starting pitching throughout the season. Although pitchers experiencing streaks may be common, Wheeler is turning a corner late in the season, and is finding success with each start. Expectations are beginning to be met, as his past couples of outings have been strong, with the Mets winning six of his last nine starts.
Early in the season, Wheeler would have one or two solid outings mixed in with a bad outing, leaving fans wondering when he would settle into a groove of dominating consecutive games. It seems the regularity of quality starts occurred when John Smoltz gave the Mets righty some words of encouragement, which Ken Davidoff of the New York Post reported. The words Smoltz spoke must pumped up Wheeler as the starts that have followed have been exciting to watch.
Over his last nine starts, Wheeler has gone 5-0 and has had quality starts in each outing. The stuff factor is there too, as he has struck out 54 batters in 58 innings. With solid outings against playoff contending teams such as Milwaukee and Washington, Wheeler can perform well against great lineups.
With Matt Harvey on the disabled list, the Mets were without a "true ace", and hoped their young staff would mature and improve upon last season. Wheeler is improving and is beginning to step into the ace role. There are areas Wheeler must improve on, as walks have been his weakness throughout his career. Enabling 25 base runners via base on balls in his last nine starts is troubling, and the unfortunate result of walking so many hitters is that Wheeler has not finished seven innings throughout his recent streak. Even in his most recent start against the Cubs, his ten strikeouts and four walks had Wheeler finishing the game with 120 pitches while leaving with two outs in the 7th inning. Granted it was a 3-2 game, but with his fastball reaching 96 MPH and his slider that made the Cubs look silly, it would have been nice to see him finish the 7th inning.
Before this season, it seemed that there were debates among fans about whether or not it would be smart for the Mets to trade Wheeler for a slugger, and many people seemed willing to deal the right-hander. At age 24, there are bound to be growing pains along the way, but with this recent hot streak, skeptics are going to become believers, as the future looks a lot brighter with Wheeler pitching in either the second or third spot in the rotation.
Ideally, the rest of the season would feature Wheeler continue doing what he has been doing, and that is finishing or pitching past the 6th inning, while continuing to put up zeros throughout his starts. Even though this is Wheeler's first full season of pitching in the major leagues, it has been a productive one, and hopefully he will continue to gain experience and success each remaining start.