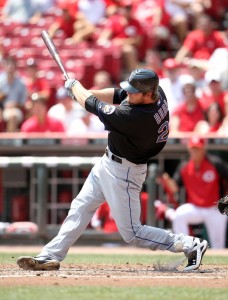 For years the debate raged on. Should the Mets keep Ike Davis or Lucas Duda as their first baseman?  Some thought that Duda was the clear-cut better choice, while others steadfastly defended Davis.  I flip-flopped my stance on Davis more times than your average Washington politician.
Coming into this season, my stance was I thought that Davis had the higher potential, but Duda would give you a lot more consistency.  Davis should be given one more chance to try to become what he was for that one month in 2011 and the second half of 2012.  I wasn't ready to commit to Duda as the better option.
Turns out I was foolish to think that way.
All Duda has done this year is prove that he belongs as an every day starting option at first base for the Mets for the foreseeable future.
Duda is sixth among MLB first baseman in fWAR with 2.9, edging out names such as Albert Pujols, Edwin Encarnacion, and Adrian Gonzalez.  Only Encarnacion (.298) and Jose Abreu (.290) have higher ISOs than Duda's (.248).  Among NL first basemen, Duda ranks fourth in fWAR, wOBA (.373), and wRC+ (143).
Meanwhile, Davis is playing a position very familiar to myself for the Pittsburgh Pirates: end, guard and tackle.  End of the bench.  Guard the water cooler.  Tackle anyone who tries to take it.
Bad jokes aside, Davis has been pretty terrible for the Pirates, and there's nobody who with a straight face can say that the Mets didn't make the right decision to keep Duda.
The best part about Duda's success is the way that he's handled the entire situation from the very beginning.
He may have said that he was intimidated by playing the outfield, or admitted he got nervous, but he never complained about his situation. He wasn't a primadonna.  He just went out and put his work in, and now that he's having success his attitude hasn't changed.
There's something satisfying about Duda's rise.  He's proven all the nay-sayers wrong the right way.  His hard work and determination has paid off in a way that maybe he never even imagined.  He now has the seventh-most home runs in a season by a Mets lefty.
I was wrong to have doubted him.  We all were.  If there is one positive thing to take out of this 2014 season, it is the rise of Lucas Duda.  It's been a pleasure to watch.
Joe Vasile is a broadcaster for ESPN radio in Williamsport, PA.