Why the hype?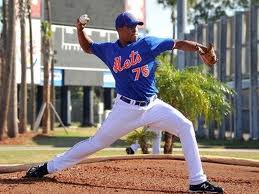 Jeurys Familia, SP: Before the season started, Familia was considered one of the top three prospects in the Mets minor league systems. Coming into the season, some people ranked him higher than Matt Harvey and/or Zack Wheeler. As the season comes to an end, he has become a polarizing prospect. With a 96 MPH fastball and a biting slider, no one can argue his stuff is not top notch, but stuff is not as important as results. Those who ranked Familia higher than Harvey and Wheeler probably want a redo because one has to wonder if he is even a Top 5 prospect.
Like the expression goes, hindsight is 20/20. Those who ranked Familia as high as they did had reason to. He is only 22 years old and he had a lot of success last year in A and AA ball last year. Between both levels last year, Familia had a 2.90 ERA with 132 Ks and 43 BBs. Many saw him on the same level as Harvey as well because like Harvey all he had to work on in AAA was his command and changeup.
Unfortunately for Mets fans neither saw any improvement this year. In fact, some would say Familia has regressed with both his command and changeup. His stats this year are not all that impressive. In 24 games started (GS) and 112 innings pitched (IP), Familia has a 4.98 ERA, 100 Ks, and 66 BBs. His B/9 (walks per nine innings) is a staggering 5.3 while his K/9 (strikeouts per nine innings) has regressed to 8.0. Compare that to his 2011 BB/9 of 3.6 and K/9 of 9.9 and one can quickly begin to see how much Familia has truly regressed this year.
Familia has a career 4.0 BB/9 in his five year minor league career, so one has to begin to wonder if this is just how he will always be. With his wild and inconsistent command, it is not hard to imagine a pitcher in the same vain as Victor Zambrano. Zambrano had great stuff, but could never harness it enough before he got injured. Although Familia is only 22 years old, he is regressed so much this year it is hard to see him ever straightening his command out. Not only does he need to work on his changeup, but his fastball and slider are still not completely under control. Familia still has ways to go as a starting pitcher.
So is all lost for Familia? Not completely; the stuff is still there. Familia has an electric arm that should be able to find a role somewhere in the majors. Worst case scenario, Familia doesn't cut it as a starter and can't adjust to coming out of the bullpen. The best case scenario is he becomes a dominant closer which is not so far off. If he can learn how to command his fastball and slider for an inning at a time it's possible. However, not everyone has the make up to handle closing out the game. That's why this Mets fan sees a player in the middle of the worst and best case scenarios. Familia will find himself in a 7th or 8th inning role as a dominant reliever for years to come.
Those of you who dream of a top of the rotation starter, I ask: Why the hype?