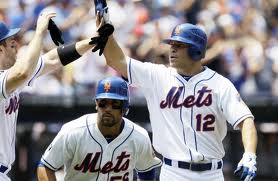 A typical National League roster in 2012 has 12 pitchers and 13 hitters. The breakdown of the hitters usually is: 2 catchers, 6 infielders and 5 outfielders. Because of the ability of Justin Turner to play all four infield positions, the Mets have gone with 5 infielders and 6 outfielders recently. But Turner's injury yesterday throws a wrench into those plans.
It probably wasn't a long-term plan in any event so the Mets are going to have to make some tough decisions in the near-future, ones made even more complicated by the return of Jason Bay, who has been out since April 23rd with a fractured rib. After going 8-8 with Bay active, the Mets have gone 19-14 in his absence.
Let's take a look at the outfielders and look for their strengths and weaknesses.
Mike Baxter
Pro: Has excelled as a pinch-hitter and performed well when given a chance to start recently
Con: Hitless this year versus LHP and looks unsure in the outfield
Lucas Duda
Pro: Tied for team lead in HR and is 2nd in RBIs.
Con: Terrible defensive outfielder; has just one XBH versus a LHP in 61 PA.
Scott Hairston
Pro: Carries a 122 OPS+ this year and can play second base in a pinch.
Con: Has the same skill set as Bay but makes millions less
Kirk Nieuwenhuis
Pro: Has held his own in the majors and has a knack for coming up with the big hit
Con: Is a poor fielder and struggles versus LHP
Vinny Rottino
Pro: 2 HR in 14 ABs versus LHP; can also play corner infielder and catcher
Con: a 32 year old with 57 lifetime PA in the majors
Andres Torres
Pro: Strong defensive CF; top baserunning threat on the club
Con: Has a .416 OPS in his last 60 PA and looks worse that that at the plate
Rottino would be the likely candidate to be sent away when Bay returns or the Mets decide to go with six infielders again. Yet we cannot discount the possibility of him going Mike Jacobs on us and forcing his way onto the roster. Back in 2005, Jacobs was brought up as a stop-gap but proceeded to hit 4 HR in his first 16 PA and spent the rest of the year in the majors. Rottino has homered in back-to-back games and given his performance versus lefties and his defensive versatility, he should not be counted out so quickly.
If not Rottino, Torres would seem to be in trouble. While he's gotten the job done defensively, as a hitter he's been almost Jeff Duncan like, which isn't a compliment if you never got to see him play or if you've successfully erased the images from your mind. Torres seemingly has no long-term future with the club. If he's not likely to be around in 2013 and he's not hitting in 2012 – what's the point?
So, we will get a glimpse into what Sandy Alderson and Terry Collins value more. Will Rottino's RHB and third-string catcher value outweigh Torres' hands-down advantage as the team's best defensive outfielder? The safe way out would be to keep Torres, as no one would criticize a move to keep the club's Opening Day CF instead of a career AAAA guy.
Still, it's fun to imagine the Mets keeping Rottino when Bay comes back and going Casey Stengel by embracing platooning at all three OF spots. Versus RHP the Mets could trot out Baxter-Nieuwenhuis-Duda and versus LHP it could be Bay-Hairston-Rottino.
That's a pipe dream to be sure. Back to reality – what do the Mets do when Ronny Cedeno , Ruben Tejada and Turner are all healthy? All three feel like they have a spot on the major league roster. That means whichever one of Rottino/Torres survives the first cut won't be long in the majors anyway.
The Mets have five guys on the DL now – Bay, Cedeno, Tejada, Josh Thole, Turner – yet only four players that seem like easy removals from the roster – Omar Quintanilla, Rottino, Torres and whichever backup catcher they send down. Assuming no one else gets hurt in the interim (hah!) who is the final cut?
If Torres is gone then Nieuwenhuis is safe. Ike Davis to Buffalo is still a possibility, especially with four strikeouts in his last six at-bats. Turner still has an option left. It remains to be seen if Bay still has the giant fork in his back. Hairston should not feel comfortable, despite his .937 OPS since Bay hit the DL. In fact, let's compare Bay and Hairston the past two years:
JB – .245/.327/.383
SH – .243/.303/.486
While OBP is more valuable than SLG, there's simply no way 24 points of OBP trumps 103 points of slugging. And when you factor in Hairston's ability to play CF and fake things at 2B, it would be a traveshamockery if the Mets cut Hairston to keep Bay.
Turner is supposed to be out 2-3 weeks and they could always give him a rehab assignment in the minors when he comes back. But the Mets will have some tough choices to make in the next month and it will be interesting to see how it all shakes out. What would you do if you were Sandy Alderson?