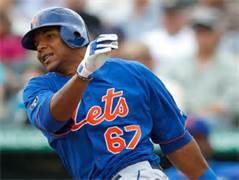 I went to an actual Met game for a change.  It was a mistake as the Mets lost 8-4 but the highlight of the game for me was seeing the minor league update and hearing that Cesar Puello had collected three hits the night before.
It's likely that you've heard Puello's name before but it might be more for his unfortunate connection to Ryan Braun and Alex Rodriguez than his baseball play.
Puello jumped into my prospect radar in 2010 when he hit: .292/.375/.359 for Savannah and stole 45 bases.  He followed that up with a slightly less impressive year in Port St. Lucie but (as he picked things up at the end) I still had high hopes.  2012 was a lost year to injuries and by 2013 he had basically slipped off my prospect radar.
We are 52 games into his 2013 season and he's hitting: .326/.401/.606 in AA and he's slugged 13 home runs and stolen 17 bases.  That's a lot to be excited about… if not for the looming suspension.
What do the Mets do?  Puello could possibly skip AAA and join the club at this point, or he could be promoted to Las Vegas and taste some more difficult pitching, but what would be the point.  Any day now the MLB will hand down a suspension of 50 games to Puello as part of their misguided witch hunt of Ryan Braun.  What would be the point of a promotion?  He's going to lose all of his momentum and he may have never actually used PEDs.  Sigh…  It's still nice to see the Mets having a player who might project into the 2014 outfield with an impact bat.
AAA:
Josh Satin promoted – AND IT'S ABOUT TIME!
Wilmer Flores still on a hitting tear – His batting average is up to .303 which has raised his OPS to .824.
Zack Wheeler stumbling towards promotion – He's not been 100% pretty on his final starts but I would get him the heck out of Vegas ASAP.
AA:
Travis Taijeron promoted and succeeding – We'll see if he keeps it up in AA.  He's closer to the median age so success here would mean a lot more.
Rafael Montero is too good for AA – There is nothing for Montero to prove at this level.  He's given up only 11 hits in his last 20 IP (3 Games).
Jack Leathersich is better – If Montero seems to have AA hitters over-matched, Leathersich has them utterly baffled.
A+:
Noah Syndergaard waiting for the call – AA is just a phone call away.
Jim Fuller LOOGY? – Fuller was part of a Savannah trio a few years back that included Brandon Moore and Mark Cohoon.  He's had some injury trouble since but he's healthy again and he's A) Pitching well against everyone and B) DESTROYING lefties.
Full Season A:
Brandon Nimmo has one strike against him – He's doing well but he K's too much.
Gabriel Ynoa would like to be promoted – He's definitely ahead of the competition at the Low-A level.