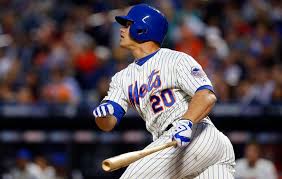 Through games of August 16, the Mets had used just two catchers all season – John Buck and Anthony Recker. This is due to three main reasons: Buck and Recker stayed healthy, Travis d'Arnaud did not and there was no other catcher who deserved consideration for the spot.
But d'Arnaud finally recovered from his early-season injury and the paternity leave for Buck opened up a spot for him. Now comes word that when Buck returns, the Mets will keep d'Arnaud in the majors. It's hard to argue with that logic – d'Arnaud is the future and there's no reason to send him back to Triple-A at this point.
However, someone will have to go and all signs point to Recker being sent to the minors. Recker's overall numbers are not that impressive – a .193 AVG and a .629 OPS – but he does have one stat that simply should not be ignored. Here is the Mets' record when their three catchers have started the game:
Buck: 40-53
d'Arnaud: 0-2
Recker: 16-11
The Mets have a .459 winning percentage overall but when their backup catcher starts, they somehow play at a .593 clip. This is even more impressive when you consider that Recker did not start one game when the club's best pitcher was on the mound, as Buck was behind the plate for Matt Harvey's first 24 starts and d'Arnaud caught him Sunday.
Perhaps if Recker had caught him some, Harvey would have more than nine wins.
It is very possible that Recker's success is just a small sample size fluke. Still, one cannot help but wonder why manager Terry Collins kept him glued to the bench, especially early in the year when the Mets stumbled after getting off to a solid start. From April 26th through June 14th, the Mets were 14-28. In those 42 games, Buck started 35 times and the club was 11-24.
Buck was white-hot through most of April and it made sense to ride him as long as his hot hitting lasted. But Collins kept writing his name in the lineup day after day, even when his hitting was dreadful. In the span listed above, Buck had a .575 OPS.
One of the criticisms of Collins is that he rides players too long and it certainly appeared to be the case with Buck. Most managers look to give their starting catchers one or two days off each week, a number that goes up if they are on the wrong side of 30. Buck turned 33 in July.
Regardless, as we look to the future, we know that d'Arnaud is the club's starting catcher in 2014. The question is who do they pick as his backup. Buck has won praise for his handling of the pitching staff, along with his work mentoring d'Arnaud, but will he be content in a backup role? He's played 100 or more games seven of the past nine seasons and currently sits at 99 games.
Meanwhile, Recker currently has two options remaining, although if they send him down as expected early this week, he'll burn one of those. Still, it means the Mets could retain him in the organization even if they decide to go with Buck as the 2014 backup, provided they either keep him on the 40-man over the winter or he goes through the Rule 5 draft without being selected.
Everyone talks about the money coming off the books this season and how the Mets will have cash to spend this winter. If that is true then bringing back Buck as a backup seems like a decent play. But if this offseason follows the previous ones under Alderson, where the club had very limited funds to spend, then they should be happy to go with Recker as their backup at a league minimum salary.
*****
Only three times in franchise history have the Mets used only two catchers in an entire season. The last time was in the strike-shortened 1994 season, when Todd Hundley was backed up by Kelly Stinnett. The last full season where it happened was 1987, with Gary Carter and Barry Lyons. The first time it happened was 1970, when Jerry Grote took time away from Duffy Dyer.