Welcome to the off-season. Once again, since the Mets are not one of the ten participants in the post-season, it's time instead for some post-mortem. In this new series, the Mets360 staff will take a look back at our pre-season previews and see how they played out. Just a fun little ongoing exercise to while away the days until mid-March, when the focus turns again to Port St. Lucie, hot rookies, veterans seeking rejuvenation and who's "in the best shape of his life."
Today we'll look at the lynchpin to the future, Matt Harvey.
Here at Mets360, we were all encouraged by Matt Harvey's 10-start 2012 debut season. When you come fresh out of the box and post 11 strikeouts in five-and-a-third innings – against a better-than-average offense in an atmosphere most favorable to the hitters – eyes will be opened. Over his next nine starts, covering 54 innings, the buzz only got louder. With the trade of R.A. Dickey, we looked to young Harvey to take up the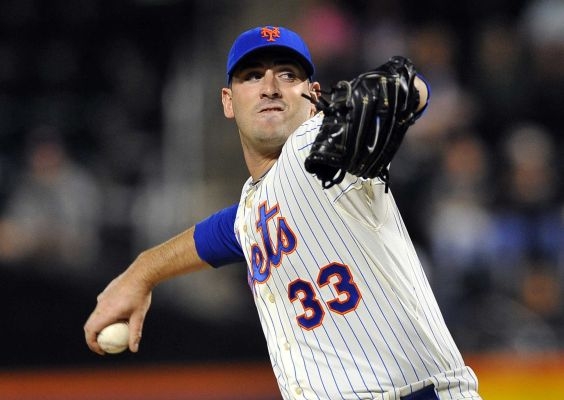 slack in innings.
Here was our prediction for 2013:
IP – 180.33
ERA – 3.46
K – 180
BB – 73
BABIP – .294
The consensus was that we would see a young pitcher — an ace in training – mature before our eyes. We weren't looking for anything spectacular, but incremental growth from a youngster who may or may not develop into a head-of-the-rotation player: we expected small steps. What did we get?
Oh, wow.
I hope you'll pardon the fanboy-ish tone of this piece, as your intrepid columnist was dazzled by Matt Harvey's performance in 2013 – as was most of the baseball-watching country. This was a kid with a fearsome arsenal of pitches and a take-no-prisoners demeanor that made him appear more mature than his 24 years. His was a vivid presence on the mound. Competetiveness oozed out of his pores. He hated to surrender a walk. Case in point: his second start of the season, in Philadelphia. Harvey was masterful that day, easily outpitching a broken Roy Halladay. He had walked Ben Revere to start the game, then roared through a Phillies lineup that hadn't yet proved itself limp. He opened the fifth by walking Laynce Nix on four pitches. You could see that this annoyed the heck out of him. After ball four, he took the return throw from John Buck with an annoyed snap of the glove and look of dour disgust on his face. He then proceeded to strike out the side on 11 pitches.
We were treated to these types of performances throughout the year. Even the occasional "clinker" – which every pitcher has, unless they're totally inhuman – was a performance any average hurler would drool for. Matt Harvey was living up to the nickname placed on him by no less an authority than Dwight Gooden, "The Real Deal." When Harvey took the mound, we saw Gooden. We saw Tom Seaver. We saw an embryonic Nolan Ryan. We saw a future filled with big games against the likes of Stephen Strasburg, Clayton Kershaw and post-season meetings with Justin Verlander and Max Scherzer. In fact, it was Harvey vs. Scherzer to start the All-Star Game at Citi Field – for the record, Harvey went two innings, allowing a hit and striking out three. Every fifth day, we got giddy.
Of course, the Metsian pedigree reared its head again. After facing Scherzer again in a nationally televised game the next-to-last weekend in August – the Tigers completely outclassed the Mets in front of the whole country on a Saturday afternoon – Harvey discovered he had a swollen pitching forearm. An MRI the following Monday revealed that he had developed a partial tear of his ulnar collateral ligament – basically the ligament in the elbow that gets fixed when Tommy John surgery is performed. All the wind departed from the Mets sails at that point. With David Wright already on the shelf, the entire team's shoulders sagged and the wins became few in September. We've recently heard that Harvey will have the TJ surgery performed at the end of October, completely scuttling his prospective 2014 season. We can do nothing else but wish him Godspeed, and wish upon every star possible for a speedier-than-normal recovery.
Here's how Matt Harvey's season ended:
IP – 178.33
ERA – 2.27
K – 191
BB – 31
BABIP – .283
Even with his injury, Matt Harvey defied our wildest hopes and expectations. As it turned out, we were almost dead right on our IP projection, but none of us predicted an ERA below 3.00. He walked fewer than half the men we foresaw. His BABIP was more manageable than we thought it would be. The "pros" weren't much better.
We will miss Matt Harvey in 2014. We can only hope The Real Deal can continue to deal in 2015.
Follow me on Twitter @CharlieHangley
***************************************************************************************************************
Got something to say about the Mets? Go to the Mets360 Forums to talk about whatever you like in regards to the Amazins!
***************************************************************************************************************