In early October, it was revealed that in next spring's McFarlane Toys SportsPicks MLB Series 2 lineups, that the Mets will be featured twice, though not in the base set.
Look for legend Rickey Henderson to be in a Met cap version (regular version will be as an Athletic), and Matt Harvey will make his debut as a big hunk of articulated plastic, and will be a Collector Club exclusive.  McFarlane has been creating baseball action figures now for over a decade since taking over the MLB and MLBPA licenses from Hasbro's Starting Lineup line, so it might be some fun to check out the Met representations through the years: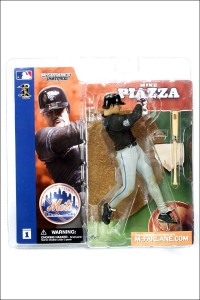 Mike Piazza checks in first in the very first wave of the MLB Series in 2002.  Piazza was seen swinging away in the Mets road black uniform.  There is also a chase version of the figure in a home snow white uniform with a blue and black cap.  Also in that first set were Albert Pujols, Ichiro Suzuki, Ivan Rodriguez, Pedro Martinez, Randy Johnson, Shawn Green and Sammy Sosa.
Roberto Alomar would be the next Met, appearing in the third series, also released in 2002.  The second baseman is seen diving in the infield for a ball.  He was also in the Mets' road greys, but you could also find a chase version in his home snow white uniform, with the black and blue cap.
The next time a Met figure would be released was Piazza in the 2004 3-Inch MLB Baseball Series 2 set.  Packaged with the Cubs' Kerry Wood, the Li'l Mikey is the same pose and uniform as the original one, only with the Shea Stadium 40th Anniversary patch in place of the 2002's team 40th Anniversary patch.
2004 also saw the debut of McFarlane's Cooperstown Collection, and Tom Seaver was in the first wave.  Seaver was shown in pre-release motion, complete with his knee scrapping along the mound.  It was also again seen in a Met road uniform, though this one was the classic 1970s look.  Willie Mays was in the second wave in 2005, as a Giant of course, but he had a chase figure that was in his Met road greys.
2005 would see Piazza get his second figure in the main set, the 11th one.  This time he was seen in his home black uniform blocking the plate.  The figure's chase edition would be Piazza in his road greys.
Later that summer, Carlos Beltran and Tom Glavine was part of Series 12's lineup.  Beltran's pose was of the center fielder running in to scoop up a sinking line drive, and in the Mets home black uniform.  Glavine's pose was about to hurl a pitch in his black road jersey.  Beltran had a snow white uniform, black and blue cap chase variant.
Pedro Martinez was included in 2005's 3-inch third series.  Martinez was depicted as he was about to release another fastball while wearing the Mets black home uniform.  The same mold was used for his appearance in the 13th main wave later that year, dubbed "Extended Edition."
Beltran's pose, and paint job, from his main series figure was used for his appearance in 2006's fourth wave of the 3-inch figures.  Billy Wagner would also be in the same set, in the Mets' snow white uniform, black and blue cap and appearing reading to fire a pitch away.
Carlos Delgado shows up in the 15th wave of the regular series in 2006.  Like the original Piazza, Delgado is seen in the last stages of swinging away, though in the Mets snow white uniform and black and blue helmet combo.
2006 would also see a David Wright figure debut.  In 3-inch form, Wright is seen as if he was on the on-deck circle in his Met pinstripe uniform and an all blue helmet.  This figure was actually an exclusive that was sold at Shea Stadium and Mets.com.
The 3-inch figures would see their 5th wave in 2007, and Martinez was one of the figures.  McFarlane used the same figure from the third wave, though this time in the snow white uniform and black and blue cap.
Wagner would be seen in the main series' 17th wave that spring.  His figure is in the same pose as his mini figure, though sporting the Mets' pinstripe uniform and blue cap.  Wright would also make his min series debut in the 18th wave that year.  Seen bare-handing a grounder and wearing the pinstripe uniform with a blue cap.  Martinez would get a second figure as a Met in the 19th wave, also decked out in pinstripes and a blue cap, though in his pointing skyward motion walking off the mound.
The Shea Stadium exclusive Wright figure would be followed up in 2007 with a 3-inch Jose Reyes, seen laying down a bunt in the snow white uniform and black and blue helmet.
The Wright exclusive would be used, with a repaint to reflect the Mets black home combo, in 2008's 3-Inch series 6.
Reyes would make his main series debut in 2008's 22nd main set wave.  This time in a pose that looks like he is pouncing out of a lead and is about to steal a base.  He is also decked out in the pinstripe uniform with a blue helmet.  Reyes also would have a chase figure which has black wristbands, instead of the blue on the regular figure.  Research also finds that there is a rare version of the figure with both a blue and black wrist band as well.
Early in 2008 saw the release of a special Met 3-Pack featuring repaints of the Delgado, Wright and second Martinez figures, all were sporting the home black uniform combo.
2009 would see Johan Santana in the 24th wave of the main series.  Santana is seen in a follow through pose and in the black home uniform combo.  Santana's chase jersey would be his road greys.  Series 25 would see a repaint of the Reyes figure, in the home black uniform combo.
In 2010 the 3-inch line was discontinued in favor of a new 4-inch line that would feature more articulation points for multiple poses called Playmakers.  Wright would have two figures in the line's first assortment, both would be Wright in his black home garb; one is Wright as a batter, and the other is Wright as a fielder.
2011's Cooperstown's 8th series would see a Nolan Ryan figure decked out in vintage Met pinstripes.  The figure shows The Express in leg kick motion.
The second Playmakers wave would see Johan Santana, decked out in his home black uniform.
And finally, 2011 would see a new Wright figure in the main series' 28th wave.  Wright is decked out in pinstripes and a blue helmet, and is seen connecting with a pitch.