Here are the headlines that greeted me on my return from Cincinnati:
Mets sign Chris Young to a one-year deal
Yankees sign Brian McCann to a five-year deal
Cardinals sign Jhonny Peralta to a four year deal
Not exactly the type of news that will get most Met fans excited.  The Yankees continue to do what we Met fans feel most major markets should, spend money.  The Cardinals continue to craft a winning team through the combined efforts of player development and wise spending.  The Mets… seemingly over-spend in the bargain basement of free agency.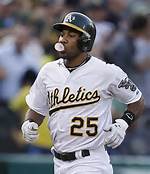 Let's look at things another way.  The Mets spent roughly a fifth of their projected budget room on an outfielder who has speed, power and should be a suitable candidate to patrol left or right field.  Young looked like a budding star six years ago.  He had hit .237/.295/.467 and clubbed 32 home runs for Arizona while stealing 27 bases.  People looked and they saw a player who would be a "30/30 Threat" for his career.  The faults were there, in abundance, but what mattered was that Young was only 23 and he had a bright and powerful future ahead of him.
Recently, Young had a dismal season in a move to Oakland where he hoped to re-ignite his stalling career.  That didn't work out so well for either Young or the Athletics and he looks again, to find SOMETHING on a short-term contract with the Mets.  It's been done before.
Remember Scott Hairston who had himself a miniature renaissance with the Mets in 2012?  Hairston had hid a pathetic .210/.295/.346 for San Diego in 2010 before joining the Mets and working his way into a near full-time opportunity.  In 2012 he managed a .263/.299/.504 with 20 home runs.  Perhaps you recall Marlon Byrd who looked like a star for the Mets in 2013?  Before being traded to Pittsburgh for Dilson Herrera and Vic Black, Byrd had hit .285/.330/.518 for the Mets and had clubbed 21 home runs.  Could Young be the next outfielder to get his groove back in Citi Field?
Also, the offseason will not be ending with Young's signing.  Sandy Alderson will bring in new faces and frankly I'm still betting that Curtis Granderson is one of them.  A Granderson signing would give the Mets five quality outfielders: Granderson, Young, Juan Lagares, Eric Young Jr. and Matt den Dekker.  Then again, Alderson could still make a trade for someone like Ryan Braun, Matt Kemp or Andre Ethier.  He could even find himself trading for a shortstop.  I'm not being paid by SNY to say this but, "Have some frigg'n faith!"
*****************************************************************************
Want to share your opinion?  Head over to the Mets 360 Forums right now to sound off!
*****************************************************************************