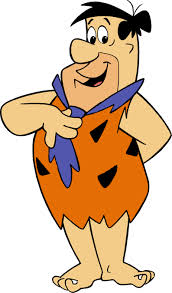 Frederick "Fred" Flinstone is a caveman; he is married to Wilma and has a daughter named Pebbles. Flinstone lives in the prehistoric town of Bedrock and has a pet dinosaur named, Dino. Fred Wilpon is a Real Estate Developer; he is married and has a son and daughter. Wilpon was born in Brooklyn and is proud of the fact that he was "instrumental in bringing baseball back to Brooklyn as the Chairman of the Brooklyn Baseball Company which owns the Brooklyn Cyclones".
Fred Flinstone yells, "Yabba Dabba Doo" when he is exceptionally excited or happy. Flintsone is employed at Slate Rock and Gravel Company and his boss is Mr. Slate. Flinstone does not get along with his Uncle Giggles or his Mother-In-Law. It is unclear if Fred Wilpon yells when he is exceptionally excited or happy. Wilpon is the Chairman and Chief Executive Officer of the New York Mets. Wilpon's "boss" is Bud Selig who is the current Commissioner of Baseball. Soon Selig will retire and Sandy Alderson, who currently is the General Manager of the Mets, could become the next Commissioner. Wilpon's son, Jeff, is the Chief Operating Officer of the New York Mets and his brother-in-law, Saul Katz, is the President of the team.
Fred Flinstone continuously schemes and seeks ways of improving his fortune the "easy" way. Flintsone's neighbor and best friend is Barney Rubble. Their schemes often backfire and they often find themselves embroiled in hilarious adventures. Sometimes they share their adventures with "the Great Gazoo"; Gazoo is an alien who has been banished to Earth because he was considered "unreliable and a bit of a kook" on his home planet. Beneath his rough exterior, Flinstone is really a nice guy and in the end usually apologies for his actions and all is forgiven until the next show when it starts all over again. Fred Wilpon was embroiled in the Bernard Madoff Investment Scandal when the Ponzi scheme collapsed in 2008. Some reports say that Wilpon made $300 million dollars and some reports say that Wilpon lost $700 million dollars. There are reports that Wilpon invested the club's deferred player-contract money with Madoff to make money before he had to actually pay it out to the players. In November of 2011, Bank of America made a $40 million dollar loan to the Mets; Major League Baseball will be watching and waiting to see if the Mets default on that loan. Last month, the Bloomberg News reported that the New York Mets were worth $2.05 billion dollars.
Fred Flinstone is quite athletic and loves bowling. Flinstone has a distinct wind-up which involves walking on his tiptoes; he developed his unique style through ballet lessons. Fred Wilpon was quite athletic as a youth and played baseball. He was a former high school teammate of Baseball Hall of Famer, Sandy Koufax.
Fred Flinstone is a happy pitchman for many products. He has sold Winston cigarettes, Nabisco and Post cereals, GEICO insurance services, Swinton insurance services, Midas Mufflers, Welch's Juice and Jelly products, and Old Stone Bank financial services. Fred Wilpon gladly accepts advertisers. Photos of CitiField reveal Chevrolet, Budweiser, SONY, Sharp, Izod, and GEICO as prominent advertisers. This week's team survey which was sent to fans focuses on how they feel about CitiBank. No questions were asked about what moves might be made to make the Mets a better team during this off-season. Their previous survey, sent around the time of last season's trading deadline, focused on whether or not fans felt CitiField was a suitable place to spend a day with their family; no questions were asked at that time either about what moves might make the team better.
The B-52s once played live at a Bedrock party hosted by Fred Flinstone. Fred Wilpon has arranged for BoyZ II Men to play a concert next season at CitiField.