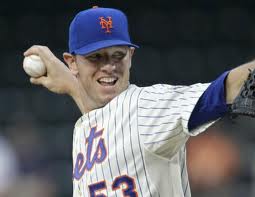 Monday started off great; Jordany Valdespin was non-tendered and it later came out that Sandy Alderson had met with Curtis Granderson. Then it took a dark turn as Justin Turner and Jeremy Hefner were non-tendered by the Mets. Turner has had his ups and down while playing in New York, but the Mets fans deserve to see him play again and Turner himself deserves to return to New York.
Before every bitter Mets fan decides to fire off a comment, just hear me out. Turner is simply a fun player to watch and on many occasions it seems that he always rises to the challenge and gets a big hit. Another date that will always stick in my mind is April 27, 2011. Turner was considered the stopgap player after Brad Emaus failed to be the second baseman. This game will always have a special place in my heart because it was really changed my perspective of the Mets. I really started to enjoy them. I was watching the game with my Grandmother and when Turner knocked in the first run, she called him the "Ginger Guy," and since then I have been a huge fan of his.
Turner was originally brought into the Mets world on May 25th, 2010 and he didn't play much in the majors. 2011 is considered to be his breakout year where he went on a ridiculous streak in May and then cooled off a little bit the rest of the year. He managed to reach 30 doubles, a 39:59 strikeout to walk ratio, a .350 BA with RISP and an incredible .981 OPS with 2 outs and RISP. He quickly became a fan favorite for the scrappiest team in baseball history. In 2012, I will always remember one of the greatest games I had ever seen against the Giants on July 30th when he had a go-ahead double against the future champions. In 2013, he actually had his best season to date as he had an OPS+ at 100-which is league average. While hitting a respectable .280.
The Mets originally drafted Hefner in the 46th round in 2004, and 48th round in 2005, but then in 2007 the Padres took him in the 5th round. His ERA never dipped below 4.52 after May 19th but he showed promise on many occasions making him a shoe-in for 2013. In Spring Training he got beaned with a line drive, which he "recovered from" but he didn't exactly pitch well until late May when he had a nine start stretch with an ERA of 2.05. He would crumble after the all-star break and be shut down for Tommy John surgery. He was a savoir for the Mets in the month of June and was a fan favorite.
Turner and Hefner have been a positive energy in the Mets clubhouse since they arrived and there are many examples of both standing up for their teammates and loosening up the negative atmosphere. In reality, I will cheer these guys on even if they are Atlanta Braves next year. While it is easy for me to understand that not all Mets fans are fond of these guys, just remember all of the wonderful memories we witnessed with both of them in Citi Field. So, Mr. Alderson, call them…..maybe?