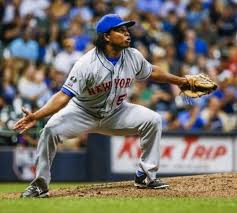 Saturday night, Jenrry Mejia picked up a save in his eighth consecutive game. One of the keys to the strong play by the team recently is that the back end of the pen in Jeurys Familia and Mejia have provided shut down performances. Yet while the final results have been great, Mejia has allowed a ton of baserunners and he reminds us more of Francisco Rodriguez than Billy Wagner.
When Wagner saved eight games in a row, he had seven appearances where he retired the side in order. Mejia has two. In eight innings pitched, Mejia's allowed 11 baserunners yet has not allowed a run. Let's compare that to Rodriguez. In 2011, Rodriguez had a stretch of 21 games for the Mets where he did not blow a save and allowed just one earned run. In that span he retired the side in order just five times, as he allowed 28 baserunners in 21.2 innings for a 1.292 WHIP. Mejia has a 1.375 WHIP in his current stretch.
Last year, Bobby Parnell had a streak of eight games where he had four saves and went 3-0. In those eight games, he retired the side in order four times. In one of the eight outings, he pitched the final two-thirds of an inning for the win and another time out he went 1.1 IP. Parnell did not allow a run in this stretch. He permitted six baserunners in eight innings for a 0.750 WHIP.
Overall in their careers with the Mets, Rodriguez had a 1.280 WHIP while Wagner had a 1.054 mark. Even Parnell's WHIP as a reliever for the Mets is 1.317 and was 1.000 last year in his only full season as a closer.
Mejia's stats this year as a reliever have been – unsurprisingly – better than what he produced as a starter. Still, they do not scream elite closer. Among the 16 NL relievers to record at least 10 saves this year, Mejia's 1.364 WHIP as a reliever (1.479 overall) ranks 15th, ahead of only Jason Grilli, who lost his closer's job and was traded to the American League.
He does better if we use FIP, where he ranks 10th among closers with a 2.66 mark as a reliever.
Obviously, no closer is in danger of losing his job when he records eight straight saves. Hopefully it's just as clear that saves are not the best way to judge a reliever. If in a hot streak, Mejia has a 1.375 WHIP, what happens when he hits a bump in the road?
You may have noticed that Mejia's WHIP in the last eight games is remarkably close to his overall WHIP this season as a reliever. So, how have closers with that level of WHIP fared in the recent past? There have been 14 NL relievers from 2010 to 2013 in 15 seasons who recorded at least 20 saves in a year where they had a 1.26 or greater WHIP. Here's how they fared the following season:
Brandon Lyon – 4 Saves, 2.400 WHIP
Joel Hanrahan – 4 Saves, 2.182 WHIP
Juan Carlos Oviedo – 36 Saves, 1.212 WHIP
Matt Capps – 15 Saves, 1.203 WHIP
Octavio Dotel – 3 Saves, 0.981 WHIP
Kevin Gregg – 0 Saves, 1.778 WHIP (so far this season)
Carlos Marmol – 20 Saves, 1.556 WHIP
Francisco Cordero – 37 Saves, 1.019 WHIP
John Axford – 0 Saves, 1.523 WHIP
Brian Wilson – 1 Save, 3.000 WHIP
Jonathan Broxton – 7 Saves, 1.895 WHIP
Marmol – 2 Saves, 1.633 WHIP
Frank Francisco – 1 Save, 1.105 WHIP
Matt Lindstrom – 2 Saves, 1.122 WHIP
It's not an impressive list. The group went from 423 saves to 132 saves the following season. Of course age, injuries and new roles all factored into play here. Perhaps Mejia being young will keep him from suffering the same fate as most of the pitchers in this group. But if that was the case, you would think there would be one young guy who did similarly in the last four years and there just isn't. The youngest guy was Broxton (26) followed by Marmol (28) and Oviedo (28). While Oviedo might offer some hope, since he had the best follow-up year, he hasn't been a closer since.
Someone always has to be first. Perhaps Mejia will be that guy and if so, nothing will make Mets fans happier. In the meantime, let's see how he does allowing baserunners the rest of the season.
It would be a mistake not to mention somewhere in this piece talking about WHIP the massive improvement that Familia has made in that department this season. After recording a 1.739 WHIP in his first 17 appearances in the majors in 2012-13, Familia has a 1.098 WHIP so far in 2014. While he still walks more guys than you would prefer (3.3 BB/9), it's no longer a stretch to imagine him closing one day.