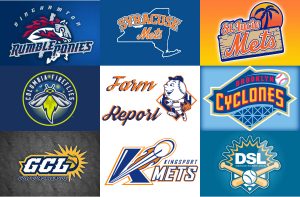 Many sports pages and blogs only list a Top 10 prospects. That is fine and dandy but many more than a team's Top 10 wind up making an impact on the roster eventually. Just ask Jeff McNeil who may have never sniffed the Top 10 before emerging as an MLB star. When you list a Top 50, you really drill down into the depth of a team and get a clear picture of what the franchise does and doesn't have.
The Mets Top 10 I have for you, below, is surprisingly well balanced. You have four pitchers, four infielders, a catcher and an outfielder. It also has, perhaps surprisingly, three players in the upper reaches of the minor leagues. Considering how much bashing the Met farm system endured in 2019 for not having anyone serviceable in the upper levels of the minors you are looking at a Top 10 with two players slated for AAA, one for AA, two for Advanced A and at least one more to begin the year in Full Season A. The talent is there and thanks to some aggressive player management, it's not as far away as you might think.
It will be interesting to see how Brodie Van Wagenen handles his 2020 draft after the sneaky success of his 2019 gambit. Some years I feel like ranking recent draft picks in the Top 10 can be a bit premature but I do not feel that way in 2019. It would be quite the thing if he were able to add three first round talents each year the Met system would rapidly become one of the best around.
The Top Two:
Most people who rank players will not have the same players ranked 1 and 2 on their lists. While both will undoubtedly rank in the Top 10 I would bet that this ranking will be somewhat unique in where these players are listed. One player was a surprise addition to the stateside rookie leagues, a catcher with plus ratings in hitting and power with no red flags on defense. The other is a third baseman whose bat appears to have great potential to find its way into the middle of a major league lineup some day.
1. Mark Vientos, 3B (SAL) – A year older than Mauricio and manning the same position as the Top Draft Pick of 2019 few Top Prospect Lists will rank Mark Vientos as the #1 Met Prospect. Here is why I do. While Mauricio succeeded in Columbia, Vientos seemed to take a few months to get going before surpassing the overall stats of his shortstop. If you look at his overall batting line, .255/.300/.411 it's all pretty good (especially in the SAL) but it doesn't feel like Top Prospect material. When you look at his second half batting line, it looks even better. In the second half of the season, he managed a .271/.315/.462 batting line. He currently is manning third base and that might be a position he is able to stick with long term. Since the Mets have fewer options for the outfield depth charts, it's possible that they shift him there, but based on what he's done so far it looks like the Mets plan on him being the third baseman of the future. In 2020 he'll be in Port St. Lucie and should be batting 3rd or 4th in the lineup alongside Mauricio. If he is able to get a boost in his numbers by leaving the difficult confines of the SAL he might even be on track to reach AA before the end of the year. There will be stiff competition for the Mets' Top Prospect honors after next season but for me, Vientos is the man of the 2019 season. Most pundits will rank Mauricio or Gimenez higher but I truly think that Vientos earned the spot this year.
2. Francisco Alvarez, C (GCL/APP) – There are few prospects I've been as excited about in my time covering the Met system. Alvarez is a true hitting prospect. His debut at age seventeen saw him tear through the GCL and prove more than a match for the pitching in Kingsport. In 42 games between the two leagues he hit seventeen extra base hits and seven were home runs. His plate discipline is not perfect but for a player who has this much power he shows the ability to avoid falling victim to the strikeout blues and occasionally take a walk. Both of those skills can be coached and should improve over time but it is the hitting tool that will drive his way to the majors. The 5'11" catcher managed a.916 OPS for the year playing against competition 2-4 years his senior. The question really remains how aggressively the Mets will be with his assignments. Should he follow Mauricio's path the Mets will have Alvarez play in Columbia and act as the primary catcher and designated hitter for the Fireflies but, because of the length of time catchers typically take in development it would be easy to see the Mets holding him in Brooklyn or even Kingsport. If he managed the type of numbers he did in 2019 in any of the full season leagues in 2019 he'd immediately jump to the Top Prospect spot on my list.
The Top Four:
The Mets Top Prospect going into 2019 and the player who seemed best poised to step into the role of Top Prospect beyond. This is a tale of two young shortstops who are both young for their respective levels. Both of whom didn't exactly scream off the pages in 2019 but who should still have excellent major league careers if things continue to work out. One is a lot closer to the majors having had a mostly successful year in AA and the other is looking at his first test in Advanced A ball. I expect one to graduate off of this list in 2020 and the other to continue vying for the top spot.
3. Andres Gimenez, SS (EAS) – A twenty one year old shortstop managing almost a full year of a .695 OPS with solid defense is nothing to sneeze at and there is still hope that the numbers will improve. When Gimenez began the year with AA Binghamton I thought he would quickly earn his way onto the AAA roster and start knocking on Amed Rosario's door. Instead he languished with an okay but disappointing year in AA. Nothing about Gimenez's year was "Bad" it just wasn't "Good" and we Met fans expect more out of our Top Prospects, especially when they are rated ahead of Pete Alonso. Thanks to fan expectations and the Mets having a hot new shortstop prospect in the wings some of us (mostly me) may have jumped the gun on criticism. While his season could have been better he's proven up to the task of swimming with the fish at the AA level and should find his way onto the Syracuse roster to start his 2020 season. With nothing in the depth charts between he and Rosario he's only an injury or some continued defensive struggles (for Rosario) away from his own major league debut. Regardless, expect to see Gimenez in the majors before the end of the 2020 season.
4. Ronny Mauricio, SS (SAL) – I had ranked Mauricio as the #1 prospect for almost the entire season before going through the stats and reevaluating the numbers. Mauricio is great, don't get me wrong, he could be a superstar shortstop and has a higher ceiling than Gimenez on offense but his 2019 didn't support ranking him where I had him. What you have is a player who your gut tells you will be a star and your brain coaches caution on. His numbers in Columbia were good, especially given his age, but they were not exponentially more impressive than his older and more advanced counterpart in Binghamton. Compared to prospects like Shervyen Newton, he looks like he's already a superstar but we are comparing apples to apples and it seems like our cart and horse were a bit reversed. The 2020 season will see Mauricio in Port St. Lucie and he should be a little bit more able to show his offensive stuff. Because of his size you might see the Mets eventually move him to a new position but that will not happen in 2020.
The Back-End of the Top Tier:
It's misleading to call anyone in the Top 7 prospects ""Back End"" but each tier is ranked and these three players fall to the lower end of those rankings. Here we have a talented lefty pitcher who came back from injury to pitch well and into AA ball, a top draft pick who earned two promotions in his debut year and the third round pick nobody thought the Mets would be able to sign with the cap money they had left. Any of these players could have found their way into the Top 4 in another year but the 2019 farm system finished with a lot more high end talent than most people want to acknowledge.
5. Thomas Szapucki, LHP (SAL/FSL/EAS) – One of the most talked about prospects here on Mets360, Szapucki had a successful return to action in 2019. Pitching, a career high, 61.2 innings between Columbia, Port St. Lucie and Binghamton he did his best to make up for the two years of lost development time. The left-handed pitcher represents the best mix of ceiling and floor in the system. Projecting as a front-end starter he could reach the majors by the end of the 2020 season though he has lingering questions about health and longevity thanks to his injury plagued development. When he returned to the rotation I listed areas to watch during his rehab and season. The K/9 stayed well above 9.0 and the WHIP hovered around 1.22 which was a bit of a mixed bag. His control seemed to suffer while his stuff was maintained. In 2020 he will begin the season with Binghamton but he could quickly move beyond that with positive developments of any kind.
6. Brett Baty, 3B (GCL/APP/NYP) – The Met's top draft pick from the 2019 draft was a third baseman with lots and lots of power potential. Baty was assigned to the GCL and did not disappoint. The nineteen year old was able to earn a promotion to Kingsport after only five games hitting an OPS above one thousand in that time. After that promotion his batting average took a major hit. Baty had hit .350 in his short time with the GCL but saw his BA drop in the APP to .222 and the NYP to .200, after his second promotion. Despite the low average, his power production kept his SLG and OPS very healthy. He also managed a .333 batting average for Brooklyn as he supported the team in their championship run. While the pitchers selected behind him in 2019 could use some time to stretch out to a major league workload it would be very hard for the Mets to not put "Brett the Met" into Columbia to give him a chance for a full season of game action.
7. Matthew Allan, RHP (GCL/NYP) – It is extremely unusual for a team to promote a top draft pick pitcher the year they draft him, with only 8.1 innings under his belt. Not only did the Mets do that with Allan but they skipped him past the Advanced Rookie level and had the eighteen year old pitcher face off against college batters on his way to a short season Championship. Allan's numbers in the GCL were only slightly better than his counterpart, Wolf's, but the Mets chose to aggressively move Allan up on his own. His one regular season outing in Brooklyn was not great but he followed that up with 5.0 scoreless innings in the playoffs in which he did not issue a single baserunner. Having pitched, successfully, in Brooklyn in 2019 would suggest that the Mets could have Allan pitch for Columbia in 2020 but that might be a little ambitious for a player who only has 20.1 innings of minor league baseball under his belt.
The Second Tier/First Tier Fringe:
Any one of these players could be looked at as a "First Tier" player but as we've discussed before, the tier system has to do with trades more than skill level. Players at the back end of your team's Top 10 prospects are more tradeable than those in the Top 7 or the ""untouchable"" Top 4. The trio of fringe players here are an intriguing mix. We have a high power pitcher who might wind up a closer or setup pitcher in the majors, an international prospect who had a brief stateside audition and a second round pick who is ranked lower than the third round pick of the same year. These are all really good players and players who bring a quality level to the Top 10 that has not always been present in my time covering the Mets.
8. Josh Wolf, RHP (GCL) – Ignoring one very bad outing, Wolf's 2019 debut in the GCL was just as impressive as Allan's which is why they are still ranked so closely. The righty pitcher had 12 strikeouts in his 8 innings of work which is not a wide enough sample to get too excited but gives the team plenty of reason to hope they have three "First Round" talents on their hands coming out of the 2019 draft. Wolf's scouting was a tick below Allan's (despite the fact the Mets selected him in the 2nd round) but still placed his overall scouting as a fringe first rounder. The Mets could have Wolf pitch in Kingsport or Brooklyn in 2020 but they've been extremely aggressive of late and I could see the Mets throwing him to the much older sharks in Columbia. My personal preference is to have both he and Allan pitch for Kingsport and get their arms stretched out more slowly.
9. Franklyn Kilome, RHP (EAS – Injured List) – The Mets traded for Franklyn Kilome back in 2018 but a late season injury put him on the shelf for the 2019 season. Justin Dunn was a slightly better prospect with a higher likelihood of starting in the majors but the power of Kilome's arm is very real. We will need to see how long he needs to get back into the groove after he comes back but I could see him slotting into the relief corp for the Mets before the end of the 2020 season. Plus, there is still potential for Kilome to start. Even if he becomes a reliever to finish his 2020 there is plenty of potential left for him to transition back into starting for 2021 and beyond.
10. Freddy Valdez, OF (DSL/GCL) – The Mets signed Valdez the same year as Alvarez and the outfielder was scouted as having plus power and poor speed/defense,which led some to question his long term viability in the outfield. He was assigned to the DSL and played 57 games there before getting a three game callup to the GCL. Overall you have to like the power which looked more than readily apparent in his time both with the DSL and GCL. While it doesn't come screaming off the page there is plenty to suggest that he can develop into a 30+ home run player as he progresses through the system. What came as a surprise was his 3 triples and 6 stolen bases which suggest that his speed may, in fact, be better than some of the scouting provided. In 2020 I have Valdez playing for Kingsport but if he performs well in the APP there is no reason he couldn't finish the year with Brooklyn.
Top 50 Prospects:
1. Mark Vientos, 3B (2020 – FSL)
2. Francisco Alvarez, C (2020 – SAL)
3. Andres Gimenez, SS (2020 – INT)
4. Ronny Mauricio, SS (2020 – FSL)
5. Thomas Szapucki, LHP (2020 – EAS)
6. Brett Baty, 3B (2020 – SAL)
7. Matthew Allan, RHP (2020 – NYP)
8. Josh Wolf, RHP (2020 – NYP)
9. Franklyn Kilome, RHP (2020 – EAS *Rehab)
10. Freddy Valdez, OF (2020 – APP)
11. Luis Carpio, IF (2020 – EAS)
12. Kevin Smith, LHP (2020 – INT)
13. Adrian Hernandez, OF (2020 – APP)
14. David Peterson, LHP (2020 – INT)
15. Tommy Wilson , RHP (2020 – INT)
16. Harol Gonzalez, RHP (2020 – INT)
17. Shervyen Newton, SS (2020 – SAL)
18. Wagner Lagrange, OF (2020 – EAS)
19. Ali Sanchez, C (2020 – INT)
20. Junior Santos, RHP (2020 – NYP)
21. Tony Dibrell, RHP (2020 – EAS)
22. Gregory Guerrero, 2B (2020 – NYP)
23. Jordan Humphreys, RHP (2020 – SAL *Rehab)
24. Jaylen Palmer, 3B (2020 – NYP)
25. Patrick Mazeika, C (2020 – INT)
26. Jeremy Vasquez, 1B (2020 – EAS)
27. Hansel Moreno, OF/SS (2020 – EAS)
28. Stephen Villines, RHP (2020 – INT)
29. Quinn Brodey, OF (2020 – EAS)
30. Ryley Gilliam, RHP (2020 – EAS)
31. Carlos Dominguez, OF (2020 – APP)
32. Willy Taveras, RHP (2020 – FSL)
33. Ryder Ryan, RHP (2020 – INT)
34. Carlos Cortes, 2B (2020 – EAS)
35. Luke Ritter, 2B (2020 – FSL)
36. Stephen Nogosek, RHP (2020- INT)
37. Wilmer Reyes, SS (2020 – SAL)
38. Jake Mangum, OF (2020 – FSL)
39. Scott Ota, OF (2020 – FSL)
40. Nathan Jones, RHP (2020 – SAL)
41. Federico Polanco, SS (2020 – APP)
42. Sebastian Espino, 2B/SS (2020 – NYP)
43. Ronny Rincones, RHP (2020 – APP)
44. Adonis Uceta, RHP (2020 – INT)
45. Will Toffey, 3B (2020 – INT)
46. Yoel Romero, Util (2020 – FSL)
47. Andres Regnault, C (2020 – NYP)
48. Matt Blackham, RHP (2020 – INT)
49. Jefferson Eschorcha, RHP (2020 – NYP)
50. Desmond Lindsay, OF (2020 – FSL)