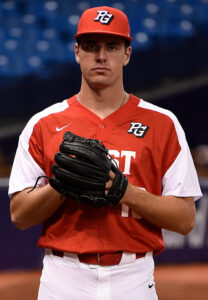 Much was made of the Mets' decision to draft Matthew Allan, the top rated high school pitcher in the 2019 draft, in the third round. The risk was that Allan would skip out on signing with the Mets in order to go to college and attempt for an even higher draft position in two years. Instead, the Mets loaded up on easily signed college seniors and nabbed him. Now that he's here, what kind of future do we see for Allan as he develops in the farm system?
While each pitcher is a microcosm into themselves, I've delved into the minor league careers of eight of the most recent "Top Rated High School Pitchers Drafted" from the 2018-2011 drafts. In this article, we'll explore how these prospects have fared and what their successes (or failures) might mean for Allan as he moves forward.
2018 – Matthew Liberatore – Tampa Bay Rays
The 6'5" lefty was selected by the Rays in the first round of the 2018 draft and he was assigned to the rookie level Gulf Coast League. There, he pitched a robust 27.2 innings (a lot considering he was drafted and signed that year) before cutting his teeth with a 5.0 inning start in the Rays' APP affiliate. His second season with Tampa Bay was also solid as he was aggressively advanced to Full Season Low-A ball to find more success. The only concern hanging over Liberatore is that his power numbers are hovering right around a 9.0 K/9 and would ideally be a little higher for a "Future Ace". A 78.1 inning debut in Low A with few hiccups suggests that he could be MLB ready by the time he's twenty two years old.
2017- Hunter Greene – Minnesota Twins
When Greene was drafted there was doubt as to whether he'd wind up as a pitcher or an infielder but the Twins have their eyes on Greene becoming a starter. The 6'4" righty only pitched 4.1 innings over three games in 2017. The 12.46 ERA and 8 hits aren't super meaningful in that small a sample but what is more telling is that the Twins had him move from the Pioneer League right into the Midwest League for 2018. This past year was very much better for the pitcher who turned 20 in August. His ERA was 4.48 but his K/9 held safely above 9.0 while pitching against players who were typically 2-3 years older than himself. He also wound up losing some time to injury and may have his 2018 go down as a cautionary tale. We'll need to wait and see.
2016 – Jay Groome – Boston Red Sox
Boston selected the 6'6" lefty out of Barnegat, NJ with their first round pick and assigned him to start the 2016 season in the Gulf Coast League. Like Allan, he only had a handful of innings but inspired the team to give him a shot at the New York Penn League to finish the year. With only 6.2 innings under his belt the Red Sox held Groome in Short Season ball for 2017 but quickly promoted him after 3 strong outings for Lowell. His 11 starts after the promotion were less good as opponents batted .257 against him which lead to a 6.70 ERA. Then, to make matters worse, he missed all of 2018 with an injury and only managed a handful of rehab innings this past season. After losing a season the Red Sox will be looking for Groome to make up for lost time in a hurry and might be forced to promote him to Advanced A.
2015 – Ashe Russell – Kansas City Royals
Nothing about Russell's early minor league career should inspire confidence in "Top High School Pitchers". He last pitched in 2016 and has a grand total of 38.1 innings pitched since a draft four years ago. A pitcher who should be nearing the majors (Pitching in AA or at least Advanced A) was recently assigned to the Advanced Rookie level, Burlington Royals. At 23 years of age the Royals have to have dwindling hopes for this former top draft pick.
2014 – Tyler Kolek – Miami Marlins
While Aiken was the highest rated high school pitcher in the draft, it was Kolek who took the honors of being the highest rated high school pitcher who signed out of the 2014 draft. The stats on Kolek are hardly shining examples of success. He managed a solid, if a bit mediocre, debut in the GCL in 2014 and the aggressive Marlins promoted him directly to the SAL. He continued to perform adequately (108.2 IP, 4.56 ERA) but missed most of his 2016 season due to injury. Since then, it's been a perpetual tale of injuries for Kolek. In 2017 he pitched only 3.2 innings, in 2018 he managed 15.2 and in 2019 he just tossed 13.2. At 23 years of age he hasn't pitched a single inning above Low-A ball.
2013 – Kohl Stewart – Minnesota Twins
The first "Top High School Pitcher" who has gotten to the majors on my list. Stewart pitched fairly well in his "Cup of Coffee" outings of 2018 but less well this year. Despite the prospect pedigree, nothing about Stewart's numbers in his minor league career suggest he will be an "Ace" caliber pitcher. He has a sub 9.0 K/9 and a WHIP that hovers in the 1.40 range. You can dissect his year by year numbers all you like but unless those two statistics change drastically, he's not a very good first overall pick. It could be worse, since he does appear to at least belong in the majors.
2012 – Max Fried – San Diego Padres
Drafted by the Padres, the Braves traded Justin Upton over to San Diego and appear to have seriously won on the deal. While Fried's numbers don't suggest he's quite an "Ace" caliber pitcher, he certainly looks like a quality major league level arm. Garnering 17 wins for the 2019 NL East Champion Braves, Fried has an ERA just north of 4.00 with a K/9 safeling in the 9.0 realm. Part of Fried's success is going to always be based on the defense behind him as he draws a lot of ground balls. While Fried doesn't come off as a superstar, he's a quality starter at the major league level.
2011 – Dylan Bundy – Baltimore Orioles
Now 26 years old, Bundy has been an MLB regular since 2016. While he was drafted with a ton of acclaim and promising scouting the majors have not been kind to him. As a major leaguer, Bundy sports a 4.67 ERA, though he does have an 8.8 K/9 and a WHIP of 1.33. It suggests that Bundy might look like much more of an "Ace" if he escaped the confines of Baltimore. Adding more credence to this, his minor league numbers are really quite good. He has a sparkling 1.05 WHIP and a K/9 well over 9.0 in his 167 minor league innings. He may have been rushed to the majors, he may have been saddled with a bad franchise but Bundy is a mixed success at best.
What Does This Mean for the Mets and Allan?
The easiest comparison is to Liberatore who, only one season ahead of Allan, had a very similar debut in 2018. This also suggests that Allan would be promoted to Columbia for the start of the 2020 season, which my previous articles have already suggested. The large majority of the other comparisons are pretty distressing. Injuries creep up in most and many of the high school arms fail to develop into the arms that the scouts predicted. If Allan, can stay healthy and develops with the power and precision that scouts projected, the Mets look very good but the sad truth that this exercise proves is the odds are against him.