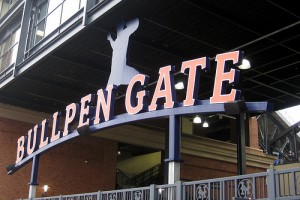 It's been well documented that Noah Syndergaard preferred to pitch to Tomas Nido rather than Wilson Ramos. But there's a pitcher who had an even better case than Syndergaard to prefer Nido. Ex-Met Wilmer Font had a 1.107 OPS allowed and a 7.27 ERA with Ramos behind the plate, compared to a .472 OPS and a 1.98 ERA with Nido. With Ramos calling the pitches, Font surrendered 7 HR in 17.1 IP and with Nido, the numbers were 1 HR in 13.2 IP.
It's a whole lot easier to pair a certain catcher with a starting pitcher than it is to do the same with a reliever. And a dominating performance from a starter is worth so much more than the same with a reliever. Still, one wonders if the Mets' brass gave any consideration to these splits before cutting ties with Font. Actually, it's fair to wonder why the Mets moved on so quickly from Font when they gave other guys a much longer leash.
This is clearly a time where being an outsider has its limitations. Perhaps Font had some clause in his contract that made keeping him problematic. Maybe he was a bad influence in the clubhouse. Shoot, it could be that he made a pass at Brodie Van Wagenen's wife. Or even worse, maybe it was Van Wagenen himself.
Still, from a distance it seemed odd that the Mets cut ties with Font after giving up a player to get him. And maybe that's the explanation. They gave up a player to get him and got cash when he landed with the Blue Jays.
Font had a 4.94 ERA and a 1.355 WHIP in his 15 games with the Mets. Certainly those numbers were nothing to get excited about and hardly a reason to demand that he stay. Still, his relief numbers were even better, as he posted a 3.48 ERA and a 1.161 WHIP in 20.2 innings. Essentially, there was no time during the 2019 season that the Mets should have turned up their nose at a reliever with those numbers.
The average Mets reliever in 2019 had a 4.99 ERA and a 1.432 WHIP.
What Font gave the club was miles better than what it received from the two high-profile relievers they added in the offseason. But it goes beyond that. Outside of Justin Wilson and Seth Lugo, Font had the best reliever ERA of any guy who pitched at least two innings out of the pen and his WHIP was better than anyone with at least 2 IP in relief other than Lugo and Paul Sewald.
The Mets seemingly have no faith whatsoever in their hitting prospects yet somehow believe prosperity for their minor league relievers is a near-certainty, despite all evidence to the contrary. Pick any collection of their relievers that spent some time in the minors during their career in the organization and then look what they did in the majors last year.
Going alphabetically, Tyler Bashlor, Chris Flexen and Drew Gagnon combined to allow 44 ER in 55 IP for a 7.20 ERA. They're all still here. Robert Gsellman, Chris Mazza and Stephen Nogosek combined to allow 51 ER in 86.2 IP for a 5.30 ERA. They're all still here. Corey Oswalt, Jacob Rhame and Sewald combined for 22 ER in 32.2 IP for a 6.06 ERA. Yep, you guessed it, they're all still here.
It's hard to believe that Font isn't better than at least one of those nine guys.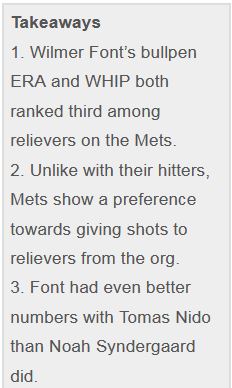 After joining the Blue Jays, Font ended the year with a 3.66 ERA and a 1.144 WHIP in 39.1 IP, essentially the same thing he did out of the pen with the Mets. Toronto utilized him as an opener 14 times in his 23 appearances, but he never went more than two innings in any of those starts.
Ask anyone what the Mets need to do to improve in 2020 and the likely first thing out of their mouth is to say – fix the pen. Perhaps the best way to fix the pen is to stop insisting that guys in their system who throw hard, like Bashlor and Rhame, are future bullpen stalwarts when all they do is serve up meatballs year after year.
Font's gone and he's not coming back. But what about Brad Brach? He had a 3.68 ERA and a 1.227 WHIP in his time with the Mets last year. Once an All-Star reliever with the Orioles – and a guy the Mets tried to trade Jay Bruce for – Brach signed a one-year deal with the Cubs last year that contained an option. It was a $5 million club option and a $1.35 million player option. Cot's lists the $1.35 million as a 2020 expense for the Mets.
To the best of my knowledge, there's been no talk about if that option is still in place. But if it was, and Brach elects to use it, that's something the Mets should embrace. It would be worth $1.35 million just for the relief of not having to see Bashlor and/or Rhame enter a game next season.