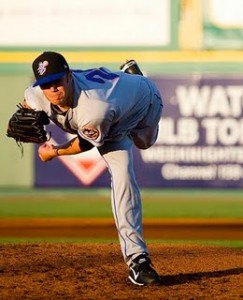 Matt Harvey left Class A St. Lucie with an 8-2 record and a 2.37 ERA before heading to Class AA Binghamton. Darin Gorski has been even better than the 2010 first-rounder as the "ace" of the St. Lucie rotation.
Gorski set a club record with his 10th straight win July 18 against Clearwater, surpassing the nine straight wins by Pat Strange in 2000. Unfortunately, the lefthander's streak ended Saturday when, despite a seven-inning complete game against Brevard County, he was beaten 3-2.
Gorski yielded three earned runs and six hits with a walk and four strikeouts, including a wind-aided homer in the seventh that cost him and the Mets the first of two seven-inning games.
"That's how it goes sometimes," Gorski told Bill Whitehead of the TCPalm.com. "I didn't think it was that bad of a pitch. It was a changeup low and he got the bat on it. I didn't think it was going to make it out."
For the season, the 23-year-old is 10-1 with a Florida State League-best 2.15 ERA with 25 walks and 111 strikeouts in 104 2/3 innings.
"It's so much easier pitching with some confidence," the Kutztown (Pa.) University alum told Whitehead. "The first couple of seasons had some rocky moments, but I had a good spring this year. I came in and pitched with confidence and pounded the strike zone.
Primarily a reliever in the first month, Gorski used a spot start in the nightcap of a doubleheader at Brevard County two months ago to plant himself firmly in the rotation. He is 10-1 with a 2.03 ERA in 15 starts. In his first start on April 27 in Bradenton, he struck out nine Marauders in the first three innings, and had 10 strikeouts in the first 11 outs recorded.
St. Lucie manager Pedro Lopez had Gorski in Brooklyn in 2009 after he was drafted and also last season at Savannah.
"It's impressive, and I'm happy for him because he's a hard-working kid. You want to see stories like his, Lopez told TCPalm.com. "He's a guy who has battled and kept grinding, outing after outing, day after day."
Meanwhile, Harvey continues to struggle at Class AA.
In his latest outing Saturday against Reading, the Phillies rode a three-run first inning to a 3-2 victory. Of the 18 runs Harvey has allowed with the B-Mets, 10 have come in the first inning. Overall, the 6-4 righthander is 0-3 with a 7.15 ERA and 31 hits allowed in 22 2/3 innings.
*********
St. Lucie 3B Jefry Marte was the talk of the club in April. The then 19-year-old hit .321 with four homers and 16 RBI in 23 games. However, the third baseman has lost his power touch since, drilling just one in his last 70 games – none in June or July. He has a .553 OPS this month and hasn't reached .700 since posting a .920 OPS in April.
**********
Class AAA Buffalo first baseman Val Pascucci leads the International League with 68 RBI in his quest to become just the third player in the franchise's modern era to lead the league, joining American Association leaders Jeromy Burnitz (1995) and Nigel Wilson (1996). Buffalo has not had the winner of the IL RBI race since Pancho Herrera had 108 in 1962.
The 32-year-old was originally a 15th-round draft pick of the Montreal Expos in 1999. Pascucci is batting .268/.388/.498 with 14 homers and 24 doubles in 89 games. He's batting .366 with four homers and 17 RBI in his last 10 games.
*********
Infielder Josh Satin was promoted from Binghamton to Buffalo this week. The 26-year-old was 2-for-13 in his first three games with the Herd after batting .325 with an Eastern League-leading 35 doubles, 11 homers and 60 RBI at Binghamton.
Satin hit a combined .311 last year with 12 homers and 74 RBI at Class A Savannah and Binghamton and then went 16-for-41 in the prospect-laden Arizona Fall League. He is a career .306 hitter in 412 minor league games.
"The goal for me coming into this season was to get here because once you're here if you do well, you never know what can happen," Satin told Mike Harrington of the Buffalo News. "I'm thrilled to be here. I'm going to work my butt off to do everything I can to succeed and help the team. If all goes well, there's always that chance. It's great to be here."
AROUND THE MINORS: Binghamton 2B Reese Havens returned from his latest injury by going 3-for-5 on Wednesday at Portland. He went 1-for-9 in his next three games and is batting .257/.333/.398 in 26 games at Class AA. He had been out since late June. … Teammate CF Matt den Dekker continues his power surge, drilling four homers over three games last week. He has six homers in 33 games for Binghamton and has rebounded after a poor start to hit .234/.315/.461 with 15 extra-base hits (6 homers) in 128 at-bats. The 23-year-old defensive whiz hit .296/.362/.494 at St. Lucie. … Savannah C Albert Cordero snapped a 1-for-11 skid with six RBI, including a two-run homer and a game-tying RBI in the seventh. He had three more hits Sunday to raise his average to .257 – .315 in the second half. … OF Juan Lagares was promoted from High Class A St. Lucie to Binghamton and went 6-for-9 in his first two games. The 22-year-old was leading the Florida State League in hitting at .339/.381/.495 with seven homers and 49 RBI in 81 games.