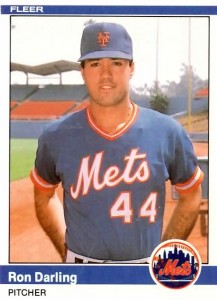 1984 FLEER UPDATE RON DARLING
The mid '80s Mets were a lazy headline writer's dream.
First off, it was a headline-worthy bunch: a winning team, chock-full of outsized personalities.
And with (nick)names like Doc, Mex, the Kid, Strawberry, and Darling, the headlines pretty much wrote themselves.
So if it wasn't "Doc Delivers Gem" it was "Strawberry Fields Forever" or "The Kid is Alright"…
I must confess I had my own headline ready to go in the event that Darling faced Clemens in the '86 series: "Oh My, Darling– It's Clemens Time!"
Of course, with no internet at my disposal, this "headline" would have amounted to me calling up my friends and saying it. And being then as now a man of little shame in such matters, I did just that, even though the relevant matchup did not present itself…
This particular Ron Darling card is from the 1984 Fleer Update set, which has been venerated over the years for its relatively low production run and its inclusion of the first cards of Clemens, Puckett, and Gooden.
The set also contains some lesser but still worthy rookies such as Bret Saberhagen, John Franco, Jimmy Key, Mark Langston, and our boy Ron here.
It also holds a card depicting Pete Rose in an Expos uniform, which is an abomination against nature, and pretty much a must have…
Overall it's a great set, with a nice mix of candid/action photos, and a clean, simple design.
I can just see the headlines now:
'84 Fleer Update Set Is a Gooden That Became the Darling of Collectors
Set Rose to Occasion By Including Many Key Cards