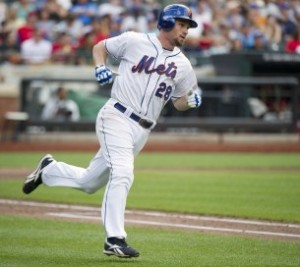 Anthony McCarron interviewed Daniel Murphy, who gave updates on his knee injury, Christmas plans and hopes for the 2012 Mets.
"I feel great," Murphy says. "I kind of polished off my rehab about a month ago, moved into more of a strengthening phase. I've had a real good offseason and I feel really good. I'll be full-bore in spring training."
"It always takes people aback when I tell them that I've never had surgery," Murphy says. "But I feel like I've had my share of knee injuries. I'm good with that, you know?
"I'm a believer that everything happens for a reason and it's led me to this peace," Murphy adds. "I didn't have that before. I'm excited and ready to go to work."
Source: New York Daily News
*****
If you prefer longer articles, that's our specialty here at Mets360. Just click on "Perspectives" or "Minor Leagues" or "History" on the gray menu bar above this article's headline and you will be taken to a list of over 450 articles written since the beginning of 2010.
If you enjoy the quick hitters, click on "Quotes" or "Trivia" in the same menu bar to see our archive.
*****