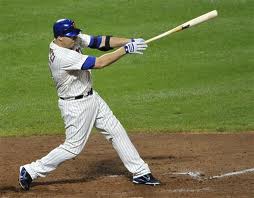 Generally, the less we say about Sunday's extra-inning loss the better. However, I was glad that Val Pascucci got into the game, even if he did not come particularly close to making contact. Pascucci is a guy you cannot help but to root for, despite Wilt Chamberlain's famous quote that "No one roots for Goliath."
Pascucci is certainly Goliath in stature, as Baseball-Reference lists him at 6'6 and 270 pounds. I guess the camera really does add weight, but in this case it seems more in the neighborhood of 25 pounds. And if you go by minor league numbers, Pascucci has had a Goliath-like career, too. He has cracked 234 HR in the minors, despite spending two seasons of his prime in Japan.
An 11th-round pick of the Brewers back in 1996, Pascucci did not sign and went to the University of Oklahoma instead. In 1999 he was selected by the Expos in the 15th round, which perhaps was a bit of foreshadowing on how his career would go. He advanced through Montreal's farm system and finally made it to the majors in 2004, where he fanned 22 times in 62 ABs and posted a meager .588 OPS in 74 PA.
Pascucci played the next two years in Japan before coming back in 2007 with the Marlins. He hit 34 HR that year in Triple-A and posted a .967 OPS but did not make it back to the majors. In fact, Pascucci did not appear in the majors again until the Mets called him up this year. He played 613 games in the minors between stints in the big leagues. While that may not be a record, it's still an impressive feat and speaks to Pascucci's love of the game.
During the current season, it's frequently hard to determine what you will remember and what will slip from your mind from the current campaign. I'm pretty sure I will remember that Pascucci played for the 2011 Mets, because his story is so unique. But undoubtedly, there will be players I forget from this team as the years go by.
That got me thinking – who are the most obscure Mets? For this idea I think the player should have gotten a minimum level of playing time. After all, it's easy to forget a guy who played in just two games. So, let's set the floor at 50 PA or 20 IP. You have to meet or exceed those to qualify for the following list. Also, the guys on this list should become more forgettable as you go backwards. You should remember the guy from 2010 but the guy from 1993 should be a whole lot less familiar.
2010 – Either Mike Hessman or Jesus Feliciano. Hessman has fewer PA – 65 to 119 – but Feliciano seems so much more forgettable.
2009 – Ken Takahashi would be the pick if the Mets didn't use another Takahasi the following year. So, I'll go with Wilson Valdez, who logged 95 PA.
2008 – Someone who didn't live through it might pick Argenis Reyes, but I expect I'll remember Heinous Reyes for quite some time. That makes it Carlos Muniz as I've already forgotten his 23.1 IP and 5.40 ERA.
2007 – David Newhan had 83 PA and a .573 OPS
2006 – There's no obvious choice here but we'll take David Williams because of his forgettable name and 5.59 ERA in 29 IP.
2005 – Juan Padilla was done in by fate. He had a good year in '05, with a 1.49 ERA in 36.1 IP. But he underwent Tommy John surgery the next spring and was out of baseball for two years. Now he's bouncing back between Independent ball and the Mexican League.
2004 – Ricky Gutierrez had 70 PA and a .463 OPS
2003 – Several good candidates this year but most of them played multiple seasons, which makes them slightly more memorable. Jeremy Griffiths is notable now because we remember he was a high draft pick, but soon that will fade and we'll have to recall his 7.02 ERA in 41 IP.
2002 – John Thomson made nine starts for the team which I only vaguely remember. He'll always be a Rockie to me.
2001 – The parents of Donne Wall forgot to give him an "i" so I don't feel bad about forgetting his 42.2 IP.
2000 – I like Jon Nunnally so I'll have to go with Rich Rodriguez and his 37 IP, although at the time I'm sure his 7.78 ERA was memorable.
1999 – Another year without an obvious pick. It would probably be Mike Kinkade but he's memorable for his attempt to make it as a catcher. Jermaine Allensworth's name keeps him from serious consideration. By default it's Luis Lopez, who notched 121 PA.
1998 – I have no recollection of Jim Tatum even being in the majors, much less on the Mets. But he played 173 games in his career, including 35 this year with the Mets and had 57 PA.
1997 – Did Tatum change his name from Steve Bieser? Mr. Bieser had 81 PA in his only season with the Mets.
1996 – If you want your son to grow up to pitch in the majors, please don't give him a similar sounding name to a guy synonymous with losing his control. That was the fate of poor Blas Minor, who actually came up with Steve Blass' Pirates before pitching 25.2 IP with the Mets this year.
1995 – I remember Mike Birkbeck on the Brewers but he spent four years with the Mets, mostly in the minors. But he made four starts in 1995 (27.2 IP) and pitched pretty well. But this was his last season in pro ball, which seems somewhat odd.
1994 – Another year with no obvious choice. By default it's Jim Lindeman, who logged 145 PA.
1993 – Mike Draper pitched 42.1 forgettable innings.
1992 – Our first tie! Mark Dewey and Tom Filer were both yawnstipating. Filer pitched better but Dewey had more innings.
1991 – Tony Castillo spent 10 years in the majors, including this year when he compiled 23.2 IP.
1990 – The hardest year yet. All of the players who met the minimum requirements are pretty well-known. Tommy Herr and Mike Marshall did not distinguish themselves with the Mets but they're hardly obscure. By default it's Orlando Mercado, again not obscure, but a .612 OPS in 100 PA is the best we can do.
*****
For a nice Q&A with Pascucci, check out Ted Berg's interview.