"You are what your record says you are."
– Former New York Football Giants coach Bill Parcells, 2005
"Those were the real Mets."
– Cubs manager Leo Durocher after a Chicago win, June 1969
"I'm afraid we're starting to see the real team peek out."
– Vince, a Met fan friend of mine, this morning.
There is nothing as schizoid as a .500 team. They'll either leave you high as a kite or too low to care. You can have visions of pennants dancing in your head one moment, then wonder how they ever won a game the next. This Mets team might be the poster children for the push/pull of the season-long grind. "It's a marathon, not a sprint," we keep telling ourselves. Whatever we need to say to get to sleep at night.
A year ago, I asked, "Who are these Mets?" That was a genuine query about a team whose actions surprised me. Pleasantly. It was a question posed in wonderment after a rare power show against a couple of far superior teams.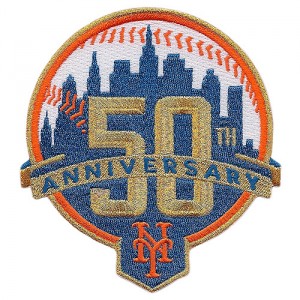 Now, I ask "Who are these Mets?" and I ask it for identification purposes, as a questioning of what this team actually is. Is it the team of staunch starting pitching and decent defense that blistered Baltimore, Tampa and St. Louis? Is it the meek band who rolled over quietly in the first Yankee series and at home against Cincinnati? Is it the squad who showed something in that second Yankee set, but just came up short in the end?
Or is it something else? The last two losses have conjured up a less-than-fond 50th Anniversary scene. The Chicago Cubs, who were playing at a non-robust .333 clip before the Mets arrived, have provided the stage for a genuine Polo Grounds tribute. The play these past two games has been nothing short of Marv-worthy, as David Wright masquerades as Don Zimmer, Lucas Duda has done a killer Gus Bell imitation and Ronny Cedeno has been able to channel his inner Charlie Neal. There have been baserunning gaffes, torpid batting and indefensible defense. I've seen bad baseball. I can take bad baseball. What I can't stomach is stupid baseball and that's all I've seen since the weekend. Look, there's no shame in losing two-of- three to the Yankees. Far better squads than the Mets have managed that one. This Cubs series has drifted off the grid. And I'm not even mentioning everyone's most beloved target, the bullpen. So it's already a series lost in the unfriendly confines and now a long charter to Los Angeles to continue the fun. What could have looked like a nice ride to the All-Star break is now looking like the familiar road to nowhere. I don't know what to believe anymore.
Who are these Mets?
Follow me on Twitter @CharlieHangley