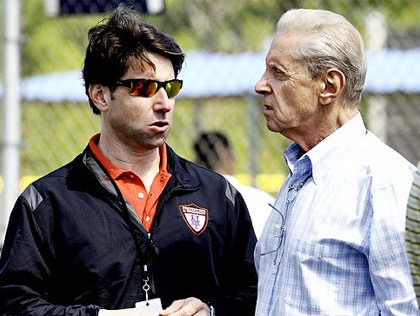 I've decided I want the Fred and Jeff Wilpon to sell the Mets. I'm at the end of my rope with these guys. Maybe 32 years is too long to hang onto something, just for the sake of hanging onto something. It's almost as if they're trying to prove a point: see? You can have an old-fashioned family ownership in this day-and-age. I get severely depressed whenever I think of Fred's comment from a couple of years ago that he expects the team to end up in the hands of "Jeff's grandchildren." Oy…
This is why I've been closing my Mets-related Twitter postings with the hashtags in the title of this post. All that palaver I posted earlier in the year about the pall being lifted and blather about a new atmosphere at Citi Field? Forget it. As long as this ownership group retains Fred and Jeff at its helm, the Mets and we fans will be caught in an endless loop of just-not-good-enough. They could bring Branch Rickey back to run the front office and Miller Huggins to patrol the dugout and it still wouldn't matter: the Wilpons will find a way to screw it up. There will be shallow highs and cavernous lows and every now-and-then things in the division will align just right and the Mets will have a winning campaign in spite of themselves. Throw the bums out!
And replace them with…who? Who is the perfect owner for this franchise? In a perfect world, I'd wish for a superhuman amalgam of a guy with Mark Cuban's money, Stewart Sternberg's brains and patience and George Steinbrenner's passion.
Cuban, of course, is the go-to guy for any disgruntled fan base. Square-jawed and plain-spoken, he brings a brash attitude with him, like so much pocket change. When you're a gozillionaire several times over, when you're successful at just about anything you touch, you can cheese off everyone and not care. This has never as evident as in his dealings with the NBA as the owner of the Dallas Mavericks. The fact that he desperately wants into MLB – and the owners simply won't let him in the club – is further evidence. In contrast, the Wilpons are going through couch cushions, piecing together the nickels and dimes that are barely keeping the operation afloat.
Sternberg, the current owner of the Tampa Bay Rays, has been hailed high and low for hiring the smartest young baseball men he could find and letting them run the show. He has been the epitome of "Smile, shut up and sign the checks." How the Rays can keep churning out contender after contender on a payroll of $50-$60 million a year is a prime example of doing it "the right way" – developing their own players, maximizing their strengths, selling high and doing it all over again. And he's a Met fan. Had the Wilpons exhibited similar patience, we fans would not be subjected to Jason Bay and hearing about how Bobby Bonilla will still be on the payroll 25 years from now.
As for Steinbrenner, he needs no preamble or lengthy description. Everybody knows about George III, the force of nature. Say what you will about Big Stein – and believe me, it's been said by me many times: he was a blustering, bullying blowhard. He ruled by fear and intimidation and sarcasm. He was a meddler and somewhat buffoonish and most agree it was only his being forcibly removed from the day-to-day operations of the Yankees that allowed them to build the last great dynasty MLB has seen – playoff appearances every year from 1995 through 2011, with the hiccup of 2008. When things didn't go exactly his way, he'd fire off "missives:" grand statements about how various things were unacceptable and would not be tolerated. Make fun of the methods and missives all you want, but Yankee fans always knew that George was behind them, that George was thinking like them and that he was just as hacked off about certain situations as they were. The Wilpons, on the other hand, sit in their grand offices at Citi Field and never give any kind of a straight answer about what they're thinking. We fans can only assume that losing teams and empty ballparks are OK in their book. We can only think that "Aaaah, they made their money; why should THEY care about what's going on on the field or how we feel in the stands?" We can only surmise that things will stay just the same as they are, because nobody appears to have our backs.
The whole thing is like the infighting the Mara family went through over the state of the football Giants in the mid-'70s. That situation wasn't resolved until the commissioner of the NFL dragged all the parties to his office by their earlobes and told them to work it out: this was too sorry a state for one of the League's flagship franchises – in New York, no less! – to be in. Unfortunately for the Mets, no such solution is in the offing, seeing as Commissioner Bud Selig has done everything in his power to keep the Wilpons in control of the team. Why, God only knows.
Meanwhile…
#Mets #SellThisTeam
Follow me on Twitter @CharlieHangley.