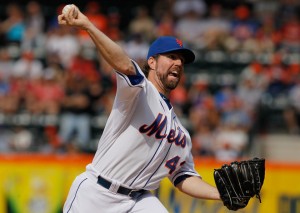 Today we could witness history, as R.A. Dickey attempts to become the first Mets' pitcher to win 20 games since Frank Viola won 20 in 1990.
Dickey is trying to close a chapter on a sensational season by recording the magic number for wins while also solidifying his chances to win the NL Cy Young award. It would an end a magical season in which Dickey has gone above and beyond the call of duty and uplifted Mets' fans spirits in a season marred by otherwise ugly baseball.
Dickey has been a beacon of pride for a downtrodden franchise and this possible feat could at least satisfy a fanbase in need of some good news. That being said, all hands should be on deck today as the Mets have to play this game as if this is their playoffs.
Terry Collins is treating it as such and told WFAN's Mike Francesa, that he will be put together the best possible lineup for Thursday's game against the Pirates. This will not be the time for experimentations or tinkering with the lineup.
Considering that Dickey will line up against the Pirates' Kevin Correia (who's a righty), the Mets will likely employ a lefty heavy-laden lineup once again.
This is my educated guess at what the lineup could look like on Thursday afternoon:
Ruben Tejada, SS
Daniel Murphy, 2B
David Wright, 3B
Ike Davis, 1B
Scott Hairston, LF
Lucas Duda, RF
Jordany Valdespin, CF
Josh Thole, C (also Dickey's personal catcher).
Granted the defense in the outfield with this lineup is less than stellar but the Mets need to put some runs on the board. It would be good to put some runs on the board early-perhaps building a decent sized lead- and then insert players like Jason Bay and Andres Torres  into the game late for defense.
If Dickey can't the distance, then Collins will have to rely on Manny Acosta in the seventh and Bobby Parnell and Jon Rauch for the last two innings. Collins told Francesa that there is no clear cut closer at the moment with Frank Francisco still shelved.
Granted Dickey's has another start lined up before the season ends, but Thursday would be the ideal time to get Dickey the win, as he'll be pitching the last game at Citi Field this year. It would be a nice gesture and momentum building effort that the Mets can carry over to the 2013 season. As it is, this current little hot streak (Mets winning five out of their last six) is a bit of a consolation considering the abomination that was the Phillies' series.
I would just love Dickey to achieve this milestone, as no other player has defied the odds like he has to come back as a reinvented pitcher and now who is on the cusp of winning the NL Cy Young.
Dickey already leads the NL in ERA (2.66), is second in strikeouts (209) and is just a win behind the Nationals' Gio Gonzalez for the league lead in wins. There is every chance that Dickey can capture the pitcher's Triple Crown.
Let that sink in for a moment. Did anyone before the season started think this this was even remotely possible?
If Dickey can accomplish this feat on a team that has been terrible for the better part of three months, it only speaks volumes to just how special a season Dickey has had.
So Thursday afternoon, sit back and enjoy the Mets' last home game and hope Dickey can get that elusive 20th victory while bringing some joy to some down-on-their-luck Mets' fans.
Follow me on Twitter @Stacdemon