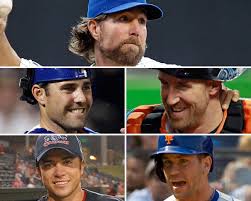 December 17, 2012 R.A. Dickey, Mike Nickeas, and Josh Thole were traded to the Toronto Blue Jays in exchange for Wuilmer Becerra, John Buck, Noah Syndergaard, and most important, Travis d'Arnaud. At the time, it seemed the Mets were preparing for the future behind the plate and saving money for another time. Now it appears that this trade is genius due to the success of the Mets return players and the limited success of Blue Jays return. Now that d'Arnaud has played a couple games and is staying, let's grade how each player has performed for their respective teams and grade the deal for each GM.
Blue Jays Return:
R.A. Dickey: 9 Wins 11 Loses 4.49 ERA 168.1 IP 138 Strikeouts 1.283 WHIP
Dickey was, of course, the 2012 NL Cy Young Award Winner and when he was traded there were mixed reactions from fans. The bottom line of the trade was to gain more prospects-which Toronto had- and build toward the near future. After nearly a month, people were finally beginning to realize that it was a good decision to trade the 38-year old who had just faced the most batters in the National League. For a knuckleballer, he hasn't been as bad as advertised this season. He also isn't making tons of money this season- $5mm as the Blue Jays expected way too much out of an aging knuckleballer. Overall the Mets rotation has been somewhat of a strength being 8th in the MLB in starters ERA, so the loss of Dickey hasn't been a catastrophe, though they lost a fan favorite.
Overall Grade for Sandy Alderson so far: B
Overall Grade for Alex Anthopoulos so far: C-
Josh Thole: .146 BA 0 HR 5 RBI .464 OPS
Thole was actually once considered a top prospect for the Mets, but he never quite lived up to the expectations of being a batting average-type catcher. He was bounced around from Buffalo to New York, and eventually the Mets had no other option but to make him their starting catcher. The Mets quickly realized that Thole was the only catcher on the planet who could catch Dickey, so they had to keep him. When Dickey trade rumors circulated, Mets fans hoped he would be traded as well. Thole hasn't performed well at all offensively and he is only going to play in the majors as long as Dickey continues to play. It really isn't a complete bust because Thole hasn't allowed too many passed balls this year and that's the reason he is in Toronto.
Overall Grade for Sandy Alderson so far: A++
Overall Grade for Alex Anthopoulos so far: B
Mike Nickeas: (Minor League Stats): .162 BA 1 HR 11 RBI .482 OPS
The Mets wanted to completely start over with their catching situation, so Nickeas was sort of thrown in as another option who can effectively catch Dickey. He has struggled with the Mets offensively and nothing has changed in Buffalo- yes, Toronto actually took over Buffalo.
Overall Grade for Sandy Alderson so far: A+
Overall Grade for Alex Anthopoulos so far: F
Mets Return:
John Buck: .219 BA 15 HR 60 RBI .662 OPS
Buck had a strange offseason – twice being traded in blockbuster deals – but he finally found his home in New York. He got off to a red-hot start but everyone knew that it was going to end and it finally did in early May. He has gotten better lately, but his true value was to mentor d'Arnaud and the young pitching staff. He has definitely helped with Matt Harvey catching all but his recent start against San Diego. It was only really somewhat of a bust for the Blue Jays because he would have been a better backup catcher than anyone they have now.
Overall Grade for Sandy Alderson: B-
Overall Grade for Alex Anthopoulos: Not Applicable
Travis d'Arnaud: .000 BA 0 HR 0 RBI .417 OPS
This young man has been traded for two Cy Young Award Winners and didn't play a major league game until last week, what a start to a career. He was unfortunately injured at the start of the season, and it cost him three months. He hasn't had a ton of success so far in the big leagues, but d'Arnaud has handled the pitching staff very well so far. It isn't a total bust for the Blue Jays due to the sure power from J.P. Arencibia.
Overall Grade for Sandy Alderson so far: B
Overall Grade for Alex Anthopoulos so far: C+
Noah Syndergaard: (Minor League Stats) 9 Wins 3 Loses 2.43 ERA 114.2 IP 128 Strikeouts 1.081 WHIP
The Blue Jays were willing to give up just about anyone in order to acquire the National League Cy Young Winner, so they threw in Syndergaard. He didn't get off to a great start by tweeting questionable words, but fortunately he managed to clear it up. He was the 10th best RH pitching prospect in baseball heading into 2013, but he was overshadowed by d'Arnaud. Now that Syndergaard has had a breakout year in the minors it appears that emptying the rich Blue Jays farm system was somewhat of a mistake.
Overall Grade for Sandy Alderson so far: A
Overall Grade for Alex Anthopoulos so far: D-
Wuilmer Beccerra: (Minor League Stats) .221 BA 0 HR 19 RBI .594 OPS
The Mets, at the time, were still looking for outfielder prospects that could be productive in the future, so Alderson got him in the trade. He was known as the guy who got hit in the face, but his real talent is his incredible speed. Beccerra hasn't really done anything to "wow" anyone, but he is still 18 and has a lot of time to be a great leadoff hitter.
Overall Grade for Sandy Alderson: N/A
Overall Grade for Alex Anthopoulos: N/A
This deal just happened and there is a lot of time for each player to go in the exact opposite direction of where they are heading, but as of today it seems that the Mets have gotten the better end of the bargain. Last offseason will never be forgotten by any major league club – especially Toronto. Emptying one's farm system could prove to be as lopsided as it's worked out so far for the Mets and the Marlins while the Blue Jays appear to be finishing in last place.