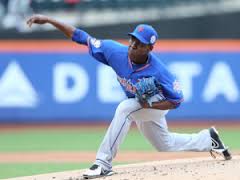 If you ask Mets fans about players in the farm system that have yet to make their major league debut, 100 out of 100 will say that Noah Syndergaard is the team's best prospect. They will also say that they have high hopes for Rafael Montero yet they do not put him at the same level as Syndergaard. If the Mets were to make an offseason deal for a hitter, most fans view Syndergaard as being untouchable yet would include Montero to get an impact bat.
It's not limited to just fans, as every prospect list out there will have Syndergaard rated higher than Montero. It's rare to have such unanimous support about top notch young pitching prospects, especially considering that the one ranked lower has experienced great success at Triple-A. So, why is it that fans are so high on Syndergaard yet are not as enamored with Montero?
Most Mets fans were completely unaware of Syndergaard this time last year, as he was a Blue Jays prospect who had just finished playing in Lo-A ball. But after his inclusion in the R.A. Dickey deal he immediately jumped into everyone's consciousness, even if fans still thought of Travis d'Arnaud as the centerpiece of the deal.
In last year's Top 10 prospects article, here's part of the write-up on Syndergaard, who I placed as the team's number-two prospect:
For the Mets, d'Arnaud was much more important as he filled a position of dire need. The Mets have solid pitching at the major league level, several very good pitching prospects and hardly a starting-caliber catcher in sight. But five to seven years from now, I expect Syndergaard to be a more valuable player.
Meanwhile, Montero was ranked sixth in the same piece.
So, if Syndergaard was ranked higher to begin the year, turned in a terrific season, and is now considered by everyone as the club's top prospect – what is the issue? Well, it just seems to me that we are all selling Montero's year – and overall prospect status – a bit short.
Both Montero and Syndergaard pitched last year in Double-A. Montero started the season there and earned a promotion to Triple-A, while Syndergaard got the call to Binghamton after opening the year in Hi-A St. Lucie. Here's how both pitchers did when they were at the same level:
| | IP | Record | ERA | FIP | WHIP |
| --- | --- | --- | --- | --- | --- |
| Montero | 66.2 | 7-3 | 2.43 | 1.88 | 0.92 |
| Syndergaard | 54.0 | 6-1 | 3.00 | 3.24 | 1.07 |
Montero's numbers were better. To be fair, Syndergaard had a 1.59 ERA in his first 10 appearances in Double-A but was lit up like a Christmas tree in his last outing of the regular season. He also was knocked around in his playoff start. It could be a young guy tiring, it could be the league catching up to him, it could be he picked the wrong week to stop sniffing glue. Whatever the reason, we have to say that Montero had better results when they were at the same level.
Additionally, Montero went on to post tremendous numbers in one of the most challenging environments for a pitcher in minor league baseball. The Pacific Coast League is hitter-friendly and Las Vegas is perhaps the best offensive environment in that league. So, in 88.2 IP in Triple-A, Montero posts a 3.05 ERA and a 2.87 FIP.
Among 102 pitchers to throw at least 70 IP last year in the PCL, Montero's FIP ranked third. FanGraphs has minor league numbers going back to 2006 and in those eight years, Montero's 2.87 FIP is the best mark ever put up by a Las Vegas pitcher. The closest pitcher on last year's Las Vegas staff was Carlos Torres, who recorded a 3.48 FIP before going on to success in the majors.
Montero's back story helps explain why he is not as highly-touted as his results suggest he should be. While most of the top Dominican players sign at age 16 or 17, Montero did not begin to even play baseball until that age and did not sign until he was age 20. But he's been making up ground ever since.
He started 2011 in the Dominican Summer League but finished the year in this country, spending time at all three of the Mets' short-season affiliates. Then in 2012 he pitched in both Lo-A and Hi-A, leading to split time in 2013 in the two highest levels of the farm system.
Perhaps because he wasn't highly regarded and then proceeded to fly through the organization, there just hasn't been time for the hype to catch up, especially with everyone preoccupied with Syndergaard, who does have the huge advantage of being two years younger.
In addition to being younger, Syndergaard also throws harder. Montero regularly works in the 91-93 range and can dial it up a tick or two faster. But it's more than just velocity with Montero. His fastball has late movement and he has excellent control with the pitch. But because he doesn't regularly throw in the mid-90s, people claim that he has the ceiling of a mid-rotation starter.
Coming into 2013, people worried if upper level hitters would be able to handle his fastball and tee off on Montero's off-speed offerings. Neither his change nor his slider were thought to be good pitches, although the change was considered the better of the two offerings. Yet Montero starred in both Double and Triple-A here in 2013.
Given his pedigree (supplemental first-round pick), ideal pitcher's frame (6'6, 240), youth (turned 21 in late August) and results – Syndergaard deserves all the attention he's received. But given his late introduction to the sport, Montero's accomplishments have not fully been appreciated. What he achieved in 2013 is tremendous in its own right but for a person who only started playing the game five years ago, they are nothing short of remarkable.
Syndergaard being two years younger may ultimately mean he's the better pitching prospect. But for Montero to enjoy the success he did in Las Vegas at age 22 should not be dismissed so lightly. Hopefully we will get to see Syndergaard in Triple-A in 2014. May he enjoy similar success at that level as Montero did.