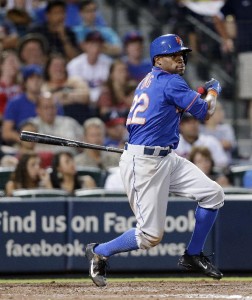 Most of the discussion around the blogging world since the Mets season has ended has mostly surrounded corner outfielders and shortstops (with a sprinkling of first base thrown in). This is for good reason as the Mets have needs in both of those areas. The outfield discussion has been all around acquiring power hitters for that spot, which is again important.
What's being forgotten is the leadoff spot in the order, manned by Eric Young Jr. for the final 91 games and a smattering of other players prior to Young's acquisition. Should Young be our leadoff hitter next year? It's an interesting question, that doesn't have as simple of an answer as one would think, considering Young's numbers and the other players available on the market who have experience in the leadoff spot in a batting order. On the free agent market, the following players are available that either batted leadoff this past season or have history in that position (only the players that are fits for the Mets will be mentioned): Nate McLouth, Shin-Soo Choo, Stephen Drew and Jacoby Ellsbury. Rafael Furcal is available, but he missed all of 2013, is getting up in age and the Mets have better options at short on the free agent or trade market, so the likelihood of Furcal being a Met is very low. Recent reports from Colorado are stating that Dexter Fowler will be available this offseason, another potential leadoff option, along with the Mets returning to Young as an internal option.
So, how do these various players compare? Drew, Ellsbury and McLouth played in the American League this past season. Leadoff hitters in the American League are normally more complete hitters, and less about speed and OBP. American League managers have historically put run producers at the top of the order due to the lack of a pitcher hitting, making it more likely that the leadoff hitter will get to the plate with runners on. A perfect example of this was the Royals employing Alex Gordon, a middle of the order hitter normally, as their primary leadoff man this year.
In the National League, the leadoff spot can be manned by a player whose best attribute is speed and getting on base. Number eight hitters in the National League hit under .240 this past year, while number nine hitters hit under .200, meaning that leadoff men in the National League rarely came to bat with players on base. What does all of that mean? Power and slugging percentage in a leadoff hitter in the National League isn't as important as in the American League. In fact, an argument could be made that any hitter who can regularly hit over 15 home runs in a season is wasted in the leadoff spot in the National League.
So, then what is the definition of a leadoff hitter? It's fairly simple. A leadoff man needs to get on base and get himself into scoring position. If he can score himself with a home run on occasion, that's fine, but since he's not in RBI situations all that often, hitting too many home runs isn't all that beneficial to the team. What is beneficial is that player being on base to start innings or get innings started that have started with one or two outs. That concept is especially important in the National League, where, as mentioned earlier, leadoff men are often getting up to bat with nobody on and one or two outs.
With all of that in mind, let's go through these options one by one, starting with our incumbent, Young.
Young – Young's overall numbers don't look like a player the Mets would want as a leadoff hitter. Young, overall, hit .250 with an OBP of .313 and an OPS of 642. These numbers lead to the argument that Young is a valuable player, but not in an everyday context.
However, a deeper look into his numbers shows a different story. Young, in the purest of leadoff situations (leading off a game or an inning), hit .313 with a .387 OBP and a 10% walk rate. Young was in those situation's 168 times, 40.2% of his plate appearances. Amongst the 15 National League hitters who lead off at least 60 plus games for their respective teams, Young ranked 3rd in these situations in AVG, 3rd in OBP and 3rd in walk rate. The only two players ahead of him in those three categories were Fowler and Choo. He finished ahead, in those categories, of leadoff hitters Matt Carpenter, Starling Marte, Carl Crawford, Norichika Aoki and Denard Span.
In all lead off situations (leading off an inning or game, hitting with nobody on and 1 or 2 outs in the inning), Young hit .277 with a .349 OBP and a 9.2% walk rate. Among those same National League hitters, Young ranked 8th in AVG, 5th in OBP and 3rd in walk rate. Again, in these situations, only Choo and Fowler had a higher walk rate than Young, while only Choo, Fowler, Carpenter and Aoki had a higher OBP. Although Young was middle of the pack in AVG, he was only nine points behind the two players tied for third place, Crawford and Marte. Nine points in AVG, over the course of an entire season of ABs (say 650) is only six hits.
Finally, Young ranked extremely high in a statistic I believe I invented, Scoring Position Percentage. This stat is simply how often a player either gets himself in scoring position or scores himself, whether that's via hit or stolen base. To compute this, simply add a player's stolen bases, doubles, triples and home runs and divide it by their plate appearances.
Using this stat, Young got himself into scoring position, or scored himself in 14.6% of his plate appearances. Only Marte, amongst the 15 National League hitters, had a higher rate at 15.8%. So, even though Young's OBP overall was only.313, he still got himself into scoring position more often than the likes of Choo, Aoki, Span, Crawford, Carpenter, Fowler and Angel Pagan, all who had higher overall OBP's than Young. This difference is due to Young's speed, which helped make up for his lack of extra base hit ability and made sure that, every time he was on base, he was a threat to get into scoring position.
Basically, Young was a lot better player than people think. He was even league average with RISP by hitting .250 in those situations. So how did his season's numbers end up where they did? Young had 50 PAs in which he hit .095 with a 357 OPS. Considering that was approximately 12% of his PAs, it shows that 88% of the time, he was either a league average or above average player, meaning that he should get strong consideration (since he's already on the team) to be the leadoff hitter next year.
Fowler – Fowler was elite in lead off positions this past season. Fowler had a higher walk rate than Choo in all lead off situations (inning, game, no runners on with one or two outs). He had the fourth highest OPS in all lead off situations and the 2nd highest OPS in pure leadoff situations. He's a switch hitter who has excellent speed and more power than Young. His home road splits, playing in Colorado his whole career, are concerning, but his triple and double numbers should continue in Citi Field, if he were acquired by the Mets, so the splits aren't as concerning as they might appear. He has been an inconsistent fielder throughout his career, but if he can be acquired for say, Ike Davis, Jenrry Mejia and Justin Turner, than the Mets should make the move.
Drew – Drew didn't hit leadoff last year, but has hit their historically with the Diamondbacks. There is a realistic chance that Drew is the Mets shortstop next year, and if they decided not to bat Young leadoff or not to acquire another hitter to bat leadoff, there's a chance Drew will fill that slot. Leading off an inning, Drew hit .280 with a .365 OBP and a .400 SLG. His walk rate was at 10.6%. These numbers, in the National Leauge, would have ranked him 9th in AVG, 4th in OBP, 10th in SLG and 3rd in walk rate. His scoring position percentage was 11.2% in his overall ABs, which would have ranked him 5th, behind Marte, Young, Everth Cabrera and Crawford. The numbers represented above are close to his career numbers as a leadoff hitter, so Drew in that spot, if he is the Mets shortstop next year, isn't a bad choice.
McLouth – His inclusion is because he's a free agent outfielder (a Mets need) and has hit leadoff much of his career. The years of McLouth being a 15 home run leadoff hitter are behind him and his numbers in lead off situations, with the exception of SLG aren't that much of an upgrade over Young. Basically, if the Mets make no moves in the outfield and sign McLouth, then fine, bat him leadoff, but they also, in lieu of doing that, might as well just put Young back in leftfield as he's younger and cheaper.
Ellsbury- Ellsbury is an upgrade over Young, but not necessarily a better fit than Fowler. Fowler is younger, a switch hitter and cheaper over the next two years than Ellsbury. Ellsbury is also a significant injury risk, especially considering that he's going to make at least 15 million a year. His numbers are great in the leadoff spot and his scoring position percentage of 15.7% is best amongst all leadoff hitters in the game. He is a terror on the base paths and a good hitter, but actually doesn't have all that great a walk rate. In the end, the injury risk and price tag aren't worth the upgrade he'd bring. The Mets are better off spending that money on a corner outfield with power.
Choo- All this comes down to Choo. Choo was the best leadoff hitter in the National League last year, although Fowler, in lead off situations, actually had a higher walk rate and was close in OPS. The issue with Choo isn't contract, because he's worth the 15 million a year he'd get. It's position. Choo has hit, over the course of his career, in nearly every spot in the order, but has primarily batted leadoff or third. If the Mets sign Choo, he would work best for them in the three hole, where they can take advantage of his power. Choo isn't going to hit 30 home runs as a Met, but to expect anything less than 18 is wrong. Yes, he played in the band box that is Cincinnati and his slugging percentage was drastically different at home than on the road, but that was only because he hit a few triples at home and a whole lot more singles. In fact, in nearly the same plate appearances this year, Choo actually hit one more home run on the road than in Cincinnati and only two fewer doubles. He had around 20 more hits at home than on the road, but most of those extra hits were singles, which can translate anywhere. If Choo comes to the Mets, expect 17 to 20 home runs, which would be wasted batting leadoff. Choo also has issues with lefties, which is accurate, but he still mainted a .347 OBP against them this past season. Imagine a scenario where Fowler is batting leadoff, followed by someone like Daniel Murphy or Drew and then Choo. David Wright would have a whole lot more people on base than he's been used to over the past few years.
So where does this all leave us? The leadoff spot in the order should be Fowler's (if the Rockies price isn't too high) or Young's next year. The next best alternative would be a combination of Young and Drew, as Drew struggles against lefties. The Mets, in that situation, would have a platoon set up where, against lefties, Young would play second and bat leadoff while Wilmer Flores played first. Against righties, Young would be on the bench, while Drew lead off with Flores playing second and Lucas Duda or Ike Davis playing first (depending on who wasn't traded). Choo, if signed by the Mets, should not be allowed to hit first as, although his OBP is great, would be a loss of value for the Mets. 15 million should go to a power hitter, or middle of the order hitter, not a leadoff hitter, especially when you have Young already on your team, who can do just that.