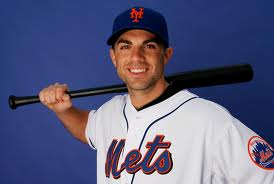 David Wright is underappreciated. Despite having multiple MVP type seasons, he always seems to be considered "not quite" an elite player or his success is attributed to "other players" in the lineup. He has regularly been considered third among the triumvirate of third baseman that entered the league within a few years of each other, Wright, Ryan Zimmerman and Evan Longoria, despite the fact that arguments could be made that Wright is as good, if not better than, either of those players. Even when his contract was signed last year, which he has entirely earned and deserved, it was regularly derided by the media and the so called baseball experts, while contracts over the years given to lesser overall players (like Jayson Werth or Alfonso Soriano) were dubbed overkill, but necessary and insane contracts like those given to Albert Pujols or Alex Rodriguez, were considered earned by the player and positive for the team, at least for the first 7 years or so.
Even amongst New York Mets fans, Wright is often dumped upon as being a disappointment because of his salary or because he doesn't get a hit every single time he's at bat. The expectations for Wright by Mets fans are unrealistic, as evidenced by the multiple comments of derision he receives throughout the blogging universe. Instead of appreciating the career of a player who, at worst, will be considered one of the top 20 third baseman of the modern era (Post 1920), Wright's own fans find flaws in him. He's not the perfect player, but who is. It's one of the enigmas of the Mets fan. We talk about wanting a winning team, discuss ad nauseum how we feel disrespected by the front office and the owners for not giving the fans a winning team to root for, yet we often give that same lack of respect we feel, towards the players who don our uniform. The way Wright is often discussed online baffles me as much as the way Carlos Beltran is looked at negatively because he didn't swing at one pitch.
Wright is an all time great third baseman and there are plenty of numbers to prove it:
1. Since 1920, Wright is one of only 78 players who have played at least 1000 games at Third Base and played at least two thirds of their overall games at the hot corner. Wright is 63rd all time on that list in terms of games played.
2. In many of the major hitting categories, Wright ranks well above where he should be, based upon games played. Even though 62 third basemen have played more games in their career, among those players, Wright ranks 38th in runs scored, 47th in hits, 29th in doubles, 29th in home runs and 36th in RBI.
3. If the cumulative numbers don't impress, consider Wright's rankings in the percentage categories (AVG, OPS and OPS+). Wright ranks 3rd all time in OPS amongst modern era third baseman, only behind Chipper Jones and Mike Schmidt. In OPS+, Wright ranks fourth, behind Schmidt, Jones and Eddie Matthews. In AVG, Wright ranks 6th, behind Wade Boggs, Pie Traynor, George Kell, George Brett and Jones. If you notice, all of those players are either Hall of Famers (Traynor, Kell, Brett, Schmidt and Matthews) or should be in the future (Jones).
4. Regarding his cumulative stats, Wright should be able to get to at least 500 doubles, 300 home runs and 1300 RBI in his career. If he did, he would be one of only three modern era third basemen to do that, along with Brett and Jones.
5. Finally, for all of the Sabermetricians out there, Wright is currently ranked 20th overall in total WAR amongst modern era third basemen. Don't forget that he's ranked 20th, even though he is only 63rd in games played and that WAR also includes defensive metrics as part of its calculation.
So, we're talking about a player that may end up being, statistically one of the top ten third baseman in the modern era. We're also talking about the greatest position player in Mets history, the player that, along with Tom Seaver, will be a definitive Met. To appreciate his legacy, we as Mets fans need to appreciate Wright and the front office needs to put a team around him that can help Wright bring a title to the Mets and thus have a ring as part of his long term legacy.
That most likely won't be accomplished this offseason, but the Mets can do several things to move towards that point:
1. Commit to Eric Young Jr. as the second baseman and leadoff hitter – In a previous post, I had said that I felt Wilmer Flores would be the second baseman next year. Reading the various rumors surrounding the team, I'm beginning to feel that Flores will either be traded or start the year in AAA, with Young being given the second base job. This is the right move, not because Young is the perfect player, but because the Mets need to fill other holes in the lineup and don't have the money to do that and commit to a big time leadoff hitter. Jacoby Ellsbury is going to cost a lot of money, as is Shin-Soo Choo and the Mets don't need to commit that money to a leadoff hitter. If Young is unsuccessful and Flores proves to be the future at second base, then they can move to fix the leadoff problem next year.
Daniel Murphy can then either be traded, or moved to first base as rumored. It gives the Mets that much more flexibility in moves for the offseason, something this team needs.
This also allows the Mets to find out what they have in Juan Lagares. Lagares profiles as a player who should be able to hit leadoff if he can learn more patience at the plate. His speed and extra base hit ability should make him an excellent leadoff hitter, but after this year, the Mets should have a much better idea of whether Lagares can hit leadoff or is, at best, an excellent defender that will, over the long term, man the eight hole in the lineup.
2. Trade Ike Davis and commit to Lucas Duda or Murphy – Davis is popular in the club house, but is a drag on the lineup. He needs a change of scenery and the Mets and Wright don't need the distraction that Davis has been over these last two years. Reportedly, Davis has a lot of trade interest, so the Mets need to make that move. Duda is not perfect, but the Mets should give him the reigns this year against right handed pitching and either acquire a platoon partner or go with Josh Satin, as I predicted in an earlier post. They could also trade Duda and give Murphy the job, but that has to be the lesser choice as Murphy doesn't have Duda's power and is also valuable in the trade market.
If they go outside the organization for a platoon player, they should either trade for Michael Cuddyer or sign Corey Hart or Michael Morse. All three of those players can play the outfield when not platooning with Duda and all three can be had on short term deals, allowing time for prospects like Cesar Puello, Brandon Nimmo and the variety of young outfielders in the organization that are considered borderline prospects (Travis Taijeron, Dustin Lawley, Cory Vaughn, etc) to develop, prove they are options or prove that the Mets need to continue to look outside of the organization for outfielders. It also gives the Mets another year to evaluate first base and to see what they have in Dominic Smith. If Smith is the future at first base and a Duda platoon can bridge the gap, this year will answer that question or again, let the Mets know if they need to pursue a first baseman outside of the organization.
3. Sign Jhonny Peralta – The Mets reportedly "really like" him, he's there for the taking, won't cost a draft pick and may only cost 10 million a year. If, as reports are stating, the Mets are expected to spend 30 to 40 million dollars on players this offseason, they need to bring in Peralta, who plays average defense at short stop and hits. Peralta would fit nicely in the five hole of our lineup, lengthening the lineup and allowing a player like Duda to hit sixth, where he's more likely to be productive since it's a less intimidating part of the lineup. Peralta would also act as a bridge to the low level short stop prospects in the system (Gavin Cecchini and Ahmed Rosario) to see if either develops, or if the Mets need to look elsewhere for a short stop.
4. Acquire a left-handed or switch hitting, middle of the order outfielder – This is all about Curtis Granderson, Andre Ethier, Carlos Beltran and Carlos Gonzalez. Gonzalez would obviously be the best option. He's the youngest and has the highest upside. The Ronkies have been adamant that Troy Tulowitzki isn't getting traded and, although they've stated they won't trade Gonzalez, the statements haven't been as strong. If the Mets sent Rafael Montero, Murphy, Travis Darnaud, Puello and a pitcher like Gabriel Ynoa, I could see the deal getting done. That's a big package, and would meet the Rockies needs. They are looking at catchers, as reports state they are talking with Carlos Ruiz, so Darnaud would give them a cheaper option and allow them to move Wilin Rosario to first base (which they are obviously considering based upon the Ruiz rumors). Murphy slots in at second and Puello moves in behind Cuddyer, whose contract expires after the season. They can now spend the Ruiz and Gonzalez money on another outfielder this season, and pitching. Montero has proven to be successful in bad environments (Las Vegas), so should be a pitcher Colorado would be interested in. If that doesn't occur, the Mets should look at signing Granderson or Beltran. I'm not a huge fan of either signing as it's unknown how much Beltran has left and if Granderson is going to fall off of a cliff like Jason Bay did, but both should be able to be signed for affordable 2 or 3 year deals and, if they play to what they have in recent years, will provide power behind Wright in the lineup. If none of these options work, trade for Ethier. The Dodgers need to move an outfielder and Ethier is the most obvious option to move. He wouldn't cost much, outside of dollars on his contract, but he shouldn't be an option unless they can't get one of the other three, as he is the least productive of all three players.
If Darnaud is traded, a catcher is needed. A.J. Pierzynski should be the focus. He could be had on a short term deal, is a left-handed hitter and a veteran. He's still productive as a late order hitter and would provide a bridge to Kevin Plawecki, who is anticipated to move through the system quickly.
If the above things are done, in some combination, the Mets will be competitive next year and in a better position to improve the following year, as prospects will have developed, Matt Harvey will be back and the Mets will know more about what they have in their young major league players, so they can better assess where future money needs to be spent.
The bottom line is that Wright deserves this. He doesn't deserve to be a modern day Ernie Banks, who toils his whole career as the best player on his team, only to retire with only a mild sniff at a championship. Wright is the perfect New York baseball player. His image is clean of issues and he works to get every ounce of talent out of his body. Wright leaves nothing on the field, is a leader in the clubhouse and the face of the organization. He deserves the fans respect and the front office's dollars and ability to judge talent. Wright will always have my respect and be the player that I will identify with most as a Mets fan as I grow older. All fans, and the organization itself, should give him the same respect.