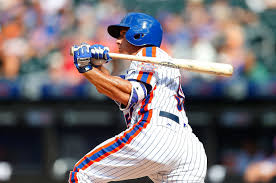 It's been an up and down season for the Mets so far, but unquestionably one bright spot has been T.J. Rivera. The 28-year-old rookie has been holding down the fort at first base while regular first sacker Lucas Duda has been on the DL. Duda has been working in extended spring training and his return to New York can't be all that far off, perhaps in the middle part of this month. He will likely return to first base upon being activated, so where will that leave Rivera?
The right-handed-batting Rivera has been an offensive force for the Mets so far this season with a slash line of .309/.397/.491 as of this writing. It seems like a lot of his hits has been of the clutch variety, driving in runs in last Friday's 8-7 win against the Marlins with a double and a homer and also driving in a run with a double in Monday's 4-3 win over the Giants. To use him in a utility role subsequent to the return of Duda would seem to be a mistake. He's an adequate fielder at second and third base, and he has hit better than anyone else who has played these positions so far for the Mets this season.
The third baseman for most of the season has been Jose Reyes. To say he has underperformed at the plate so far this year would be an understatement, failing to hit his weight (listed at 195 pounds) for just about the entire season. He has not exactly sparkled in the field either.
Rivera has always hit, his lifetime minor league average is .324, and he has been around the .300 mark in the majors as well. The Bronx native may not be a classic home run hitter but he certainly has doubles power, as shown by his seven doubles in just 55 at-bats this season.
Rivera is a battler, his climb to the majors has been an uphill one. He was undrafted out of Troy University in Alabama and has gradually worked his way through most every level of minor league ball. He seems willing to play wherever he is needed, though most of his time in the minors was spent at second and third base.
Terry Collins should slot Rivera as the everyday third baseman once Duda returns. Reyes could slide into an infield utility role, backing up Asdrubal Cabrera at shortstop, Neil Walker at second, and Rivera at third. This is basically the role that was envisioned for Reyes when he was first signed during last season.
Rivera's story is a feel-good one, finally making it to the major leagues after being passed over by all 30 major league teams through 40 rounds of the MLB draft, but that's not the reason he deserves a starting spot after Duda returns. He's earned it though his production.