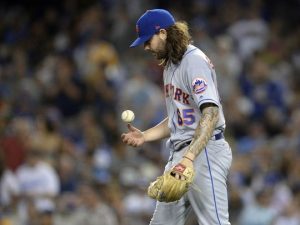 Next up in our preseason projection review series is Robert Gsellman. I don't think many folks expected such a terrible season for the young righty who dazzled in his 2016 audition. In fact, our reader poll back in February overwhelmingly chose him as the preferred fifth starter heading into the season. To say things didn't go as planned is an understatement, but below was our official projection:
IP – 137
ERA – 3.50
K – 120
BB – 41
HR – 11
FIP – 3.39
LOB% – 74.5
Here's how Gsellman actually did, with the best and worst individual projections among our group:
IP – 119.2
Best – Netter (120)
Worst – Joura (178)
ERA – 5.19
Best – Barbieri (4.11)
Worst – Hangley (2.96)
Ks – 82
Best – Koehler (78)
Worst – Fox (160)
BB – 42
Best – Koehler (39), O'Malley (45)
Worst – Hangley (22)
HR – 17
Best – Walendin (16)
Worst – O'Malley (5)
FIP – 4.89
Best – Koehler (4.24)
Worst – O'Malley (2.79)
LOB% – 62.7
Best – Barbieri (72.4)
Worst – Ryan (80.5)
Hey, we almost pegged the walks! Unfortunately for the Mets and Gsellman (and fans), the most pessimistic of our individual projections were generally the most accurate. He had a tough time straight out the gate this season, with only a few performances of note. It should be pointed out that, beyond his poor performance, many of our projections took a hit simply because of the time he spent not pitching. Specifically, his innings were reduced due to injury, getting yanked from the rotation, and ultimately getting optioned to AAA.
Top the poor results off with a brief but public spat with the General Manager, and you have yourself a year to forget. It's tough to say what Gsellman's role will be on the 2018 team, but with the dumpster fire that was the 2017 pitching staff he has as good a shot as any to end up either in the rotation or the bullpen.