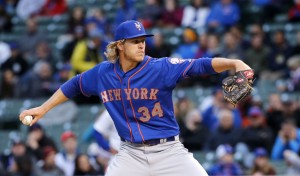 The next entry in our preseason projection review series is a tragic tale in more ways than one. You see, Noah Syndergaard was primed to take over the New York rotation by continuing to establish himself as one of the most dominant hurlers in baseball. He was excited by this, as were fans. In fact, our Mets360 projections for him were incredibly positive:
IP – 182.2
ERA – 2.75
K – 225
BB – 51
HR – 14
FIP – 2.61
BABIP – .301
He sought to take things up a notch even further by adding 17 pounds of muscle to his already hulking frame to get more "oomph" on his fastball. This understandably gave pretty much everyone pause. After all, Syndergaard seemed like an injury risk even before adding the extra mass, and this all seemed like a terribly awful idea. To no one's surprise, he hurt himself during his fifth start at the end of April.
Here's what Syndergaard actually did in his limited time on the mound in 2017, with the best and worst individual projections among our group:
IP – 30.1
Best – Koehler (180)
Worst – Netter (225)
ERA – 2.97
Best – O'Malley (2.93)
Worst – Joura (2.35)
K – 34
Best – Koehler (200)
Worst – Netter (275)
BB – 3
Best – Koehler, Rogan (40)
Worst – Ryan (73)
HR – 0
Best – Walendin (9)
Worst – Fox (21)
FIP – 1.31
Best – Netter (2.04)
Worst – Hangley (3.39)
BABIP – .337
Best – O'Malley (.317)
Worst – Netter (.220)
Although we all suspected he was an injury risk, none of us expected he'd miss so much time and our projections reflect that fact. To his credit, Syndergaard has acknowledged the error of his ways and instead intends to focus on more baseball-specific training activity this winter. That's good to hear, though it does little to sooth the effect of a devastating injury that was sadly only the start of the Mets' 2017 woes. He came back to pitch two times before the season was out, mostly because the Mets are out of their minds, but things are looking up for 2018 and beyond (fingers crossed) with a renewed focus on proper training and a new pitching-centric coaching staff in place.