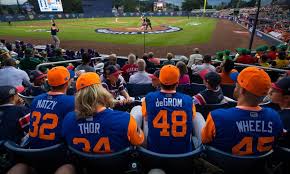 There's safety in doing things the way every other team in MLB does it. Then there's the reality of what may be good for some clubs is not good for your team. And the Mets are being served a healthy dose of reality here in 2019, specifically in regards to how they run their pitching staff. By action, the Mets would prefer to keep their starter to under 100 pitches and use relievers in designated one-inning roles to finish the game. But the reality is that the Mets' bullpen stinks and they need to totally rejigger how they use every pitcher on their staff.
Remarkably, we've seen the braintrust ask the starting pitchers to go longer and throw more pitches in games. The bullpen has been such a dumpster fire, they're ignoring their long-held belief about the 100-pitch boogeyman. Hallelujah!
Starting pitchers generally lose their effectiveness the more times they go through a team's lineup. But the reality for the Mets right now is a starting pitcher going through a lineup for the fourth time is probably better than just about any reliever facing a hitter for the first time. But even when one accepts that reality, there's still the stigma of "abusing" the pitcher by letting his pitch count go significantly past 100 pitches.
We've developed an entire generation of fans who believe that pitchers going past 100 pitches on a regular basis will definitively result in injury. And what's remarkable about that is that there's no proof whatsoever that says 98 pitches equals safety and 115 pitches equals danger. But we've developed a fondness for paint-by-number managerial strategy. And when you combine that with an understandable desire to keep pitchers healthy – you get this strict adherence to a pitch count system based on round numbers rather than any concrete science.
There's a great episode of the TV show M*A*S*H where Col. Blake is consoling Hawkeye after the doctor lost one of his patients. Blake says, "There are certain rules about a war. Rule number one is young men die. And rule number two is that doctors can't change rule number one."
The MLB equivalent of that is this – Rule number one is that starting pitchers get injured. And rule number two is that no utilization rule by smart men can change rule number one.
We all want to keep as many pitchers healthy as we can. And certainly, we want to see the best pitchers handled with care. There are two things to keep in the front of your mind. First is that all pitchers are not created equal. And second is that not all pitches are created equal. And what's crazy is that we had a better understanding of this 40 years ago than we do today.
An idea has built up that before we started tracking pitches that club's used little discretion on how they employed their starters. If he was pitching well, he was left in the game as long as possible. But the reality is a little different.
Let's look at the pitch counts for the 1976 Mets. That year's team was chosen because not only did it have the big three of Tom Seaver–Jerry Koosman–Jon Matlack – it also had fairly stable, well-known guys filling the final two spots in the veteran Mickey Lolich and the youngster Craig Swan. Here are the ages and starts that season for that quintet:
Seaver – age 31, 34 starts
Koosman – age 33, 32 starts
Matlack – age 26, 35 starts
Lolich – age 35, 30 starts
Swan – age 25, 22 starts
It's not perfect, but it's a decent ballpark age group for the 2019 Mets, whose rotation guys check in with the following ages:
Jacob deGrom – age 31
Noah Syndergaard – age 26
Zack Wheeler – age 29
Steven Matz – age 28
Jason Vargas – age 36
Pitch counts for 20 games were checked, starting with Seaver's start on June 9. Worked out pretty nicely as the Mets were trying to get over the .500 mark in this period, too.
The big thing is that we don't have pitch counts for all games in this era. Instead, Tom Tango's basic pitch count formula was used. In this estimator, three things are taken into account: batters faced, walks and strikeouts. And the formula to come up with the estimate is as follows:
Total batters * 3.3 + BB * 2.2 + Ks * 1.5
How good is the estimator? Well, we know that Syndergaard threw 105 pitches Saturday night. He faced 27 batters, had 2 BB and 5 Ks.
27 * 3.3 = 89.1
2 * 2.2 = 4.4
5 * 1.5 = 7.5
Total estimate = 101
Saturday night was a bit unusual, as Syndergaard left in the middle of an AB. If he had thrown one more pitch and that PA ended, he would have thrown 106 and the estimate would have been 104. Or if he had thrown two more pitches and walked the batter, he would have thrown 107 and the estimate would be 107. But still, four pitches off from an extremely simple formula is great. Plugging the numbers in, we get the following estimates:
Seaver – 112
Matlack – 142
Kossman – 91
Swan – 139
Lolich – 94
Seaver – 109
Matlack – 119
Koosman – 88
Swan – 118
Seaver – 116
Lolich – 75
Matlack – 73
Koosman- 86
Swan – 111
Seaver – 141
Matlack – 128
Koosman – 108
Swan – 96
Seaver – 90
Lolich – 127
The information was presented this way so you could see that the Mets weren't slaves to pitching guys every five days. Perhaps that's another thing that the 2019 Mets could go Back to the Future with in regards to how they handle their starters. Regardless, let's show these numbers broken down by pitcher:
Seaver – 112, 109, 116, 141, 90
Matlack – 142, 119, 73, 128
Koosman – 91, 88, 86, 108
Swan – 139, 118, 111, 96
Lolich – 94, 75, 127
Not every outing was 140 pitches. And eight outings, when no one was concerned one bit about pitch counts, were under 100 pitches. When Lolich and Swan were going good, they were left in to fly past what would be acceptable today. And four of five starts for Seaver could easily fit in to what they did today. But they didn't hesitate to let him go to 141 pitches in the other.
Let's show these pitch estimates one more way. Let's strip away the pitcher and show the raw estimates, from high to low:
142, 141, 139, 128, 127, 119, 118, 116, 112, 111, 109, 108, 96, 94, 91, 90, 88, 86, 75, 73
This is a 20-game sample of the 162-game season. We get a Mean of 108.15 and a Standard Deviation of 21.06. Now let's compare that to what the Mets have done the last several games. After Syndergaard was removed in an outing where he had just passed the 100-pitch boogeyman, there has been an apparent shift in allowing starters to go longer in the past 10 games. Now we can use the actual pitch count rather than an estimate. Here they are in that time frame:
117, 107, 112, 120, 98, 94, 93, 116, 113, 105
In this 10-game sample, we get a Mean of 107.5 and a Standard Deviation of 9.77. It's interesting that the means are fairly close but the SD from our 1976 sample is over twice as large as it is in the sample from today. Does that mean anything? Maybe, although we shouldn't be quick to make any definitive judgments.
In our 1976 sample, four of the five starters had been in the majors at least four years previously. The outlier was Swan, who had been in the majors parts of three previous seasons and had been in 16 games (15 starts). But Swan was relatively older at age 25.
My opinion is that you need to be careful with younger arms but older arms which have been properly stretched out are capable – in the right circumstance – to go considerably longer than what they typically do here in the 21st Century. Of course, the right circumstances are not so easily defined. If a pitcher is cruising through the first four innings and then has a 22-pitch inning in the fifth and a 32-pitch inning in the sixth – maybe you don't ask him to come out for the seventh.
But if deGrom has thrown 112 pitches through seven innings and they've been relatively stable, or getting easier the last few innings, then perhaps he should be allowed to pitch the eighth, especially given the makeup and results of the 2019 bullpen.
The advantage of the 2019 Mets' rotation is that they don't have anyone who necessarily needs to be babied. Syndergaard at age 26 already has 101 starts in the majors under his belt. Matz at age 28 has made 43 starts since his last big trip under the knife. Wheeler at age 29 has made 60 starts in the majors since his last major surgery.
No one would argue that the staff hasn't been trained – both mentally and physically – to throw 95 pitches in an outing. No one is suggesting that they go from this level to throwing 142 pitches like Matlack apparently did. But they've all exceeded 105 pitches in an outing with Matz going as far as 120. They've gradually moved to the current level and my opinion is that they can keep gradually extending what they ask from this group.
Right now, my opinion is that we should look at 115 pitches as the new 100-pitch level. Every outing does not have to be 115 pitches. Look at Koosman's pitch estimate in our 1976 sample, where three of his four outings had an estimate of under 100 pitches. But if a 2019 Mets pitcher is cruising at 112 pitches, we shouldn't react with horror if he is sent out to start the next inning.