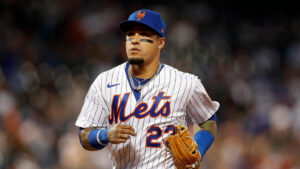 As this disappointing season fizzles out this weekend, Steve Cohen and Sandy Alderson will be focused on finding a new General Manager and/or President of Baseball Operations. This new person(s) will have to hit the ground running as the Mets have a lame duck manager and coaches, as well as 14 free agents. Okay, since three of them are Jerad Eickhoff, Heath Hembree, and Cameron Maybin, let's just call it 11.
First up is Noah Syndergaard and this is an easy one. Issue the qualifying offer. The homegrown hurler has expressed a desire to stay in New York and desperately wants to re-establish his value. His one-inning outing on Tuesday gave us some reassurance that the long-haired one will be back to his dominant self after a near two-year layoff. He's still just 29 and hopefully has many good years ahead of him. A healthy and motivated Syndergaard will go a long way toward solidifying our rotation next year.
Another homegrown star who can be issued a qualifying offer is Michael Conforto. This has been a very disappointing season for the right fielder who was pegged to command a major contract on the open market. Had he stayed healthy and enjoyed another 900+ OPS season there would no doubt be a dozen teams calling Scott Boras only to find out the asking price was $200 million over seven years or somewhere in that pricey neighborhood. Unfortunately for Conforto, no owner is going to sign off on that contract for a corner outfielder coming off a .713 OPS season.  Because of his age, track record, and agent, Conforto might not accept the qualifying offer so the Mets should have a backup plan in mind, whether that's Nick Castellanos, Kris Bryant or a more affordable option.
Having taken the qualifying offer last off-season, pitcher Marcus Stroman is not eligible to do so again. The 30-year-old righty has had a durable and dependable season and has proven himself worthy of a contract. Given the injury histories of most of our other starters, the Mets can't afford to lose Stroman. Stroman is one of the only prime aged quality starters hitting free agency so he won't come cheaply, but money is no longer a concern for this team with Cohen writing the checks. Rich Hill is also a free agent and could be a depth option, but he'll be 42 in spring training so, caveat emptor.
And as long as Uncle Steve has his checkbook out, in-season acquisition Javier Baez looks like a keeper. His gold glove, power bat, improved patience at the plate and versatility make him a valuable part of the team. There's always a chance some team offers El Mago a truckload to play shortstop, but there are many other available options and he likes playing alongside his buddy Francisco Lindor at Citi Field. Baez' righty bat helps balance the lineup and his smooth glove solidifies the infield. Having him lock up the keystone, allows us the flexibility to shift Jeff McNeil to third base or left field.  It also opens up the option to use McNeil, J.D. Davis or Dominic Smith as a trade chip.
Another player that must come back is Aaron Loup. The lefty was our best reliever by far this season and has earned a contract. The Mets should make sure he sticks around. Most of the rest of the bullpen is under contract for 2022 except for the perpetually injured Dellin Betances and the perpetually frustrating Jeurys Familia. It's time for the organization to move on from both of these enigmas. Brad Hand is also a free agent but he does not look anything like the same player from his all-star seasons.
Two key members of the bench mob are hitting free agency in outfielder Kevin Pillar and Jonathan Villar. Both could find a place on next year's team, but Villar especially will be tough to bring back. The versatile infielder has been a starter for much of his career and another team may want to offer him that opportunity again. Pillar, while not a real slugger, is a valuable reserve and shouldn't cost much to bring back on a one or two year deal.
Bringing many of our free agents back does not mean we can't sign others and it certainly doesn't mean we can't make trades. The 2022 Mets certainly will not look exactly like this year's model.