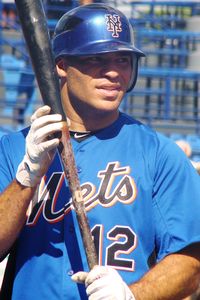 In mid-June we looked at Scott Hairston and asked people not to be in such a hurry to run him out of town. Since then he's continued to hit, survived the additions of Reyes and Wright back from the disabled list and has even gotten a few more starts along the way. Now no one is wishing him gone. Instead people are wondering if Hairston should get even more playing time.
Since the last time Hairston was profiled, he's posted a .298/.365/.723 line over his last 28 games, which includes eight starts. Nine of his 14 hits have gone for extra-bases, including 5 HR. He also has nine runs and 15 RBIs in 52 PA. It's no wonder fans want to see his name in the lineup more often.
And if we look at his line since the All-Star break, Hairston has a .421/.450/.1000 slash line. Sure, it's in only 20 PA, but it's part of what makes his story so amazing.
Hairston is even doing better now in times when he comes off the bench. He still carries a .978 OPS as a starter but now when he enters as a reserve, Hairston has a .795 OPS. He's hitting no matter the circumstance.
So, how do the Mets get him more PAs going forward?
The good news is that Hairston can play any of the three outfield spots. The bad news is that there is no obvious place to play him. Terry Collins wants to see what Lucas Duda can do as a starter for the remainder of the year as the primary replacement for Carlos Beltran. Besides, Duda has been hot himself, with a .295/.353/.500 slash line since rejoining the club in mid-June.
Jason Bay has had a resurgence here recently, with 10 hits in 23 ABs over his last six games. With his contract guaranteeing him millions, Bay's hot streak buys him a regular spot in the lineup for the foreseeable future.
Which brings us to center field. Angel Pagan has not hit recently and has not delivered the same quality of defense that he did in 2010. Meanwhile, Hairston has played 134 games in center field in his career and has not embarrassed himself out there.
So, will Collins look to get Hairston more ABs in CF the rest of the year? With the way Hairston has been swinging the bat, he needs to play more and center seems to be the most logical spot.
Imagine back in the first half the thought that the Mets would be trying to fit Duda and Hairston into the lineup at the same time. And that they might accomplish that by leaving Bay in the lineup, too. You just never know.