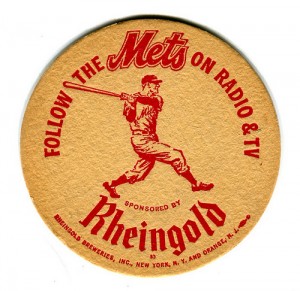 I'm quite certain that the first time I ever heard about beer was during a commercial for a Mets game. Now it boggles my mind how many beer commercials I must have watched in my lifetime. I'm sort of curious – have I drunk more beer or watched more beer commercials? I'm probably better off not knowing that particular score.
When I think of beer and the Mets, the first two brands that come to mind are Rheingold and Schaefer. In fact, I bet reading that made you recall the jingles for both brands.
Won't you try extra dry Rheingold beer
Schaefer is the one beer to have when you're having more than one
The funny thing is – despite witnessing hundreds (thousands?) of the commercials for these two beers in my lifetime, I've never had a Rheingold and the only Schaefer I've ever had was Schaefer Light, which I only had outside the tri-state area when I found a place that sold six packs of that watered-down treat for $1.99 each.
But I think I'm better off not having tasted these brands. This way, I can think of the memorable commercials and not think of the goat piss that it probably was/is. I found a couple of neat commercials for these beers on YouTube, which I'll include here for your viewing pleasure.
Here's a great Rheingold one featuring Bob Murphy:
And here's one for Schaefer that is undoubtedly in the beer commercial Hall of Fame:
So, I want to know two things from the readers. First, which commercial did you like better? Second, have you ever tried either of these two beers?