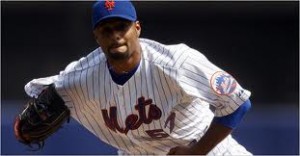 Someone once said that Sabremetrics was the science of analyzing the fun out of baseball. That never made sense to me. I love baseball and the study of numbers only added to my enjoyment. The 2012 Mets are a perfect example for me. Before the season started, there were tons of doomsayers and people who thought the team might challenge for 100 losses. But an examination of the talent on hand – done primarily through numbers – made me conclude that there was no way this team would lose 100 games.
Here we are in mid May, the Mets have a better record than the Yankees, have just come off a sweep of the Phillies and are a game out of first place. Life is good. A return to form by David Wright (hinted strongly at during Spring Training by looking at his strikeout numbers) has been the driving force, along with strong play by youngsters, performing like their previous numbers said they could. People doubted Murphy and Thole and Tejada and Duda. Now five weeks into the season, those doubters have egg on their faces.
But I want to celebrate a story that the numbers could not predict. Hands down the best surprise of 2012 has been the pitching of Johan Santana. Nobody knew what to expect from Santana this year and it would not have been the slightest shock if he had opened the year on the disabled list. He was trying to come back from shoulder problems, a much trickier recovery than any other injury for a pitcher.
Even before he missed the entire 2011 season, Santana was not the pitcher he had been when he was with the Twins. Not only could he no longer throw his fastball past hitters, he was losing velocity year after year, to the point where he was just a few years away from being called "crafty." So, there was the dual concern of "Could he come back?" combined with "What would he have left?"
After six starts the answers are "yes" and "plenty." His average fastball velocity is a career-worst 88.4 mph. Yet his K/9 checks in at 9.87, his highest as a Met and his best since his 10.46 mark back in his Cy Young Award season of 2004. That season, Santana had a 14.1 mph difference between his fastball and his changeup. This year the difference is 10 mph. Yet Santana is still succeeding.
Five of his six starts have ranged from good to great. He's had just one stinker, where he did not make it out of the second inning against the Braves. But this is not much different from 2010, where he had 17 Quality Starts, six other solid outings and four outings where he got lit up like a Christmas tree.
Santana still has enough stuff and he has tons of pitching smarts. That combination is going to be just fine on most nights. But there's going to be a handful of games where he gets knocked around. That's still plenty good and gives the team a big weapon it did not have a year ago.
When Santana's turn to pitch comes up, I am still excited. While he may have neither the velocity nor the pinpoint control of days gone by, he still has a presence around him that gives confidence to his teammates and puts doubt into his opponents. No one will be shocked if he breaks the team's streak of not having a no-hitter. He's still that good.
The Mets are 4-2 in games started by Santana. If he had to open the season on the DL, those games would have been started by Miguel Batista or Chris Schwinden. Suddenly that 18-13 record makes a lot more sense.
While we could not predict it before the season, Santana's triumphant return has been the cherry on top of the sundae for the Mets. It's a great story for Mets fans but I think it goes beyond that, too. A two-time Cy Young Award winner making it back from a torn anterior capsule in his pitching shoulder that required surgery is a story that should make every baseball fan smile.
It's great to have Santana back again and I can't wait to see what numbers he puts up the rest of the year.